Women of Influence | GlobeSt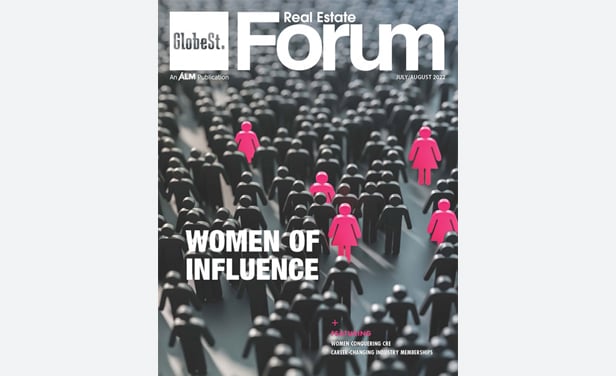 There are nearly 300 profiles of smart, accomplished and high-achieving women in commercial real estate on the following pages. And those are just the ones we selected. We received far more applications for the nominations, and as we do every year, we had to go through the painful process of selecting the winning candidates. We say painful, because it is: nearly all of these applications could have made the cut and choosing one over the other were difficult decisions. We hope you enjoy their stories of accomplishments as much as we did.
ARCHITECT / DESIGN PROFESSIONAL
NANCY BASTIAN
Nancy Bastian's philosophy about architecture is that good design should be a central part of every project, whether for a high-end development or subsidized low-income housing. Bastian, who is a managing partner at Cecil Baker + Partners Architects, has a special affinity for projects that serve the most vulnerable populations, including at-risk children and teenagers, single mothers and aging adults. Bastian's expertise in the intricacies of designing for clients and guiding them through the process of obtaining low-income housing tax credits for the development of affordable housing has been pivotal in making Cecil Baker + Partners a specialist in the space. Bastian has overseen multiple multimillion-dollar construction projects in the greater Philadelphia area, resulting in 779 completed affordable housing units, 84 units currently under construction and 161 additional units to start construction by the end of the year. Bastian strongly advocates for thoughtful and contemporary architecture in all of her projects and she understands the power that good design and carefully considered, beautiful architecture has to allow residents to feel supported, respected and heard.
CATHERINE MCCAULEY BELLSHAW
Since joining Inventure, Catherine McCauley Bellshaw has worked her way up to become the first female shareholder of the company and the only female owner out of three owners. Bellshaw is additionally the first female director of operations for the firm's Houston office. Among her biggest professional accomplishments was creating a new company identity while navigating an ownership transition, including developing new verbal and visual identities, a new website, new marketing collateral and new email domains for multiple offices. In addition, through her project work, Bellshaw successfully brought in more than $1 million in revenue to Inventure in the past year. In addition to winning numerous accolades for her work throughout her career, Bellshaw strives for Inventure to become a place where interior designers and architects can flourish in their careers. She prioritizes leadership development and spends time mentoring young designers through portfolio reviews and mock interviews.
MELISSA CANTRELL
A 26-year veteran of the commercial real estate industry, Melissa Cantrell faced an important transition when taking over as president and CEO of CDH Partners in 2020, as Bill Chegwidden stepped down after 45 years. Cantrell's time at the helm of the company has been tumultuous, encompassing the impacts of COVID-19, a business model change and a major office move, however, due to her vision and leadership, CDH Partners was able to achieve upward growth during this time. While managing 30% of the firm's projects and revenue, Cantrell has also created a diverse ownership team. As the firm's first female executive, Cantrell successfully increased female ownership in the company to 50% to create a more inclusive culture. She has created a forward-thinking and familial environment that fosters strong employee retention and values continued education and networking. In addition, Cantrell was recently re-appointed by the governor to the Georgia State Board of Architects and Interior Designers.
BLIMA EHRENTREU
Blima Ehrentreu is a creative and talented designer who is passionate about empowering women and giving back to the community. She is founder and CEO of the Designers Group Inc., where she manages more than 20 designers and guides the firm's strategy and execution. She has led more than 500 projects for clients during her 10-year career. Ehrentreu has developed expertise in applying smart technologies to design. She launched a virtual reality department to help clients envision their projects before going to construction and she introduced a decal collection as a cost-effective alternative to murals. In response to the pandemic, Ehrentreu prioritized giving back to the community and launched TDG Furniture Exchange, which matches people in need of furniture to those who have furniture to give away. The charitable initiative has facilitated hundreds of furniture donations across eight locations. Under Ehrentreu's leadership, the firm's weekly TDG Insider program hosts aspiring designers who wish to experience a day in the life of a designer, and its TDG Gives Back program provides pro bono design services to charitable organizations.
DEBORAH ELLIOTT
During her more than four decade career, Deborah Elliott's interior architecture and design work has touched the lives of thousands of people in San Diego and beyond. Her portfolio includes corporate office, life science and law firm design, as well as higher education, student housing and hospitality. Elliott, who is a principal at ID Studios Inc., has designed more than 20 million square feet of space in the 17 years since she co-founded the majority woman-owned commercial, strategic planning and interior design firm. She is the driving force behind the culture at ID Studios, which is rooted in enriching people's lives through thoughtful design. As one of the original founding principals of the firm, Elliott continues to maintain day-to-day, hands-on leadership in an effort to inspire staff and to define and guide big-picture vision and strategy. She is a member of several professional and community organizations and is an instructor at UCSD Extension, as well as an author and frequent guest speaker.
NASLHA ESPINAL
As a director of interior design and architecture at BASE4, Naslha Espinal has led large teams to complete projects in Florida, New Mexico and additional locations. A brilliant architect and an effective leader, Espinal was called upon to serve as an adaptable visionary during the pandemic. She assumed additional responsibilities in marketing, becoming the center point for all areas of BASE4's marketing department and adding chief marketing officer to her title. This switch has led her to lead the media campaigns not only for BASE4 but also for the firm's academic counterpart, STONEPILE LLC the Online Construction College. Under Espinal's leadership, the reach of both firms increased by 20%. In addition, she successfully built the firm's architecture interior design department. At BASE4, Espinal was the youngest woman to be promoted to executive leadership and she is also the first woman of color to lead the international marketing team at a construction college. Through her servant leadership principles and her involvement with BASE4, Espinal's team in India serves the poor and homeless on the streets of Nagpur. Espinal also mentors female team members from India and the Dominican Republic.
JOANNA FRANK
Human health and wellness have been the driving forces behind Joanna Frank's design philosophy throughout her 18-year career. Frank is president and CEO of the nonprofit organization Center for Active Design, which she founded in 2012. In her role at CfAD, Frank has helped thousands of architects and builders around the globe, spanning office, multifamily, retail and industrial real estate properties, to prioritize occupant health and wellness through building design. Utilizing her experience as an architect, coupled with her business acumen, Frank has spearheaded health-based real estate initiatives with far-reaching benefits, impacting people from all walks of life, from business executives and industrial warehouse workers to residents of market-rate and low-income housing. Frank is also founding CEO of Active Design Advisors Inc., a business unit of CfAD, which launched in January 2022 to help grow and drive global implementation of the Fitwel healthy building certification system.
KATHY LOGAN
As a 6-year-old, Kathy Logan would draw patterns and assist her architect father with tasks at the drafting table. This activity turned into a passion, which led Logan to pursue a career in architecture. For more than 20 years, Logan has climbed the ranks and she now serves as an associate principal in the hospitality studio at national design firm Cooper Carry. She chose to pursue the hospitality industry due to her desire to create places where people want to go, not necessarily where they have to be. Logan's projects have included boutique, independent hotels as well as iconic luxury brands, such as the Ritz Carlton. She serves as a project manager, for which she directs six to seven projects at a time. She works closely with team members to guide and juggle the various tasks between differing levels of experience, abilities and stages of project completion. One of her greatest professional accomplishments in the past year was the completion of the Eldred Preserve, a rustic, 600-acre resort two hours north of New York City.
SHERRI PRIVITERA
Sherri Privitera has more than 25 years of experience in designing and leading projects for collegiate sports facilities. Throughout her career, she has impacted more than 50 universities through her involvement in more than 80 projects exceeding $8 billion in value. Privitera joined global architecture firm Populous in 2005 and she has become one of its highest-ranking architects. She is the first woman at Populous Americas to be named senior principal and the first female board member for its Americas practice. Some of the most prominent athletic directors and university administrators have trusted Privitera to design their athletic facilities. Among her many accomplishments, Privitera spearheaded the design of Baylor University's McLane Stadium, a $266 million facility designed to positively impact the surrounding city. Throughout her career, Privitera has developed numerous campus master plans, training facilities and competition venues that continue to raise the bar for the development of student-athletes. A registered architect in 11 states, Privitera has received numerous accolades for her captivating leadership style and innovative contributions to the field.
NICOLIA ROBINSON
Nicolia Robinson brings more than 20 years of architecture and urban planning experience to her role as associate principal and director of urban planning and design at Atlanta-based design firm Cooper Carry. Within her role, Robinson leads complex projects in the firm's transit + TOD, urban planning & design and mixed-use studios. As a Black woman representing a minority group in the commercial real estate industry, Robinson adds a unique perspective to the firm. Her early career aspirations were to restore and enhance neglected areas and create vibrant community hubs to serve diverse people and groups. A central part of her role is facilitating discussions between private and public entities to create master plans that serve as economic engines for the communities they serve. She leads town hall sessions, stakeholder meetings and open house design charrettes to meet with constituents person-to-person to better understand how to meet their needs through smart, innovative urban design. Notable local urban planning projects in Robinson's portfolio include Atlanta's Summerhill neighborhood, the wheat Street Master plan in downtown Atlanta's Sweet Auburn area and Legacy Park in Decatur, GA.
MARCY L. SCHULTE
During a career spanning 34 years, Marcy Schulte has delivered more than 50 built projects encompassing more than 4 million square feet with total construction budgets totaling $600 million. She first honed her expertise on the East Coast and in the Midwest before relocating to Los Angeles seven years ago. Schulte played a key role in Cuningham's strategic leadership restructuring and expansion, which earned her a promotion to her current role as principal and executive director of design and performance. She has worked on a variety of projects from large-scale master plans to hospitality destinations and multifamily communities. Some of her most notable recent projects throughout Los Angeles include Pendry West Hollywood Hotel & Residences, Hyatt Place Pasadena, Millennium Santa Monica Apartments, 5570 Melrose Multifamily, and the California State University – Brotman Hall Renovation. In addition to remaining actively involved in the creative and technical sides of projects, Schulte also drives innovation in the firm's next-generation practices. Schulte's leadership skills and exceptional ability to deeply understand her colleagues' strengths and goals is key in driving success on individual and team levels.
BROKER / INTERMEDIARY – DEBT & EQUITY FINANCE
VALERIE ACHTEMEIER
Mentorship is extremely important to Los Angeles-based Valerie Achtemeier, vice chairman of capital markets at CBRE, which helps explain how her daughter became a successful commercial real estate professional as well. To help other women advance, Achtemeier is involved with many associations including the national executive committee for the ULI Women's Leadership Initiative, where she serves as a development chair focused on the Circles mentorship program. Within her role, the 30-year industry veteran leads a team in placing debt and equity on commercial real estate throughout the US and she has developed expertise as one of the leading mortgage brokers for large industrial and logistics portfolios, data center projects, mixed-use and construction loans. Achtemeier is also recognized for her ground-lease expertise. All told, Achtemeier's career debt volume exceeds $46 billion. Last year alone, her team's volume was up more than 250% and she also won CBRE's women's network advocacy award.
CORTNEY COLE
During the challenging financial market of the past 12 months, Cortney Cole managed to raise debt for four large construction loans for new commercial real estate developments, each ranging from $80 million to $127 million. In addition, she raised $250 million in joint-venture equity across four projects at JLL capital markets. Cole has been primarily responsible for originating debt and equity for commercial real estate transactions across all property types throughout the US. Cole initially launched her industry career in 1997 at JLL's Houston office, where she still resides today. Following numerous promotions over the years as a top producer, Cole assumed her current role of senior managing director, a title that is held by few women within the capital markets division. She also serves as the team lead for the JLL equity placement group's Midwest and Texas division. Cole chairs the Houston District Council, she is a member of ULI's Women's Leadership Initiative's steering committee and she is the former president of CREW's Houston chapter.

HEATHER MCCLURE
Last year, Dallas-based Heather McClure, who leads Walker & Dunlop's capital markets platform, helped to launch the firm's dedicated build-for-rent and single-family rental practice group to support the rapidly increasing demand for the product type. As senior director, McClure focuses on equity and is responsible for nationwide structured finance executions on multifamily, single-family build-for-rent, industrial, retail, office and hospitality properties. In all transactions, McClure—who has been in the industry for 25 years—works to identify investors with specific diversity, equity and inclusion objectives so that her team can assist emerging, minority-owned developers and owners in leveling up their capital structure. McClure and her partner have closed more than $330 million in equity transactions during the past 14 months, representing close to $1 billion in real estate. Upon being promoted from director to senior director two years ago, McClure shifted her focus from traditional brokering of mortgage debt to building complex capital stacks and structuring equity.

KATHLEEN MCSHARRY
To go from a receptionist to senior director is quite the feat, and that is what Kathleen McSharry has done over the course of 30 years at the Singer & Bassuk Organization, which was acquired by Avison Young last year. With a special expertise in development financing and complex deal-structuring, McSharry has been instrumental in closing more than $8 billion in financing in the past two decades. Today, McSharry serves as senior director in Avison Young's tri-state debt and equity finance group. She is a five-time winner of the Real Estate Board of New York's most ingenious deal of the year award. Since March 2020, McSharry has been an integral part of the teams that have closed $1.2 billion in New York City transactions, including Eagle Lofts in Long Island City for $350 million, 5Pointz in Long Island City for $350 million, 311 W. 42nd St. for $210 million, 200 Water St. for $150 million and the Brooklyn Navy Yard for $58 million.
MARGE NOVAK
Last year, Marge Novak on-boarded seven new investors and led Berkadia to a record-breaking LIHTC equity year with $290 million in volume, which marked more than 100% growth from 2020. The SVP and head of capital markets at Berkadia has been in the business for 26 years, is responsible for raising capital, recruiting new investors, managing investor relationships and coordinating overall capital raising efforts with internal staff and external partners. Novak has gained a reputation in the business due to her focus on affordable housing. In May 2021, Novak closed the Berkadia Affordable Housing West Coast Partners 2021, a $70 million multi-investor LIHTC fund that will support the creation of 312 affordable homes across multiple properties in California. In 2021 alone, Novak also served on more than six affordable housing panels within the industry to lend her expertise.

BRETT ROSENBERG
Amid the pandemic, Brett Rosenberg was promoted to senior managing director in the New York office of JLL capital markets Americas. Following a year in this role, Rosenberg had originated and closed more than $2.5 billion in commercial real estate loan sales, UCC sales and financing transactions across multiple asset classes. In the past 12 months, she has worked on 20 UCC transactions involving more than $2 billion of capital structure. As one of few women in the US to have amassed such transactional experience, Rosenberg is regarded as a leading national expert on note sales and UCC foreclosure processes. Having started her career with JLL as an intern 17 years ago, Rosenberg is dedicated to mentoring young real estate professionals and female executives. She regularly hosts JLL's capital markets women's luncheons and events designed to better inform the industry and the women working within it.
BROKER – INVESTMENT SALES

MARGARET CALDWELL
Not all leaders take the time to champion everyone around them, but Margaret Caldwell, managing director and partner in Stan Johnson Co.'s Atlanta office, does just that. Caldwell exudes compassion and provides support to employees so that while she expects them to work hard, she understands the importance of family and health. With more than 20 years of commercial real estate experience, Caldwell specializes in the acquisition and disposition of multi-tenant retail shopping centers and has sold more than $15 billion of retail properties nationwide since 2000. Her success is in part due to her never cutting corners or sacrificing her clients' best interests. Caldwell stands out for her deftness in handling client issues during the pandemic; giving them advice and solutions as they navigated the unprecedented period. Clients find a loyal and steadfast partner in Caldwell, as she guides and informs them regarding key investment decisions.

JENNIFER CAMPBELL
At the onset of COVID-19, Jennifer Campbell understood that communication, team connectivity and client cultivation were critical. During the early days of the pandemic, the first VP of investments at Institutional Property Advisors, a division of Marcus & Millichap, shifted her focus from prioritizing her personal business to the business of others. With the uncertainty surrounding the market, and clients unsure of the implications, Campbell made it a point to provide critical information and consultation that they couldn't find elsewhere. Within her role at IPA, which she has held for six years, Campbell leads a team that covers the entire Houston MSA and she also integrates with the IPA Texas team for statewide transactions. In 2021, while closing 13 transactions, totaling more than $451 million, the 10-year industry veteran excelled in furthering awareness for females in the industry and assisting prospective female brokers within the firm.

SUSAN GWIN BURKS
COVID-19 is just one storm that Susan Gwin Burks has weathered during her 40-year career in the commercial real estate business. As SVP of the capital markets group at Avison Young and a partner on the firm's capital markets team in Dallas, Gwin Burks tasked herself and her team with creative thinking and approaches to positioning assets for disposition in the marketplace during the pandemic. This required meeting with clients to share meaningful metrics, multiple opinions, written articles and case studies to help analyze the effects on their assets and strategies. Under Gwin Burks' leadership, the team identified more alternative uses and rebranding of assets to create unique ways to market and dispose of certain properties. The approach has proved fruitful as Gwin Burks' team—which she has led for three years—more than doubled its deal volume in the past 12 months and is on pace to have a record year in 2022.

COLLEEN HENDRIX
Unlike other sectors of the commercial real estate industry, multifamily thrived during COVID-19, which meant that multifamily capital markets expert Colleen Hendrix was well-positioned to guide clients to deal closure. As an SVP at CBRE who specializes in managing multifamily transactions for the firm's Southeast multifamily division, Hendrix and her team notched more than 170 transactions, totaling more than $10.4 billion of total sales volume, in 2021. This was in large part due to Hendrix's expertise, connections and work ethic, coupled with the financial insights of a CPA. Due to Hendrix's skillset, she and her team have been honored with internal awards at CBRE. Outside of work, Hendrix has served on the board of directors for Cool Girls Inc., an Atlanta-based, non-profit organization that focuses on breaking the cycles of poverty, low self-esteem and teen pregnancy.

HEATHER KONOPKA
In the challenging environment of COVID-19, Texas real estate broker Heather Konopka proved particularly tenacious and resourceful. Adhering to state government protocols, Konopka utilized technology to ensure that deals held together and closed. An investment sales specialist at the HKC Group Century 21 Commercial Mike Bowman Inc., Konopka also currently serves as VP of the firm's commercial division. Responsible for the performance of the commercial division, she has kept the group performing at an outstanding level. In 2021, Konopka finished No. 2 nationally and No. 1 in Texas in commercial sales, and in addition, under Konopka's leadership, her commercial division is on track to be the No. 1 commercial office within the entire CENTURY 21 system for 2022. Separately, Konopka serves on the commercial advisory board for the national CENTURY 21 commercial platform and she currently serves as VP of the MetroTex Commercial Data Exchange and as a member of the MetroTex Building task force.

MINDY KORTH
To help her charges feel supported and connected early on during the pandemic, Mindy Korth established a new communication process for her investment sales team and implemented daily virtual meetings as a way to check in, collaborate and help move projects along. Considered one of the best brokers in the greater Phoenix area, Korth and her team at Colliers closed 30 transactions in 2021. While managing a full load of transactions as EVP, Korth also served on a four-member team that facilitated the Grand Canyon University campus refinancing, which included more than 80 buildings across 259 acres and totaled $1.2 billion in loan proceeds. Colliers has inducted Korth into its Everest club numerous times, including in 2021 – an honor bestowed to the firm's top 10% of US professionals based on revenue production. During her 37-year career, Korth has completed transactions totaling more than 26 million square feet, valuing more than $4.6 billion.

KELLY KUYKENDALL
The pandemic did not slow Kelly Kuykendall down. In December 2020, the 17-year industry veteran was promoted to managing director of acquisitions and asset management at Bridge Investment Group's subsidiary Bridge Office Fund Manager, which provides commercial office brokerage services, property management, leasing and construction. Kuykendall has executed more than 1.1 million square feet of leases, totaling 111 transactions, since March 2021. Within her role, she oversees a team that has a portfolio of 6.6 million square feet across 22 office buildings. In addition, Kuykendall has successfully led the company through five dispositions comprising 800,000 square feet and totaling $170 million. She was also instrumental in the firm's acquisition of two office parks during the past 12 months totaling more than one million square feet and $180 million. Kuykendall continually zeroes in on the best markets—or in some cases the best submarkets or micro-markets—to determine the best value-add opportunities.

THEODORA "TEDDY" LEATHERMAN
Even when the market for student housing slowed in 2020 due to in-person learning limitations, Theodora "Teddy" Leatherman continued to close investment sales and place equity for student housing properties throughout the US. As senior director at JLL, Leatherman leads the firm's Dallas student housing capital markets team. She successfully raises institutional equity for student housing developments, which, during the pandemic, allowed clients to emerge even stronger. In 2021, Leatherman executed $1.3 billion in student housing transactions and she simultaneously graduated from the Real Estate Council's associate leadership council. With 10 years in the business, Leatherman sits on the JLL Dallas office candidate screening committee and she is part of JLL's capital markets diversity and inclusion board, which aims to educate, hire and retain diverse talent, as well as develop a strategic plan to continue to be a diversity and inclusion leader within the industry.

MINDY LISSNER
While commercial real estate may be a male-dominated industry, the industrial space specifically is even more so. However, that did not prevent Mindy Lissner from getting into the business more than 30 years ago. Since then, Lissner has become one of the top producers in New Jersey, having closed more than $10 billion in transactions. As vice chair at Cushman & Wakefield, Lissner and her team completed 205 transactions globally, valued at more than $1.6 billion, in 2020 during the pandemic. In an effort to boost women in the business, Lissner and some of her peers launched the Sisterhood of the Tilt Wall, a program for women of all ages in the industrial sector. She remains a mentor for the program. Lissner was recently awarded the Boy Scouts of America's distinguished citizen of the year award as an outstanding member of the community.

CLAIRE MATTEN
Earlier this year, Claire Matten became the first woman in the state of Montana to receive a designation with SIOR. As an advisor at Sterling Commercial Real Estate Advisors, Matten leads the firm's self-storage and industrial divisions, while overseeing and leading complex office, retail and multifamily projects. She sits on the brokerage leadership team and in 2021, she helped the company achieve nearly $100 million in gross sales volume. Within her role at SterlingCRE, Matten meets with a range of clients to solicit opinions of value, site selection packages and other products. With 15 years of industry experience, Matten notably helped relocate Paramount's "Yellowstone" production to the state of Montana in 2020, and she represented the industrial ownership of multiple "Yellowstone" film and production sites as the television series was picked up for additional seasons.

JESSICA MAUSER
Player-coach Jessica Mauser runs her own successful brokerage activities while maintaining and growing the office of Lee & Associates East Bay, where she has served as the managing principal and co-president for the past four years. Under Mauser's leadership, the Pleasanton, CA, office achieved a revenue of $160 million in 2020. Mauser became the first woman to sit on the corporate board of directors for Lee & Associates last July. She mentors young retail agents and extends her reach as a 17-year commercial real estate expert through a podcast she launched in 2021, which focuses on e-commerce, omni-channel, digital native brands and technology within the retail and industrial sectors. In addition, Mauser is the lead for West Coast retail across the Lee & Associates network.

JANET NEMAN
Janet Neman has sold more than $1.7 billion in commercial real estate assets during her more than 36-year industry career. As an EVP and shareholder at Kidder Mathews, Neman continually serves as a top producer at the firm and in 2020, she ranked No. 1 in the Southern California region. In 2021, she completed more than $75 million in deals and, in the first two months of this year, she had closed more than $83 million in transactions, including representing the seller and buyers of a 259-unit, four-building multifamily portfolio in Koreatown, totaling more than $55 million. Neman also recently listed and sold a luxury eight-unit building in West Hollywood for $1.3 million per unit, representing one of the highest prices per unit achieved in that market.

EDDY NEVAREZ
During much of the pandemic, it was nearly impossible to sell hospitality assets with travel bans and lending freezes, however, with 16 years of industry experience, Eddy Nevarez quickly adapted. As first VP of investment and a leading broker in Marcus & Millichap's hospitality division, Nevarez spent much of 2020 and 2021 creatively working with hospitality clients to turn their empty hotels into multi-dimensional, revenue-driving assets with a purpose, while also assisting her clients who faced a crossroads with their properties. By July 2021, Nevarez was able to close nine hospitality properties in eight states for a total value of $225 million. As a result, last year represented Nevarez's most successful and impactful year as a broker, for which she earned the firm's highest honor, the chairman's circle of excellence award.

DENISE NUNEZ
Denise Nunez is considered one of the foremost experts in the self-storage industry nationwide and one of its top dealmakers. In 2021, the 29-year industry veteran was ranked NAI Horizon's No. 1 top producer, having closed $140 million in self-storage transactions. She achieved the highest gross commissions earned of any sales agent in the firm's 30-year history, and as a result, she was recently promoted to executive managing director. In the past 12 months, Nunez, who leads an Arizona-based self-storage team, became one of the top three shareholders of Horizon Real Estate Group, the holding company for NAI Horizon, for which she serves as its treasury secretary. In another leadership role, Nunez serves on the executive committee for NAI Horizon and is a driving force for shaping NAI Horizon's success.

HANNAH OTT
As the multifamily sector emerged from the pandemic relatively unscathed, Hannah Ott, co-lead of Cushman & Wakefield's Midwest multifamily advisory group, has remained busy the past couple years. In 2020, Ott's team achieved a record year and in 2021, her team doubled this deal volume by closing 59 multifamily investment sales valuing nearly $2 billion. Under Ott's leadership, her team dominates its home state of Indiana with a 60% market share, and last year, it closed every multifamily investment sale of more than $100 million in the state. While serving as vice chair at Cushman & Wakefield, Ott also serves on the board of Providence Cristo Rey High School in Indianapolis and she has worked to strengthen the school's relationships and build partnerships with Indianapolis businesses, including Cushman & Wakefield, which hosts interns from the school annually.

BARBARA PERRIER
In 2021, investment broker Barbara Perrier and her partner and sister Darla Long completed $10 billion in deal volume across 90 transactions. As a 33-year industry veteran, Perrier has consistently ranked in CBRE's top global 100 brokers. Based in CBRE's Glendale, CA office, Perrier has cemented a reputation as a leading broker, specializing in industrial and land sales. She has spent her entire commercial real estate career at CBRE, where she serves as vice chairman. She is reasonable throughout any deal and is generous with her time. Perrier serves on ULI's industrial and office park development council, she is a founding member and board member of CBRE's women's network group, and she serves on the CBRE capital markets advisory board.

BRITT RAYMOND
During a period of market turbulence in the past 12 months, Britt Raymond has managed to increase her transaction volume. The VP of SRS Real Estate Partners, Raymond helped National Net Lease Group achieve its best year in 2021, with more than $250 million in deal volume, including a $60 million Sherwin Williams distribution facility in Illinois and $15 million portfolio of urgent-care facilities in New York. Raymond has led the firm's Manhattan office growth since 2017, and she continues to succeed in her role due to her ability to focus on sectors that have inherent value with essential businesses. She additionally successfully advises clients on how to take advantage of a downturn and a bull run in the market, and she proactively lists the right assets at the right time. Raymond had the foresight to expand her expertise in the medical sector in previous years, which has proven to be a space where prices have increased.

KATE VARDE
In addition to her contributions to the bottom line at Essex Realty Group Inc., Kate Varde's ability to lead by example, develop consensus and manage priorities make her an influential professional. Since joining the multifamily real estate brokerage firm 15 years ago as an associate, Varde has steadily risen in the ranks and she now serves as a principal of the company. At the firm, she has sold more than 5,000 apartment units valued at $500 million, and she also co-chairs Essex's charitable giving committee. In addition, Varde is a founding partner of private equity firm Back Nine Apartment Investors LP and she has acquired more than $75 million of multifamily investments, utilizing traditional limited partnerships, tax deferred exchange solutions and discretionary fund strategies.
BROKER – LANDLORD / AGENCY REPRESENTATION

SUSAN BERGDOLL
For a six-month period in 2021, during a leadership transition at Duke Realty, Susan Bergdoll managed her market solo, while continuing to manage personnel, leasing and development of more than 36 million square feet across three markets. During this time, Bergdoll demonstrated her proven abilities while additionally on-boarding new associates to build her team. In the past 12 months, Bergdoll successfully achieved 100% occupancy in Chicago and Indianapolis, and 98% occupancy in Minneapolis. She commenced her industry career 25 years ago in Duke Realty's marketing department and she now serves as SVP of leasing for the firm. Within her role, she leads the company's Chicago, Minneapolis and Indianapolis markets, manages a 21-person team and is responsible for more than $3.5 billion in revenue. In 2021, under Bergdoll's leadership, Duke Realty started more than $200 million in new developments in Chicago and Minneapolis, some of which have earned national and local accolades.

CHERI BLESSING
Cheri Blessing, a principal at Lee & Associates – LA North/Ventura, has 24 years of industry experience, during which time she has executed more than 300 transactions with a combined value of more than $100 million. Her clients include both private and publicly-held companies, including buyers, sellers, landlords and tenants. Blessing specializes in the sale and leasing of office, medical, industrial and retail properties in Los Angeles county and Ventura county. She has sold multiple properties along Thousand Oaks Blvd., achieving some of the highest prices per square foot since 2006. Blessing previously served as the administrative secretary for the Thousand Oaks Blvd Association for several years and she continues to work with the City of Thousand Oaks and property owners within the association. She also served on the City of Thousand Oaks business roundtable.

COLLEEN CAREY
Over the course of her 24-year career in commercial real estate, Colleen Carey has represented both property owners and tenants in commercial sale and lease transactions throughout the Los Angeles Basin. Carey has handled all types of properties from light industrial, land, multifamily, office and retail, to investment properties both in California and beyond. In 2018, Carey formed and opened the full-service CRE brokerage firm, Lee & Associates – LA Pasadena, along with five other veteran brokers. As founding principal, Carey has consistently led the firm in personal production since its inception. Her business is 100% referral generated and she frequently works with repeat clients. Recently, Carey represented the Loveland Family Trust in the listing and sale of a $5 million, six-acre vacant land parcel in San Bernardino County. She also recently represented the accountancy firm Harrison Group in the acquisition of a $3.5 million, 7,000-square-foot office building in Pasadena.

AMI FIGG
Senior leasing agent at Hartman Income REIT Management Inc., Ami Figg is responsible for renewing existing tenants and increasing occupancy in the firm's Park 10, Timbercreek and Copperfield portfolios. With 13 years of experience, Figg is described as a well-rounded leader with empathy and an ability to establish trust quickly. She holds the highest closing ratio of any agent in her department. Figg received the firm's overall top performer in occupancy award in Q1, Q2 and Q4 of 2021, with an overall 18.8% increase in occupancy with 52,000 square feet of positive net absorption. During the last year, Figg's notably represented a 3,177-square-foot renewal with DRC Health Systems and a 3,282-square-foot renewal with Hyundai Heavy Industries Co. Outside of her professional accomplishments, Figg has sung for Houston Grand Opera for 21 years in seven different languages. At the Greater Houston Women's Chamber of Commerce event in 2021, Figg sang a concert and served as the featured speaker regarding her various accomplishments as an industry expert, a martial arts expert and an avid hiker.

KRISTIN T. GEENTY
Kristin Geenty's mission is to make real estate accessible to all marginalized small business owners and to help them scale to build future generational wealth. Geenty is president of independent commercial real estate brokerage firm the Geenty Group, Realtors – CRE, where she succeeded her father and has forged her own path. Through social media, Geenty breaks down national commercial market data, trends and forecasts, and extrapolates and translates the headlines to make them relatable to business owners and investors in smaller, tertiary markets. In brokerage, she represents clients in the sale, purchase or lease of properties, often acting as a landlord and seller representative. On the tenant rep side, she works with organizations large and small to find homes for their businesses. In 2021, Geenty successfully completed 59 sales and lease transactions totaling more than 112,000 square feet. Under Geenty's leadership, the firm champions women business owners by providing them with hours of consultation at no cost, and she additionally takes time to regularly represent underserved clients.

MARY HINES
With 23 years of experience, Mary Hines has a unique skill set that allows her to complete a wide range of transactions, including locating flexible incubator space for a university start-up, representing venture-funded companies in leasing specialized laboratory facilities, managing complex land acquisitions on behalf of large pharmaceutical companies, and representing both publicly-traded life science REITs and institutional landlords in the leasing of highly-improved laboratory buildings. As executive managing director at Newmark, Hines specializes in advisory work within the life sciences and biotech industries. Together, Hines and her partner Jennifer Vergara have represented more than 20 million square feet of life science transactions. Some of the duo's most significant transactions include representing BioMed Realty on the lease up of 303,000 square feet to Zymergen, representing Tarlton Properties on more than 1.3 million square feet of life science space, and bringing Denali Therapeutics to be the first tenant at The Cove in San Francisco and growing the tenant into a 150,000-square-foot standalone building.

SIMMI JAGGI
When she was in college, Simmi Jaggi developed an interest in real estate because it allows one to define her own career. Jaggi earned her real estate license and became a multifamily leasing agent while still a college student. Early in her career, she discovered she had a passion for retail real estate and went to work for CBRE, where she closed more than $970 million in sales in the greater Houston area. Jaggi then moved to JLL, where she now leads her own land team as EVP and managing director of JLL's national land advisory services division. As one of the few female producers to hold the title of EVP within JLL's retail group, Jaggi consistently serves as one of the top producers within the Houston office and across the firm. Since joining JLL in 2014, Jaggi has built a high-performing team that specializes in land dispositions and acquisitions for clients.

DANET LINARES
Since joining Blanca Commercial Real Estate in 2009, Danet Linares has completed more than four million square feet of office lease transactions throughout South Florida. In the past year, as executive vice chairman, Linares has participated in more than 600,000 square feet of office lease transactions and led the leasing of several of the firm's trophy class A assets, including The Main Las Olas, MiamiCentral and The Plaza Coral Gables. Prior to joining Blanca Commercial Real Estate, Linares worked as SVP at Blue Capital, where she led the leasing and marketing strategy for Miami Tower and successfully brought the building to 97% occupancy within four years. Highlights of her philanthropic work include the creation of Habitat for Humanity's women's leadership council and the launch of the Hard Hats and High Heels annual fundraiser that has raised more than half a million dollars since 2018 for construction of new homes for single moms.

LAUREN NAPPER
As an office agency expert, Lauren Napper has continued to provide trusted counsel for her clients regarding working arrangements during the pandemic. Not only has she served as a resource while advising her clients through the initial onslaught of the pandemic, but she has also provided valuable advice as the conversation shifted to bringing workers back into the office, while focusing on added property amenities. As an SVP at CBRE, Napper represents institutional investors in leasing their class A office properties in the Dallas market. She was part of 89 deals in 2021, totaling 515,000 square feet and more than $100 million in consideration. Her biggest win of 2021 was the leasing assignment for 3131 McKinney, a class A, eight-story office building in Dallas. Napper is described as informed, highly capable and always willing to step-up to provide an additional layer of client service. She is a member of the Texas Real Estate Commission and CBRE's women's network, through which she mentors women in commercial real estate.

MARCI PHILLIPS
Marci Phillips is known for her ability to create and foster great client relationships. During her 28-year industry career, she has leased more than 4.7 million square feet of office space. In addition to developing and cultivating relationships with clients, tenants and the brokerage communities, she also devotes time to mentoring female colleagues. Phillips has navigated several obstacles throughout her career, including flooding in her leased office buildings, the volatile Houston oil industry and, most recently, the pandemic. She has met these challenges with creative new concepts, marketing strategies and flexible communications with clients, tenants and brokers. Last year, Phillips moved to the Hampton Roads area of Virginia and was hired by Divaris Real Estate Inc. as SVP of office leasing. In this role, she serves as lead broker and negotiator responsible for all marketing and leasing efforts for large projects in the area and advises commercial real estate owners on key submarket indicators, overall market landscape and strategic directions. Phillips serves as chair of CREW Coastal Virginia's community service committee.

CAROLYN PISTONE
Carolyn Pistone is president and managing director of Clear Blue Commercial, which manages commercial real estate in Northern California. She oversees 14 professionals and thousands of square feet of property, as well as brokering leasing and sales deals. With 20 years of commercial real estate experience, Pistone is described as a caring, encouraging and supportive leader. She has received accolades not only for her leadership but also for her work to help the environment. In 2021, Pistone oversaw the addition of a large solar array installation that will save 25% of the total consumption for a facility at a savings of more than $100,000 annually. She takes on projects that save millions of gallons of water annually, solar and lighting initiatives that save hundreds of thousands of Kilowatt hours and projects that reduce greenhouse gas emissions, while also saving clients hundreds of thousands of dollars a year and adding significant value to their properties.

DEEDEE SHASHY
DeeDee Shashy, leasing manager at Bayer Properties, has brought several new and first-to-market tenants to the firm's portfolio. Last year, Shashy was one of Bayer's top leasing producers with 39 completed deals totaling more than 155,000 square feet across multiple markets, while balancing the responsibilities of raising her one-year-old son. At Bayer's flagship development, The Summit in Birmingham, Shashy was responsible for securing fitness apparel brand Fabletics, fitness concept Battle Republic and Levi's. At The Summit at Fritz Farm located in Lexington, KY, Shashy worked with Amazon 4 Star to bring its brick-and-mortar concept to market, and at Colony Crossing in Madison, MS, Shashy introduced first-to-market Crumbl Cookies. Outside of Bayer, Shashy has served on the Alabama CCIM board of directors as the chapter member services and communications chair while handling the chapter's social media accounts. She is a licensed broker in Alabama, Georgia and Tennessee, as well as an active member of CREW Birmingham and ICSC.
JODI SHOEMAKE
Jodi Shoemake is founding principal and shareholder of Lee & Associates – LA Pasadena. She has a 23-year industry background, including experience in appraisals, which allowed Shoemake to develop a solid understanding of property valuation and enabled her to focus on the areas she most enjoys: retail and office leasing and sales, retail tenant representation, consulting and redevelopment. Shoemake began her real estate career as a licensed appraiser and transitioned to brokerage in 2006. At that time, she served on CBRE's urban retail team in the firm's downtown Los Angeles corporate office, where she specialized in landlord and tenant representation during the early stages of downtown LA's retail revitalization. Shoemake previously served as VP at NAI and as a consultant to the City of Arcadia's economic development department, where she helped build more proactive and ongoing business engagement and positioned its commercial districts for maximum success and economic growth.

JANET STERCHI
Janet Sterchi, EVP and partner at Colliers, is consistently ranked among the top brokers in the Nashville market. She has spent her entire 24-year career representing both tenants and landlords in Nashville and across the country. Sterchi is described as a bold broker who has steadily worked through two recessions and the upheavals of the pandemic, during which she recently negotiated two sizable business projects and won a tenant representation assignment for a 160,000-square-foot consolidation of a $20 billion NYSE company that had three offices in Nashville. Despite the marketplace uncertainty, in 2021, Sterchi ranked as a top 10 producer at Colliers Nashville and she was named an Everest award winner at the firm. Sterchi is heavily involved in the operations and management of the company and she fosters a collaborative approach to research and intelligence sharing. She takes an interest in the professional growth of the next generation of brokers and staff at the firm by providing mentorship to junior brokers, and she also serves her community by providing pro bono services to nonprofit organizations.

HEATHER TAYLOR
As a principal and managing broker at Impact Commercial Real Estate, Heather Taylor works on all aspects of commercial real estate, but she particularly thrives on retail landlord representation. Taylor is not known for backing down from challenges. She worked hard through the pandemic to keep vacancies low for owners and used creative thinking to fill spaces, including creating gymnastics studios, singing studios, trophy retail locations and more. Taylor holds 13 years of industry experience and consistently ranks in the top 10 for retail transactions in Colorado through the Denver Commercial Association of Realtors. She serves on several boards including the membership advisory committee for the NW Douglas County Chamber and Economic Development Corp., the finance committee for Douglas County Community Foundation, and the foster chair for Colorado Adoption and Foster Community.

JENNIFER VERGARA
With 15 years of experience in the life sciences real estate industry, Jennifer Vergara currently serves as executive managing director at Newmark. Based in the firm's San Mateo office, Vergara and her partner Mary Hines have represented more than 20 million square feet of life science transactions. Vergara specializes in advising a wide range of companies in need of laboratory space including diagnostics, pharmaceutical, medical device, alternative energy, alternative commodities and life science venture funds. Together, Vergara and Hines have represented 35 biotech companies from seed funding to IPO. Some of the duo's most significant transactions have been representing BioMed Realty on the lease-up of 303,000 square feet to Zymergen; representing Tarlton Properties on more than 1.3 million square feet of life science space; bringing in Denali Therapeutics as the first tenant at The Cove in San Francisco and growing the tenant into a 150,000-square-foot standalone building. The team is currently advising both startups and large biopharma companies on how to manage growth in the current market.
BROKER – TENANT REPRESENTATION

EMILY CHABRIER
During a summer brokerage internship, a supervisor suggested that Emily Chabrier might be better suited for the marketing department. Determined to prove him wrong, Chabrier rose through the ranks and eventually became the youngest female EVP in CBRE's Tri-State region. Chabrier has been involved in more than 9.3 million square feet of transactions. She has ranked among CBRE's top 20% of producers since 2016 and is one of the youngest associates to consistently do so. In addition to advising prestigious corporate occupiers such as Bank of America, City National Bank, Finastra and Dun & Bradstreet, Chabrier represents some of the city's most highly respected owners and landlords. Her agency work includes the leasing of One Vanderbilt Ave. for SL Green and assignments for Paramount Group, Ivanhoé Cambridge, Nuveen and Tamares Group. Chabrier also represents Empire State Realty Trust as well as Latham & Watkins' global real estate leasing efforts, which have included deals everywhere from Las Vegas to Seoul and Moscow to New York.

PATTI DILLON
Without a formal college education to launch her career, Patti Dillon dedicated herself to learning the commercial real estate business and forging professional relationships. Through hard work, Dillon became one of the top-producing female brokers in the Las Vegas office of Colliers, where she currently serves as an SVP and a full partner on her own real estate team. Dillon holds experience in all aspects of the office sector, including investment sales, acquisitions, comparative financial analysis, site selection, real estate consulting, property valuation, development and landlord and tenant representation. During the past 12 months, Dillon has completed 59 transactions, totaling $179 million and 888,000 square feet of leased and sold space. She recently represented the owner in the sale of two buildings totaling 111,000 square feet for $21.5 million, which was recognized as the SIOR 2021 office deal of the year. Dillon is a Colliers women's leadership executive for the Southwest region and is working on launching a peer-to-peer mentorship program.

HOLLY DURAN
For more than 40 years, Holly Duran has been a trailblazer for women in the Chicago real estate market, as well as a masterful representative for her clients. A principal at Colliers, Duran serves as an influential female broker in tenant representation and she was especially busy helping clients face numerous challenges during the pandemic. She offered support and guidance by providing information, procuring resources and condensing materials on best practices for CEOs to easily digest. Duran also formed an ad hoc network and connected business leaders from various industries. Prior to her firm, Holly Duran Real Estate Partners, being acquired by Colliers in 2020, Duran spearheaded office and data center lease negotiations for more than 21 million square feet of space globally. She and her team have performed numerous sale/leaseback transactions on behalf of clients, including the Chicago Board of Trade Building, the Kansas City Board of Trade Building and the NYMEX Building at 300 Vesey St. in New York.

MICHELLE HUDSON
More than 30 years ago, a driven young woman convinced Rent-A-Center to hire her to oversee the development of its headquarters in Wichita, KS. A born entrepreneur, Michelle Hudson then opened her own brokerage and convinced Rent-A-Center to give her the sales listing for its old corporate facility. Today, Hudson is principal of Hudson Peters Commercial, a prestige firm based in the Dallas/North Texas market, which she co-founded 15 years ago with partner Janice Peters. With expertise in industrial and manufacturing facilities, Hudson is able to address the needs of high net-worth individuals and entrepreneurial companies. Under her leadership, during the pandemic, the Hudson Peters team matched a large manufacturer that had excess space with a tenant in need of space for hand sanitizer production. Hudson handles each deal with a big-picture outlook; a strategy that prompts repeat and referral clients. During her career, she has closed more than $1 billion in leases, property and investment sales.

JACLYN MAY
Last year, Jaclyn May, executive director at Cushman & Wakefield, was the only woman among the firm's top 10 producers. May specializes in real estate advisory services for businesses and law firms, nonprofits and educational organizations. Her client focus has led to more than 4.5 million square feet of tenant representation deals during the past three years. In the past 12 months, May and her team completed more than 100 projects, involving more than 1.6 million square feet. One example of her recent work involves helping a corporate client right-size operations, yielding $2.5 million in savings and providing an early exit from its lease commitments. May's team also helped the client open a 300,000 square foot warehouse distribution center in a tight industrial space market under a condensed timeline. May is a member of Cushman & Wakefield's next generation leadership network and was the first co-chair of the firm's Minnesota women's integrated network.
DAWN MCCOMBS
Dawn McCombs served as Avison Young's top producer in its Denver office in both 2020 and 2021. As principal at Avison Young and head of the firm's industrial services group, McCombs' responsibilities include developing and managing the industrial brokerage service line where she specializes in owner/user assets, tenant representation, investment sales and development. In the past year, McCombs has completed more than $24 million in property sales and nearly 600,000 square feet of leasing. McCombs assisted in brokering the acquisition of 37 acres of land for the first phase of Elevation25, a five-building speculative industrial warehouse project. She also brokered the $13 million sale-leaseback of Ranger Energy Service's mission critical facility, a 131,389-square-foot industrial property situated on 23.32 acres. With 30 years of experience, McCombs leads by example and mentors junior industrial brokers on her team.

CHELBY SANDERS
During the pandemic, when the office market was negatively impacted, Chelby Sanders made a conscious decision to remain positive, which helped her and her team emerge from the downturn stronger than ever. An EVP at CBRE, Sanders co-leads an office tenant representation and advisory services team. In 2021, Sanders was part of 72 transactions totaling more than 1.1 million square feet and more than $215 million in consideration. Furthermore, last year, she ranked as one of the top 25 producers in CBRE's Dallas office and in the top 10% of CBRE producers nationally. Sanders focuses on tenant representation for office users, while guiding the team's strategic direction and business development. As a Hispanic woman, she successfully navigates the business world as a minority. She is a strong proponent for building diverse teams and has prioritized mentoring her team's younger members.

TRICIA TRESTER
Tricia Trester helps corporate occupiers navigate the complex commercial real estate landscape and has worked with some of the world's most recognizable brands, including IBM, Morgan Stanley, Salesforce, Amazon and Google. As head of global portfolio solutions at Cresa, Trester leads the portfolio solutions, consulting, lease administration and workplace solutions service lines. With more than 15 years of experience, she is committed to empowering other women in commercial real estate, which is evidenced by her appointment of four female leads to the global portfolio solutions team and her commitment to mentorship. Trester is a member of Cresa's executive council and the alliance management board, both of which help set the strategic direction of the firm. Since joining Cresa in the fall of 2021, Trester has undertaken several large-scale initiatives to elevate the organization's portfolio solutions platform, including overseeing the acquisition of Agile Work Evolutions, a workforce analytics company. Trester also serves as an industry speaker and thought-leader.
BARBARA WINTER
Barbara Winter has engineered multiple complex transactions that allowed businesses and organizations in New York City to thrive as the city emerged from the pandemic. As executive managing director in JLL's New York City Midtown office, Winter focuses on tenant representation and agency leasing. With 35 years of diverse industry experience, she holds a deep grasp of all facets of a transaction, from ownership objectives and tenant requirements to building operations, construction and financial structures. Her knowledge and experience have been instrumental in her successful completion of millions of square feet of complex lease transactions, including a recent groundbreaking lease of a 165,000-square-foot facility which she engineered for Icahn School of Medicine at Mount Sinai. The lease represented more space than the total amount of life science square footage leased across New York City in 2020.
CONSULTANT / ADVISOR / INDEPENDENT PROFESSIONAL

AMY ADKINS
Amy Adkins is described as the glue that holds the Alabama commercial real estate industry together by leading and advocating for the business, and she is known throughout Birmingham, AL by brokers, bankers, attorneys, title companies and third-party providers. Adkins is chapter administrator for the CCIM Alabama chapter, for which she organizes multiple events each year, including more than a dozen networking functions and the institute's three market symposiums. She also plays a vital role in implementing the initiatives developed by the CCIM Alabama board of directors, including student outreach and workforce development. This includes overseeing the award of eight scholarships each year. Adkins manages communications for the chapter, recruits new members and sponsors, and serves as a resource to other chapter administrators across the country. She played a critical role in the chapter winning CCIM's President's Cup four times, and she also organizes the chapter's philanthropic endeavors. Last year, Adkins helped coordinate Salvation Army bell ringer assignments for chapter members.

HEATHER BORDER
Heather Border co-founded Alliance Global Advisors, a real asset investment advisory firm that launched in April 2020 just as the pandemic was gripping the world. Since its inception, under Border's leadership, the firm has advised 29 clients with more than $380 billion in aggregate assets under management. As managing partner, Border is involved in every aspect of the business and advises clients on how to exceed the expectations of institutional investors and consultants. Border is a frequent speaker on industry panels and conferences and prioritizes education and mentorship throughout the industry. During her 17-year industry career, she has held memberships at the National Association of Office and Industrial Properties, the Pension Real Estate Association and Institutional Real Estate Inc. As a community advocate, Border is passionate about advancing women, mentoring and guiding female leaders within the institutional real estate sector. As an alumnus of CREW and a current board member of Wellfit Girls, she is proud of mentoring the next generation of female leaders.

CHRISTELLE BRON
Christelle Bron has been an advocate for the financial benefits of agile real estate for many years, and she brings that passion to CBRE by serving as the Americas agile real estate practice leader. Bron built and currently leads a team of more than 25 professionals, including technologists, consultants and local market "flexperts," all focused on advising clients on agile real estate strategies from co-working to flexible space to optimized portfolios. She is described as forward-thinking and innovative with an ability to spot evolving trends. Under Bron's leadership, her team has created cutting-edge proprietary tools, including the Flexible Availability and Survey Tool, which reports live inventory and availability from major flex providers. The team also developed CBRE's Agile Lease Calculator, which quickly and accurately compares the cost of traditional leasing options to flexible leasing options. Bron and her team have arranged more than 1,000 flexible-space transactions during the past year.

DIANNE P. CROCKER
Dianne Crocker has an insatiable appetite for research, data and analytics and is adept at connecting the dots of broader macro trends and presenting them in a meaningful way. During her 24 years in commercial real estate, Crocker has utilized her skills to carve out a niche as a trusted adviser, market analyst, mentor program creator and industry influencer. As principal analyst at LightBox, a real estate information and technology platform, Crocker is responsible for researching and reporting on key market barometers, trends and forecast data to support internal business planning, as well as client needs. During the market shock, following the onset of the pandemic and the rocky recovery, Crocker delivered insights that put the downturn into historical perspective and helped real estate professionals understand and forecast an uncertain future. She frequently moderates and speaks at events, and she authors articles pertaining to market trends, risks and industry forecasts. Deeply invested in mentoring the next generation of leaders, Crocker created the LightBox developing leaders mentorship program, which has paired more than 60 young professionals with high-level mentors.

JENNIFER FALK
Since 2007, Jennifer Falk has guided the Union Square-14th Street district of New York City through a historic period of growth, and she most recently navigated the pandemic's effects on the neighborhood. As executive director of Union Square Partnership, Falk has recently championed the district's businesses; managed services and programs including sanitation, public safety, economic development, marketing and events; and overseen beautification efforts at Union Square Park. Following the onset of the pandemic, Falk and her team introduced #USQNext, Union Square Partnership's COVID-19 recovery plan, which focused on five points of action, including emphasizing core services, boosting local business and encouraging leasing activity, expanding hospitality and tourism marketing, strengthening work with existing partners and developing new connections to support neighbors, and advancing the vision plan for the future of Union Square-14th St. Under Falk's leadership, the neighborhood has welcomed 63 new businesses to the district since 2020.

PAULINE HALE
With wide-ranging personal experience in underrepresented groups, Pauline Hale is on a mission to drive greater diversity at Altus Group and throughout the industry. Hale is one of a handful of female directors at Altus Group and a member of the LGBTQ+ and Jewish communities. In her role as director of managed services and global advisory at the firm, Hale guides internal and external strategy in addition to her efforts to drive a more inclusive corporate environment. She has been involved with reviewing the company's onboarding processes and helped implement best practices into its corporate training framework. She also launched a shared services group that assists engagement teams with special projects and best practices. Hale chairs the Altus Group Pride affinity group and is one of 40 members of the firm's diversity, equity & inclusion task force. Through her involvement with CREW, Hale helps educate women in high school and college on the multitude of opportunities available in commercial real estate. She is a former professional bowler who now regularly attends dog shows with her dachshund, Peeve, who recently won the title of Grand Champion at the Bronze level.

CRYSTAL KALINOWSKI
When COVID-19 began to impact borrowers and lenders, Crystal Kalinowski's experience in real estate loan servicing helped to navigate them through mutually beneficial forbearance agreements and avoid loan defaults while PPP loans were approved. As managing director at District Capital, Kalinowski services and closes loans. District Capital experienced no monetary defaults since the start of the pandemic and it attributes this feat to Kalinowski's connections and expertise. During her 23-year career, she has managed servicing portfolios of multiple billions of dollars, including closing more than $1.9 billion with District Capital since its founding in 2019. In the past year, Kalinowski closed a significant Fannie Mae credit facility loan of $150 million, and she started District Servicing LLC, a loan servicing platform that currently services loans for more than 20 lenders across CMBS, life company and agency platforms. Kalinowski frequently speaks on industry panels regarding commercial loan servicing, loan closing and mentorship.

LISA KNEE
When Lisa Knee was appointed to lead EisnerAmper's real estate services group earlier this year, she set out to ignite growth within the company through a collaborative approach. Knee organized an internal mentoring program along with an enhanced training program, business development mentoring and team engagement strategy, all of which were designed to bolster engagement at all levels. Knee's efforts have helped the real estate team grow to more than 450 members. In her role as a partner and national real estate practice leader at EisnerAmper, Knee provides expertise in real estate funds and transactions, including acquisitions, refinancing, like-kind exchanges, joint-venture agreements and structuring tax rehabilitation credits for real estate owners, operators, investors, family offices and developers, in addition to hospitality companies, restaurant groups and financial service firms. Recently, she has been involved in structuring and consulting clients on the implementation of qualified Opportunity Funds. She has also been at the forefront of creating a real estate-specific ESG program at the firm, including new service offerings to help clients with their ESG initiatives.

LAUREN D. LEACH
Throughout the height of the pandemic, Lauren Leach focused on advising retailers that were struggling with their real estate portfolios due to forced closures. She assisted with adjusting the number of stores, rightsizing store footprints and negotiating for contract concessions. In her role as director of real estate services at Riveron, Leach provides guidance and advice within the firm's restructuring and turnaround practice. She often deals with companies in crisis situations and endeavors to always remember the retailers, employees and families behind struggling properties with the goal of bringing new life to them. In addition, Leach brings a strong voice to issues within the industry, providing insights into the ways businesses can avoid bankruptcy, emerge from bankruptcy, navigate turnaround situations with purpose and create sustainable value. Leach's noteworthy achievements include negotiating more than 10 million square feet of leases valuing more than $450 million for both institutional assets and CMBS workouts, as well as working on more than 200 court-appointed real estate receivership matters nationwide.

ANA SILVA MARTINS
When she was 10 years old, Ana Silva Martins immigrated to the U.S., learned English and helped her non-English-speaking parents navigate day-to-day life. Choosing to pursue a career in civil engineering, she earned licensure as a professional engineer as well as her associate's degree from Northampton Community College and a bachelor's degree in civil engineering from Villanova University. Today, Martins serves as an associate and senior project manager at Van Cleef Engineering Associates, where she provides site design and project development services on land development projects. As a licensed professional engineer, Martins has the ultimate supervision over a multidisciplinary team of engineers and technicians. She is accountable for coordinating the activities of the entire team and outside consultants, for integrating each task into the completed site design, and ensuring that the individual components of the proposed work coalesce into a single overall design that cost-effectively meets her clients' needs. Recently, Martins has been involved with the planning, design and approval process of several impactful projects that are shaping the Lehigh Valley's economic and geographic landscape, including the Airport Road Commercial Park located on a 35-acre site in East Allen Township, Pennsylvania.

HOLLY NEBER
Holly Neber has a passion for sustainability and resiliency, along with a background in energy efficiency, climate risk analysis, environmental and engineering assessment, renewable energy development and property technology. Neber puts these qualities to work as CEO of employee-owned property consulting firm AEI Consultants | Walnut Creek, CA, which has doubled in size under her leadership. She leads the firm's strategic plan and builds a company culture focused on diversity, sustainability and valuing employees. Neber currently serves as the chair of Task Group 62996, which is developing a property resiliency assessment standard within ASTM International's ASTM E06 Performance of Buildings to provide guidance for conducting assessments that evaluate impacts of climate change including sea level rise and impacts of natural hazards, such as flooding, wildfire, extreme precipitation, extreme heat and water scarcity/drought. Neber has presented on the implications of climate change risk to property values, underwriting and lender risk. Neber serves on the Commercial Real Estate Finance Council sustainability steering committee.

KAREN PRIESMAN
During her 33-year career, Karen Priesman has built deep expertise in commercial real estate while working at firms including Gladstone Commercial, Prudential and Hager Pacific Properties. Priesman commenced her career after earning a civil engineering degree and an MBA from Wharton at the University of Pennsylvania with a focus in real estate and finance. She recently served as senior vice president and director of Gladstone Commercial, as well as head of asset management for the firm's Midwest region. In these roles, Priesman had responsibility for a portfolio of four million square feet, with a revenue of more than $34 million. Throughout the pandemic, her business results remained impressive. She completed several office lease transactions and lost only one tenant across her portfolio; aside from which her collections totaled 100%. She also maintained two of her largest tenants after their initial decisions to relocate at the end of their leases. Priesman has been an active member of CREW Network for the majority of her career and she has served as a national trustee for the CREW Foundation. Priesman recently assumed a new role as VP at Rock Spring Properties.

JENNY REDLIN
Jenny Redlin got her start in commercial real estate as an environmental scientist, performing Phase I and Phase II environmental site assessment fieldwork. In 2006, she left the stability of a traditional firm and co-founded Partner Engineering and Science Inc. Since then, the firm has grown from a small startup into a large and well-respected CRE consultant firm with 1,200 employees. Redlin is principal, part-founder and national client manager at Partner, and she serves on the firm's executive board, strategizing on corporate growth, efficiency opportunities and new ways to drive business development. Redlin and her team oversee 2,800 transactions per year, and last year, they touched 6,850 scopes. She shares her expertise and perspectives as a frequent speaker at associations such as the Environmental Bankers Association, Southern California Income Property Lenders and Southern California Commercial Real Estate association. She has also served on numerous committees and volunteered her time to these associations, particularly with EBA where she has also been involved with charitable initiatives.

ELIZABETH L. ROMANO
With more than two decades of industry experience, Elizabeth Romano has learned to overcome obstacles and thrive in professional situations where she is one of few women in technical disciplines. She recently assumed a new position as national client manager at Partner Engineering & Science, where she continues to embrace the role of being a thought leader to clients and colleagues. Romano's experience includes managing turnkey environmental and infrastructure programs for sizable client real estate portfolios and developing and implementing an environmental risk governance program for a banking client. In addition to her professional accomplishments, Romano is active in the Charlotte, North Carolina, community. Since 2017, she has been a member of the Keep Mecklenburg Beautiful board, where she is focused on educating the community about recycling and sustainability initiatives. Romano has served on the CREW Charlotte board of directors as the authentic leadership program liaison for the past two years, and due to her efforts as the CoreNet Carolinas Charlotte market membership committee lead, Romano was asked to join the CoreNet Carolinas board of directors this year to lead North and South Carolina membership recruitment and retention efforts.
TANYA SAFFADI
As the chief human resources officer for Kushner and Westminster, Tanya Saffadi has made it her mission to increase communication and transparency, improve her workforce's well-being and strengthen teams by investing in training and development. In her role, Saffadi oversees multiple teams across 12 states in development, financing, multifamily, retail, industrial and office real estate. To keep pace with Kushner's rapid growth, Saffadi has prioritized replacing outdated systems, streamlining procedures and focusing on wellness. In the past year, with the company's expansion of its multifamily portfolio into six new states, Saffadi led her team to successfully onboard 225 people in a challenging hiring market. She partnered with the executive team to support the company's $3.6 billion in transactions and ensured a smooth transition for current and new team members. Saffadi also recently rolled out a tuition reimbursement program for team members wishing to continue their education and she is in the process of implementing a student loan reimbursement program.

LUDA SAFRANSKY
Luda Safransky, a business development and strategy professional, founded DELT Strategy last year with a desire to help others effectively grow and develop their businesses by helping them establish goals and achieve them. The firm provides consulting services to architecture, engineering and construction companies. As president, Safransky wears many hats at DELT, including marketing and growth efforts and overseeing the company's client accounts. She offers a variety of training opportunities for both teams and individuals, including interview preparation, business development, strategy, training and networking. In the past six years of her career, Safransky has contributed to the acquisition of more than $2.6 billion worth of work, and she is dedicated to continually identifying strategic opportunities, instituting effective procedures and controls, maintaining top class customer service and streamlining for the highest level of efficiency. During the past year, Safransky mentored two females in the AEC industry, she hosted a golf clinic event for Balfour Beatty employees, and she led the Habitat for Humanity Women Build fundraiser.

SU-ZETTE SPARKS
Despite taking leadership of CBRE's workplace, change and transformation practice at the start of the pandemic, Su-Zette Sparks was able to grow revenue across the change management business by 50%, making it CBRE's fastest-growing consulting service. Simultaneously, Sparks developed new capabilities on the consulting team to meet the changing needs of clients with new operating models and hybrid work. As senior managing director at CBRE, Sparks is driving thought-leadership on the transformation of commercial real estate. She is passionate about developing the capabilities of teams and organizations, both at CBRE and with clients, and she is accrediting her own methodology for change and transition while writing a book about her experiences as a change practitioner. Sparks provides gratis business consulting services for women in early stage or pre-IPO startups, and she is a member of the Organization Development Network and Association of Change Management Professionals. A single mom to a college freshman, Sparks is beginning her own PhD program for organization, and she is working toward attaining her pilot's license.

MARILEE UTTER
After beginning her professional career as a schoolteacher, Marilee Utter spent several years in banking before being recruited by the City and County of Denver to establish its office of asset management, where she brought financial accountability to the city's portfolio of 3,000 properties. Since then, Utter has developed strategies and solutions for land-use issues in more than 40 cities, with an expertise in transit-oriented development. Utter is the 2022 chair of the Counselors of Real Estate—only the third female chair in the 1,000-member organization's 69-year history. Her 40 years in commercial real estate have prepared her to lead the association in its thought-leadership initiatives and international growth strategies at a time of historical change in the industry. Utter also is president of Citiventure Associates LLC in Denver, where she specializes in the development of mixed-use properties. Utter previously served as the project manager on the redevelopment of a failed regional mall in Englewood, Colorado, into a one-million-square-foot, mixed-use town center that was the first transit-oriented development in the Denver region.

SUSAN WASMUND
Susan Wasmund brings more than 25 years of experience in workplace strategy, occupancy planning, and project and facilities management to her role as senior managing director and leader of Americas consulting and the global occupancy management practice at CBRE. In this role, Wasmund provides client care and project efficiencies across more than 80 accounts; delivering creative and integrated solutions on the most effective and efficient use of the workplace for clients. Her expertise has been key as companies are reimagining their workplace and occupancy strategies to provide employees with more flexibility as they return to the office after COVID-19. Wasmund also is responsible for growing CBRE's variable occupancy planning business across all regions, including a service center model that ensures high-quality with cost efficiency, as well as providing governance and oversight to ensure occupancy scope and services exceed client expectations. In her current role, Wasmund has built CBRE's occupancy management platform to support more than 80 clients, more than 725 workplace and occupancy managers, and 800 million square feet of managed data across the globe.

BREANA WHEELER
Breana Wheeler's passion for environmental work started when she was a child as she wrote letters to her representatives asking them to take action to protect African elephants, while raising money for the World Wildlife Fund. She carried that passion forward into her career, and in 2016, she was appointed US director of operations for Building Research Establishment, a century-old building science research organization focused on delivering better, healthier buildings. In her day-to-day role, Wheeler organizes and oversees the full domestic operations of BRE, including the development and maintenance of the BREEAM USA technical standards. In 2021, Wheeler led her team through a record-breaking year of US certifications for BREEAM. Prior to joining BRE, Wheeler worked for 10 years as an internal advisor on environmental and sustainability risk management for large, multinational corporations. She also leads conversations addressing the intersection of net zero carbon, resilience and social impact of real estate.

AMY WRIGHT
Amy Wright was a key player in EBI Consulting's record-setting year in 2021 when it surpassed its profit goals by 30%. Wright ensured her team's project ran smoothly and elevated junior employees, while recruiting and onboarding new employees to double her staff. As operations manager, Wright serves as the direct manager of EBI Consulting's nationwide HUD assessor team, consisting of 10 employees. Her responsibilities include scheduling, pipeline and cost/project margin management, as well as interpersonal management of the team with EBI's sales team and other various practices. During the height of COVID-19, Wright helped develop a template process and procedures to coordinate virtual site visits with site contacts when EBI employees could not be on-site. She developed schedules and different components of those site visits and coordinated numerous people while also working through technical issues. During 2021, Wright also acted as the HUD project coordinator; not only managing the team but also assigning all HUD projects.
CORPORATE REAL ESTATE EXECUTIVE

LAURIE BAKER
In January of this year, Laurie Baker stepped into the role of COO at Camden Property Trust, becoming one of the highest-ranking female executives at the company and in the apartment and REIT sectors. Baker joined the firm in 1999 and has overseen regional and nationwide operations during her tenure. As VP of fund and asset management, she helped raise capital for the company's foray into equity fund investments, and she also played a pivotal role in Camden's ongoing digital transformation. In her current role, Baker is responsible for the oversight and strategy of Camden's portfolio operations and investment funds, leading a team of 12 and overseeing more than 1,600 employees nationwide. Baker spearheaded the deployment with Funnel, Camden's new renter-centric leasing platform software solution, and her team led Camden's portfolio-wide smart lock access deployment. She currently is secretary of the National Multifamily Housing Council and recently agreed to lead its diversity, equity and inclusion committee. Baker also previously served as president of CREW Network and she currently serves as vice-chair of ULI's multifamily bronze council.

LASHAWN BATES
Without a background in operations, LaShawn Bates joined JLL as SVP of market operations in Florida and took on the challenge of leading the market through the disruptions of the pandemic. Bates has had to learn the dynamics of each of JLL's nine offices across the state and discovered that a one-size-fits-all model is not workable for the market. She adapted her leadership style in this role, where she was responsible for driving all key initiatives for JLL including operations, finance and facilities in the company's Florida offices with more than 500 employees. She was also responsible for aligning JLL's resources to ensure client satisfaction and overall profitability in the Florida market. Bates was recently promoted to market director for North and Central Florida. Her steady guidance has played a key role in the JLL team in Florida surpassing $100 million in revenue for the first time in the company's history and growing top-line revenue more than 30% year-over-year from 2020 to 2021. Bates served as the chapter president of CREW Tampa Bay in 2021 and was one of only five new leaders selected to serve as part of the 2022 CREW Network global board of directors.

ALISON BEDDARD
Alison Beddard oversaw the successful strategic growth of Cushman & Wakefield's Utah operations, including many high-profile transactions, before becoming the firm's managing principal for Washington State last year. Beddard relocated to a new state during COVID-19, learned a new market, developed relationships with a local team of 75 people and built client relationships. In her role, Beddard oversees the firm's business in Seattle and Bellevue. Within her first 10 months leading the Washington offices, she hired more than 25 new team members, developed a new capital markets strategy, moved the company's Seattle regional headquarters to a new location and conducted a summer internship program. Being a mentor to other women has become an enduring passion for Beddard, which culminated in her election as president of CREW Network. She also serves as chair of Cushman & Wakefield's national leadership council for the women's integrated network, which she has also been a member of since its inception.

JULIE BLANK
Julie Blank is COO at New Standard Equities Inc., where she spearheads both corporate and multifamily operations and has a hand in virtually every division of the company from investment management, asset management and property management to construction, technology and accounting. Despite COVID-19 disruptions, Blank helped lead NSE to success in 2021, including $376 million transacted and a net operating profit of $18.7 million, which was 3.5% above budget. The company attributes that success to Blank's budgeting, strict operating expense management and attention to rapidly changing conditions. When performance at two sites took a hit due to eviction moratoriums and increased renters' protections, Blank turned the financial statements around and increased site performance to exceed goals. Of note, Blank led the development of and continues to oversee NSE's proprietary revenue management software, a hybrid system that combines intelligent automation with human expertise to perform detailed analysis of rents, occupancy, renewals and collections and develops strategies to prepare properties for sale or refinance that exceed financial targets.
AMY E. CARROLL
As the only female president of a commercial real estate firm in her market, Amy Carroll stands out among her peers. Carroll is president and principal of TradeMark Properties Inc., where she is responsible for all aspects of operating the company, including leading the accounting, marketing, admin, property management and brokerage departments. She is adept at working across all departments thanks to her experience in managing commercial real estate for three different firms before joining TradeMark as president at the age of 38. Under Carroll's leadership, which includes investing in new technologies and streamlining operations during the pandemic, Trademark's revenues have increased 45% and net income grew by more than four times. In addition to her role as president, she took on a difficult project for Saint Augustine's University to help restore its student union when the project stalled halfway into a grant. Carroll made the multimillion-dollar project happen in a matter of months. She is a past president of the Building Owners and Managers Association.

BETTY CASTRO
A long-time champion of wellness and balance for professional women, Betty Castro took this passion to another level during the pandemic. As a managing director at Cushman & Wakefield during the onset of the pandemic, Castro worked to provide the support her team needed during uncertain times and also developed a four-part wellness program for CREW NY, where she was serving as chapter president. She offered the program to her company and others at no charge and developed wellness classes and events for women in the industry. As immediate past president of CREW NY, Castro set up mentorship programs to connect experienced women with those new to real estate. In 2021, she joined RIPCO Real Estate as managing partner, where she managed the day-to-day operations of the Brooklyn and Manhattan markets and worked closely with the firm's partners to develop and execute key initiatives to meet overall objectives. Castro recently left the firm to focus on a new endeavor. She continues to mentor brokers and recruit professionals with an eye on diversity, equity and inclusion.

TIFFANIE FARR Although her official title is COO at Hanley Investment Group Real Estate Advisors, Tiffanie Farr is unofficially known as the company's change manager and efficiency expert. This is due to the fact that she has taken on the challenge of building teamwork and collaboration at the firm through open, shared databases and systems, procedures and reporting mechanisms that communicate with each other. Farr joined Hanley Investment Group in early April 2020 and got to work immediately managing operations while employees were working from home due to COVID-19. Over the next 12 months, Farr developed and implemented solution-based technologies and systems that allowed the firm to operate more efficiently and increase its capabilities and performance. As a result, Hanley Investment Group closed 2020 with a record number of retail investment sales and with Farr's help, it closed 221 transactions valued at $1.1 billion in 27 different states. Farr is now heading up the development of Hanley Investment Group's new website, which will improve search engine optimization, key performance indicators tracking and the user experience.

BOBBI JEAN FORMOSA
During the pandemic, Bobbi Jean Formosa was highly-focused on successfully managing NAI Mertz, Commercial Real Estate Services, where she serves as executive managing director and COO. Formosa immediately put a heightened level of communication into practice to minimize uncertainty and focused on curtailing expenses in every area except headcount to keep the full team employed. Throughout 2020, she guided the team through working from home, resulting in productivity increases. Going into 2021, she focused on stressors employees were facing around balancing work and family responsibilities and the isolating nature of remote work. Her efforts resulted in record-setting production last year. In her role, Formosa is responsible for the operations of NAI Mertz's business, including brokerage, recruiting, client services, transaction management, marketing, accounting, support services and human resources. Formosa cultivates and mentors those more junior in the business by challenging them with leadership roles, including them on decision-making teams and counseling them through hurdles.

STEPHANIE GILEZAN
At just 21 years old, Stephanie Gilezan began her commercial real estate career, and 23 years later she is a successful land developer, a top producer in Kentucky and Indiana, and is the director of growth at eXp Commercial. Within her role at the firm, Gilezan oversees the ancillary partnerships, technology and the growth of eXp Commercial domestically and internationally. She played an integral role in the launch of eXp Commercial in November 2020, during the height of the COVID-19 pandemic. Gilezan struggled early in her career to find a mentor and promised herself she would dedicate her career to helping others. Fueled by her passion to help agents at eXp and throughout the industry, Gilezan focused her first effort at the firm on launching a free commercial real estate training program. One of her most recent efforts at the company includes negotiating an exclusive partnership with Enriched Data to build an advanced data platform that allows eXp Commercial agents to complete broker price opinions and valuations on almost any property in the US in minutes.

SHELLY R. HAMPTON
Shelly Hampton, president of asset management at Armada Hoffler Properties, has played a key role in the company's evolution into a premier publicly-traded developer, builder, investor, manager and owner of commercial real estate. Hampton joined Armada Hoffler Properties as director of asset management in 1999, following many years working in accounting and finance, and was tasked with creating the company's asset management division from scratch with a lean staff and little margin for error. She was then promoted to VP of asset management and became the company's first female partner in 2009 before earning another promotion to her current role in 2011. Currently, Hampton leads a division that includes directors, senior asset managers, a capital improvements manager and a portfolio administrator. Throughout the years, Hampton has cultivated a hands-on management style that is considered a hallmark of the company's culture. She takes time to mentor and develop employees at all levels of the company with a focus on helping women navigate the industry.

SONYA HUFFMAN
During her 22-year career, Sonya Huffman has built organizations from scratch three times; starting each time with one building and growing brick by brick. This experience has given her deep knowledge on how a real estate company should operate. Today, Huffman is chief administration officer at Link Logistics Real Estate, where she oversees the firm's leasing, construction, environmental sustainability, property operations, marketing, transactions and strategic transformation teams. Of note, Huffman led the internalization of the company's property management team across 420 million square feet and more than 3,000 assets last year. This was the largest internalization of property management services ever completed and it required Huffman and the firm to establish more than 30 market offices and onboard more than 130 property management team members. Huffman also helped lead the completion of Link's 73 acquisitions in 2021 for a total cost of $16 billion, which added 185.7 million square feet and 918 logistics facilities to Link's portfolio. Huffman is a member of Building Owners and Managers Association International's national advisory council.

BRENDA KARP
Brenda Karp was promoted to VP of business development at the Breeden Co. during the height of the pandemic. She quickly developed a strategy to attract new clients despite the lack of in-person contact by communicating and connecting with individuals and firms who had not been communicated with previously. Karp closed 27 lease transactions and had three shopping centers 100% leased. As one of the few female executives in the organization, Karp is responsible for creating strategic commercial real estate business partnerships, driving new revenue sources for the organization, working closely with the president and CEO to create the long-term strategic vision for the company, and advancing new business development opportunities. With 28 years of experience, Karp is described as a pioneer who takes smart risks and leads by example. She has been a long-standing supporter and advocate for other women via CREW Network and CREW Richmond, for which she served as president in 2019 and sat on the board of directors from 2014 to 2020.

GLORIA MAMWA
Since joining Standard Chartered Bank in 2013, Gloria Mamwa has climbed the ranks through roles including project manager, head of facilities management for Kenya and East Africa, head of corporate real estate services in Nairobi and head of property for Kenya and East Africa. Now, Mamwa serves as regional head of property for Africa and the Middle East, for which she oversees asset and lease transaction management, facilities management, project management, safety and security, health and wellness, and operational risk. There she manages an annual PnL of $171 million and uses her real estate and workplace role to enable change. Mamwa started out in interior design before transitioning to the financial services side and attributes her success to her ability to lead diverse groups of people. She works across five time zones daily and has the ability to achieve consensus among disparate groups that align with her company's strategic priorities while also respecting local customs and practices. As a person of color, she has made diversity, equity and inclusion top of mind and works to raise the profile of corporate real estate careers with women and minorities.

KATHY P. MULGREW
After working for global companies for the first 20 years of her career, Kathy Mulgrew founded Spencer Consulting Inc. in 2005 to provide corporate real estate services at a chief executive level. As CEO of Spencer Consulting, Mulgrew is responsible for the company's overarching strategy development and works directly with clients' C-suite officers. The firm acts as a CRE department for clients engaged in mergers, with Mulgrew and her team providing such services as company branding, strategy and development, compensation and corporate real estate for the combined company. Where there are redundant offices to rectify, the team provides market research, hiring local brokers, site selection, lease negotiations, space planning, construction management, move coordination and lease administration. Mulgrew was the first person in her family to earn a college degree, and she started a scholarship program specifically designed to assist and finance first-generation college students.

MICHELLE L. MYER
Michelle Myer serves as VP of Americas real estate and facilities at Oracle Corp. and chairwoman of CoreNet Global, the professional association of corporate real estate executives. With more than 30 years of experience, Myer led the association to pivot when its business model was disrupted by COVID-19 and kept the association's members at the heart of her decisions as the association looked toward pressing matters that it was facing, such as risk mitigation, safety protocols and personal protection equipment. Myer viewed the pandemic as an opportunity for the association to shine by bringing members together in real-time to discuss best practices and learn from one another. She spearheaded efforts to virtualize learning and networking that the association typically facilitated through in-person gatherings, including a virtual hackathon with thousands of participants engaged in teams to discuss the future of work. At Oracle, Myer is responsible for the Americas portfolio consisting of the company's Austin, TX headquarters, as well as more than 100 offices in the US, Canada and Latin America totaling nine million square feet.

KARRI NOVAK
Karri Novak has 28 years of construction industry experience and has led design-build teams through the planning, design, development and delivery of new campus projects at several California college campuses. As VP of project development for the West region at Suffolk, Novak is responsible for business acquisition, project oversight and client relationship management for construction projects in California. Recently, Novak has led the firm's expansion into rapidly evolving sectors, such as higher education and life sciences, and she is active in the conversation with higher education institutions regarding what universities and colleges will look like in a post-pandemic world. Since joining Suffolk in January 2021, Novak has identified and pursued new opportunities for the firm, valued at more than $3 billion across California. Prior to Suffolk, Novak served as VP for Clark Construction, where she led teams delivering projects at higher-education campuses throughout the Western US. As a member of the Design Build Institute of America, Novak promotes increased collaboration and the integration of technology tools early on in the project lifecycle to help teams deliver high-caliber projects on schedule and within budget.

COLLEEN O'CONNOR
Colleen O'Connor's work with BioMed Realty's portfolio of life science companies took on new importance during the pandemic, as nearly half of the firm's square footage encompassed work on COVID-19 diagnostics, therapeutics and vaccine development. Having been at BioMed Realty for eight years, O'Connor was promoted earlier this year to SVP of leasing for the East Coast and U.K. markets. O'Connor manages more than six million square feet of life science and technology space, including identifying growth opportunities, spearheading leasing activity and establishing key relationships across the industry. Her greatest professional accomplishment during the past year has been working on the acquisition of 321 Harrison, a premier 234,000-square-foot office building that was under construction in Boston's South End, which BioMed Realty is converting for lab use. O'Connor assisted with the acquisition underwriting for the asset, helped drive redevelopment strategy for the lab conversion, and managed the lease-up of the building, which is now 100% committed.

PAMELA PADDOCK
Pamela Paddock is group account executive of life sciences and corporate solutions at JLL where she is responsible for the performance and business intelligence team across the life sciences business. She has developed this team and is executing a business-wide shift to shared service, which improves return on investment for clients and account teams through data governance, business intelligence and agile project management. Among Paddock's accomplishments during her 30-year career was leading the team that planned and executed Bank of America's recovery in the New York region after the World Trade Center disaster. Paddock is passionate about mentoring women in business and mentors up to six women a year as part of the Women Unlimited LEAD Program. She is also the former president and now co-executive sponsor for JLL's women in business New York chapter, an organization that participates in monthly conversations within the region about the value of recruiting and developing top female talent in the industry and encouraging members to take leadership roles. Paddock is also a member of CREW NY and CoreNet.

LYNN MICHELLE PETERS
During the pandemic, Lynn Michelle Peters personally reached out to each client of Retransform to renegotiate projects and work out flexible payments, while reassuring them of the firm's unwavering support during unprecedented times. Peters is described as fierce but compassionate, and a leader who will get in the trenches with her team. As VP of global operations at Retransform, she oversees the operations and workflows of all offices in the US, the U.K., the United Arab Emirates, Australia and India, including managing or coordinating with the human resources, business development, marketing, operations, administration, finance and senior team departments. Peters helped facilitate Retransform's products on Web-based property management software, Aria, and continues to help with the audits, testing and platform reviews for PropTech applications, including forecasting platform 4see Analytics, valuation financial modeling tool Valere and digital twin platform Secure. She has affiliations with ICSC and Building Owners and Managers Association-Dallas, and she is CPM certified with IREM.

JENNIFER PETERSON
As chief executive at Steiner + Associates, Jennifer Peterson previously oversaw Easton Town Center in Columbus, OH, which has more than 250 shops, restaurants and entertainment venues. The lifestyle center is ranked among the top 30 highest-performing retail centers in the US with sales totaling more than $1 billion. Peterson was responsible for creating an environment that enhanced the customer experience, drove tenant sales and positioned Easton for continued growth. During the pandemic, Peterson was instrumental in creating outdoor and socially-distanced activities at the center, including an outdoor drive-in theater in its parking lot, outdoor and igloo seating at its restaurants, Easter Bunny visits, digital personalized videos from Santa during holidays, and an Easton-branded outdoor peddle wagon. In addition to running day-to-day operations at Easton Town Center, Peterson also led the Easton Community Foundation, the brand's philanthropic arm that gives back to the Columbus community through charitable gifts, partnerships, event support and volunteerism. Through the quarantine of 2020, Peterson spearheaded the foundation's work organizing and delivering nearly 4,000 meal donations from Easton restaurant tenants to frontline hospital workers and first responders. Peterson recently assumed a new position as COO of local nonprofit organization Rapid 5.

KENDALL PRETZER
After a successful real estate career with R&B Commercial Management, Kendall Pretzer worked for Trammell Crow Residential, Gables Residential and Security Capital before founding the Strategic Solution, a software-based policy platform designed to improve policy creation. The Strategic Solution was acquired by Grace Hill in October 2018, and Pretzer began a journey that would lead her to the CEO position of Grace Hill. The journey was not without challenges, however, as Pretzer was diagnosed with breast cancer in 2020, shortly after the start of the pandemic. She persevered and in 2021, she played a critical role at Grace Hill by creating 29 new and essential COVID-related policies and launching 84 COVID-related training courses that were accessed more than 210,000 times. As CEO, Pretzer provides a vision and strategy for Grace Hill's 200 employees and 1,700 customers. In honor of Pretzer, Grace Hill launched a social media campaign in 2021 for breast cancer awareness that featured the web series "Kendall's Story," in which she shares her inspirational journey to becoming a survivor.

WANDA RILEY
Wanda Riley was promoted to managing principal for the Florida region at Cushman & Wakefield earlier this year, and she now oversees 800 employees and 150 brokers in Orlando, Jacksonville, Tampa, Miami, West Palm Beach, Boca Raton, Ft. Lauderdale and Stuart, FL. Riley provides strategic leadership across the firm's service lines, including agency leasing, tenant representation, capital markets, debt and equity, asset services, valuation and advisory, and project and development services. With 21 years of experience, Riley is described as a team player, a problem-solver and a mentor. She champions diversity and inclusion in the workplace by mentoring female team members and helping the firm develop a majority-female leadership team in Florida. In addition, Riley is a founding member of Cushman & Wakefield's women's integrated network, a global employee resource group created to accelerate the career advancement and leadership skills of the firm's women professionals. She is an active mentor to women colleagues through her involvement in CREW, where she previously served as president of the Orlando chapter.

SARINA ROSE
As SVP of construction at Post Brothers, Sarina Rose spearheads all of the firm's development projects, manages partner relations with city officials and trade media, and brings a wealth of experience in complex project planning, contractor negotiations and every facet of project management. She has increased overall safety and productivity across Post Brothers construction sites, while also decreasing the number of injuries. Not only does Rose care about her workers, but she also cares about the city, neighborhoods and communities where she develops. Rose has significantly increased Post Brothers' efforts and results in reinvesting in Philadelphia neighborhoods through the Greater and Inclusive Philadelphia Construction Program, a nonprofit in partnership with Post Brothers that seeks to diversify the city's construction workforce and provide career opportunities for the local communities in which development is happening.

DONNA SCHMIDT
Donna Schmidt received her CPM designation in 2008, having decided after being in the business for a while that property management was her true calling. Today, Schmidt serves as COO at Price Brothers, where she oversees residential management, commercial operation, IT and marketing efforts. During the past two years, Schmidt has focused her efforts on pivoting the company to virtual technologies in the wake of the pandemic, as well as helping tenants and residents navigate through relief programs. Under her leadership, no commercial tenants were lost during the crisis. On the multifamily side, Schmidt and her team quickly reached out to every resident affected by the shut down and worked to help them with any difficulties they were facing. Schmidt serves as treasurer and president-elect of IREM's Kansas City chapter and she is a member of the National Apartment Association. She also engages with the Building Owners and Managers Association through Price Brothers.

KRISTIN SCHNEIDER
Kristin Schneider serves as COO at JLL hotels & hospitality and is responsible for driving strategic growth, operational efficiencies and profitability in the Americas. Schneider designs and implements key growth strategies through acquisition and management of the platform and she oversees finance and accounting, human resources, legal, marketing, public relations, research, IT and data management in support of 105 professionals in 12 markets across the US and Latin America. Thoughtful in her approach, Schneider focuses on win-win outcomes in all situations and she is an extraordinary team player. During the past year, Schneider worked to grow the overall performance of the firm's hotels & hospitality group, and she doubled the size of JLL's tax services business, a business she underwrote in 2016, which has grown into a significant in-house service for JLL's investor clients. Schneider has also coordinated with JLL's human resources and recruiting professionals, along with client-facing teams, to recruit and onboard new talent, which now represents nearly 30% of the hotels & hospitality group's headcount.

CHRISTINE SCOTTI
Christine Scotti's people-centric approach to managing her team and supporting her clients proved to be especially useful during the pandemic. In support of her clients, Scotti's main goal was to know them well enough to be able to answer their questions before they even knew what to ask. As VP of client services at MRA Group, Scotti is responsible for the oversight and administration of property management, client accounting, lease administration, client relations and business development. MRA's current portfolio consists of 3.7 million square feet of various asset types, focused mainly on medical office and life sciences campuses, for high-profile clients. Scotti joined the firm in 2021 when MRA's client base was facing the height of pandemic-related stress. Scotti and the MRA team worked closely with healthcare clients to develop best practices to prevent the spread of COVID-19, ranging from the development of signage programs and new heightened cleaning specifications, COVID-19-positive response plans and the creation of pandemic language for service contracts, to the creation of a vaccine tracking program for third-party service providers.

STEPHANIE SHOJAEE
Stephanie Shojaee was promoted to president of Shoma Group earlier this year after building the firm's marketing team from scratch and implementing technology initiatives to modernize and digitize the firm as VP and CMO. Shojaee is credited with building the firm's brand through colors and visuals used in marketing materials, the signature Shoma scent pumped through the lobby and common areas of each Shoma property, the equipment placed in each property's gym, and the voice used across each project's social media channels. Through these efforts, Shojaee has boosted the revenues of Shoma Group by 30%. As president of the firm, Shojaee oversees each sector of the company, including its marketing strategy, development planning and sale of assets. During the past 12 months, Shojaee has experienced a number of professional and personal accomplishments, including overseeing the landmark $102.5 million sale of Shoma's Sanctuary Doral Apartments and the sellout of its boutique condominium Ten30 South Beach.

ALEKSANDRA SIMANOVSKY
Aleksandra Simanovsky is principal of Toorak Capital Partners' capital markets and strategy group, where she focuses on the securitization program and marketing efforts. Simanovsky holds 15 years of experience covering commercial real estate loan sectors. Before joining Toorak Capital Partners, Simanovsky spent four years as a VP in Deutsche Bank's commercial real estate group, where she led the new issuance of more than $40 billion in commercial real estate-backed securitization deals. She began her career as a credit analyst at Moody's Investors Service, where between 2003 and 2014 she worked in the residential mortgage-backed, asset-backed and commercial mortgage backed-securitization groups and underwrote real estate loans, modeled cash flows, and authored, presented and published credit opinions, research and methodologies. Since joining the Toorak team, Simanovsky has helped the firm provide more than $7.5 billion in capital for real estate loans and funded housing for more than 30,000 families at a rate of around 1,000 units per month in 2021.

MICHELE STEIN
Michele Stein commenced her career as an elementary school teacher in San Diego. The experience taught her patience, empathy and planning skills that would benefit her later in the commercial real estate industry. When she moved with her husband to Los Angeles, the company her family founded was short-staffed, so she began working at the firm on an interim basis in 1999. The temporary situation became permanent and Stein joined the firm full-time as a senior-level administrator. Today, Stein is COO at NAI Capital, where she oversees 14 offices throughout Southern California, including the corporate headquarters totaling nearly 300 brokers, managers and staff in the day-to-day management of human resources, marketing, contracts, accounting, information technology and business development. She helped lead the company through a tumultuous time that included a transition of leadership, bankruptcy, reorganization and responding to the pandemic.

JENNIFER STOOPS
For more than a decade, Jennifer Stoops has been a motivator and a "company cheerleader" at Park Avenue Properties. When the firm launched new industry collaborations during the past year, Stoops was instrumental in ultimately creating the PURE Property Management joint-venture comprising Park Avenue Properties and three other firms. Stoops paid close attention to things that would matter for her team, including benefits, employee shares and opportunities for growth. She has protected the company's culture and values as the joint-venture developed over the past 12 months, while she helped take PURE PM from 3,300 doors across four states to more than 12,000 doors in 13 states by the end of 2021. As VP of corporate development on the executive team, Stoops is responsible for company growth targets, global relationships, helping identify new markets and revenue targets. During the past year, she has spoken at several industry conferences and was asked to join the board of directors for PropTech company Showdigs, which recently closed a Seed II funding round of $7.4 million.

SALLY FRENCH TYLER
Under Sally French Tyler's leadership at First American Title – National Commercial Services, the company's nationwide commercial real estate title and settlement business revenues have consistently increased each year from 2006 to 2021. In 2021, Tyler was promoted to group president of the company's direct residential and commercial title operations, for which she oversees a collective team of nearly 7,500 employees. Within her roles at First American Title, Tyler is responsible for assisting her divisional leaders with planning, strategy, innovation and leadership development. Tyler co-founded and leads the firm's women in leadership initiative, which has graduated nearly 100 women since its inception. She also spearheaded the firm's visionquest program and oversaw the development and launch of ClarityFirst, a new technology that brings enhanced transparency, efficiency and security to the commercial real estate transaction closing process. Tyler is a member of ICSC, Pension Real Estate Association and CREW Network and she is affiliated through a partnership with the MIT Center for Real Estate.

TINA WEST
With 25 years of experience in the multifamily industry, Tina West is well-versed in the mindset and challenges of owner/operators. She started out in property management and moved into key leadership roles for supplier/partners. For 10 years, West also built tech supplier companies from the ground up, while focusing on sales and operations. This array of experiences has given West a unique and intuitive perspective that she brings to her role as SVP of customer success at Anyone Home. At the firm, West leads a team of 30 direct reports, which include support, implementation, training and account management teams. Once a client contract is secured, it is transferred to her team, which is responsible for product implementation, training and onboarding to ensure a successful launch and adoption of Anyone Home products and services. West was tasked with building the account management team during a period of increased growth at Anyone Home. Her approach was not simply to hire new people, but instead to create a framework for incoming employees to recognize their role in building value for clients.

MICHELE WHEELER
Michele Wheeler's approach to commercial real estate is a threefold focus: people, planet and profit. Wheeler, who is president and COO at Jackson-Shaw, understands that all businesses must make money, but social responsibility and human and natural capital also have a place. Within her role, Wheeler is responsible for creating value for investors and partners across the firm's urban industrial, hospitality, restaurant/retail, residential, office, land, build-to-suit and mixed-use products. She is involved in all aspects of development and participates in land acquisition, entitlements, negotiation of leases, construction contracts and management/leasing agreements, as well as debt and equity financing. Under Wheeler's leadership during the past year, Jackson-Shaw opened a 252-room hotel in Fort Worth, TX, it broke ground on urban industrial developments in Arlington and Fort Worth, and it announced industrial developments in San Antonio and Humble, TX. Wheeler serves on the board of the Jackson-Shaw Foundation and previously served on the boards of Boys & Girls Clubs of Greater Dallas and Circle of Support.
Marcie Williams


Marcie Williams helped build third-party multifamily property management firm RKW Residential from scratch and grow it into an industry leader in just a few years. Williams joined the firm early in its existence in 2015, when it had less than 2,500 units under management, and she has helped grow its portfolio to total more than 30,000 assets in six states and 400 employees. She joined the firm following more than a quarter-century of multifamily experience at major firms including Greystar, Summit Properties and Camden Property Trust. As president of the company, Williams' direct reports describe her leadership style as trusting with high standards and someone who manages to the strengths of her employees and utilizes their skill sets. Williams is deeply involved with the Greater Charlotte Apartment Association and she has served on all of the association's committees. Among her proudest GCAA accomplishments is her role in the creation of its education foundation, which launched in 2008 to support the education of multifamily professionals. After a three-decade career in the multifamily industry, Williams was inducted into the 2021 class of the Apartment Association of North Carolina's Hall of Fame.

PAMELA YANG
After 25 years of working in the financial sector, Pamela Yang changed her career direction during the pandemic and took on a new role as the first-ever COO at the Bulfinch Companies Inc. Yang was brought onto the Bulfinch team to manage the organization's significant shifts as it addressed operational changes at its properties during the pandemic, while also supporting the growth of the firm. Since joining the firm, Yang has directed the coordination of operational oversight both internally and externally. Her strategic efforts have allowed Bulfinch to maintain 98% occupancy across its portfolio during COVID-19, and she has led team growth by 27% with an emphasis on adding women and minorities. In her role, Yang guides and leads daily operations for the firm, including assisting with strategic planning, providing oversight of the Boston office, and working closely with the financial reporting team and Bulfinch leadership. In addition, Yang plays a key role in leading the development and implementation of the firm's culture and diversity, equity and inclusion initiatives.
CRE LEGAL COUNSEL

ANITRA D. ANDROH
Anitra Androh, a 20-year veteran of the industry, understands that to be successful, you have to elevate projects in a way clients might not always consider. This may include details such as mineral rights and airspace, Androh tells students of the ULI's REAP Program, where she shares her knowledge and expertise. Androh is a partner at Nelson Mullins Riley & Scarborough LLP in the firm's Washington D.C. office, where she represents clients in commercial real estate transactions involving buying, selling and developing mixed-use and residential projects. Androh joined the firm's real estate industry leadership team this year and will help set the firm's direction, assist communication efforts and recruit talent to the firm. Last year, Androh assisted Dantes Partners in closing a low-income tax deal that helped make a luxury affordable housing complex for seniors in the area a reality. Androh recently won the Hon. Leon Higginbotham Memorial award from the National Bar Association's Young Lawyers Division, which recognizes lawyers who exhibit legal excellence and inspire young attorneys.
ERICA BOSE
Erica Bose has carved out a niche in the real estate industry by representing capital providers, as well as builders, in the land bank financing arena and homebuilders in their acquisition of properties. Bose, a partner at Cox, Castle & Nicholson LLP, began handling land banking transactions in 2002 before the sector grew in popularity and she is now regarded as one of the primary go-to attorneys in this space. During the past 20 years, Bose has served as lead counsel for both land bankers and builders on more than 100 land bank financing transactions across more than 20 states, valued in the aggregate of billions of dollars. Bose advises master developers, merchant builders and developers of un-entitled land in various aspects of their acquisitions, development and dispositions, primarily in the market rate arenas, including one of the largest public homebuilders in the country. Bose is a member of Cox, Castle & Nicholson's eight-partner management committee and leads the firm's associate development subcommittee, which is a five-partner committee focused on keeping track of market trends and associate satisfaction and needs. Bose was one of Cox, Castle & Nicholson's highest-producing partners in 2021.

ASHLEY BROOKS
Ashley Brooks is a partner at Sullivan & Worcester and co-leader of the firm's real estate group, where she is involved in every aspect of client deals. With 16 years of experience, she focuses on acquisition, financing, mortgage, equity and condo docs. Brooks was promoted to the management committee at the firm in 2021, and under her stewardship, the firm's real estate practice has grown significantly. Brooks has been intentional about recruiting and creating a dynamic and diverse real estate group. Among her recent projects in the Boston area is the Greystar-Stuart Street 19-story, class A mixed-use development for which she provided representation for acquisition of a fully-permitted project, joint-venture and construction financing. Brooks also represented the developer of a student housing development in the Fenway involving fee acquisition and ground lease, equity joint-ventures, fund formation, zoning and land use, retail and LGBTQ theater leasing. 2021 was the firm's most successful year, and colleagues say Brooks has been a crucial part of the team's strategic growth and succession planning.

LYNN CADWALADER
Lynn Cadwalader's clients think of her as a business advisor as much as a lawyer. She has emerged as a well-known expert and trusted advisor in the hospitality sector for which she has developed a strong understanding of the business, operational and legal aspects of key transaction documents. Cadwalader recently served as a partner at DLA Piper, where she specialized in acquisition structuring and the development of resort and urban communities, including drafting and negotiating hotel management and license agreements, CC&Rs and other documents that govern and implement the community structure and complex relationships among interested parties. Cadwalader developed an affinity for the hospitality industry early in her career when she snagged her first client, a well-known ski resort owner and operator. During the COVID-19 challenges of 2020 and 2021, Cadwalader's practice expanded to advise clients on obtaining PPP loans and other financial assistance, as well as advising on COVID-19-related challenges impacting the hospitality industry, such as force majeure and performance issues, closure and opening up of hotels, and negotiating modifications to key hotel agreements. Cadwalader recently assumed a new role as partner at Manatt, Phelps & Phillips LLP to lead the firm's hospitality and leisure practice within its real estate transactions and finance team.

NICHOLE CORTESE
Nichole Cortese joined Loeb & Loeb's real estate department in 2008 and was elevated to partner and chair of its commercial real estate leasing group in 2019. Cortese represents developers, landlords and tenants on all aspects of commercial real estate transactions, with an emphasis on office and retail leasing transactions and related matters, such as brokerage and agency agreements. Cortese routinely represents landlords and tenants in some of the largest and most sophisticated leasing transactions in New York City, Boston, Chicago, Washington D.C., Los Angeles and San Francisco. During the pandemic, Cortese helped landlords adapt protocols and programs to reinvigorate leasing efforts, she helped tenants complete new leases and subleases, and she helped landlords and tenants restructure existing leases and meet changing needs concerning amenities, health and safety, and sustainability. Cortese is an active member of Loeb & Loeb's women partners group, which sponsors charitable fundraisers and fosters mentoring, skill-building and client development opportunities for younger attorneys within the firm. She also participates in ULI's mentorship program.

ANDREA GERAGHTY
With more than 30 years of experience in real estate law, Andrea Geraghty holds broad expertise working with clients in land acquisition, development and construction. She developed entrepreneurial skills leading her boutique Pittsburgh law firm for more than 15 years, before becoming a partner at Meyer, Unkovic & Scott LLP in 2012 during a merger involving her firm. Geraghty is a member of the firm's real estate and lending group and construction law and litigation group. She also serves as co-chair of the firm's ethics committee and is the past co-chair of its emergency and mineral rights practice group. Geraghty's early work with the Pennsylvania Public Utility Commission and experience with water and energy issues, right-of-way acquisition and management, including condemnation, informs her client focus on land use practice expertise. Much of her current practice centers on counseling clients in the acquisition and development of significant commercial developments. In addition, Geraghty has a successful litigation track-record representing businesses and nonprofit clients, including successfully arguing before the Pennsylvania Supreme Court on the applicability of the Institutions of Purely Public Charity Act to property and sales and use tax exemptions.

SHEILA C. KAILUS
Sheila Kailus brings unique insight to her clients thanks to 15 years of experience as in-house counsel for commercial real estate companies, as well as her more recent role as a partner at Jenner & Block LLP. Prior to joining the firm, Kailus spent time working for GGP Inc., a publicly-traded REIT; Joseph Freed and Associates, a privately-owned family real estate company; and Equity Office Properties Trust, a publicly-traded REIT. Since joining Jenner & Block in 2018, Kailus has advised clients on the acquisitions, dispositions, financing, leasing and development of commercial real estate. Her expertise has been particularly beneficial to clients during the past two years as she led force majeure analyses for tenants and borrowers, workouts and potential foreclosures for owners and lenders, and evaluation of default remedies for owners and lenders. Throughout her career, Kailus has been devoted to mentoring new lawyers and is also a dedicated pro-bono advocate who commits many hours each year to providing legal services at no cost to those in need.

BETH KINSLEY
Beth Kinsley has been instrumental in helping real estate private equity firm Northland grow and overcome challenging times. Kinsley is general counsel at the firm, where she oversees all legal matters, including real estate fund formation, transaction structuring, acquisitions, dispositions, financings, developments and employee matters. Since Kinsley became general counsel, Northland has launched its three newest funds and expanded its investor geography to new markets. She joined Northland 14 years ago and quickly helped the firm become the largest apartment owner in Austin, TX. She then helped the firm weather the challenges of the recession in 2008 and more recently has been instrumental in helping it get through the pandemic by focusing on internal efficiencies, implementing electronic signature software, and updating privacy policies, document retention and contract management. Her legal expertise is built on a foundation of diverse professional experiences, including working with national law firms on tough litigation cases. Young women at Northland look to Kinsley as a role model as both a professional in the legal field and a woman who demonstrates that a career can be successfully balanced with family life.

KIM LE
Kim Le has a track record of handling complex joint-venture transactions, having served as legal counsel on billions of dollars of transactions during her career. Le is a partner at Duval & Stachenfeld LLP and co-chair of its real estate practice group. She has handled real estate transactions including platform creation, portfolio acquisitions, multi-layered financings and complex joint-venture equity partnerships. Her clients include boutique developers, public REITs, sovereign wealth funds and PE funds. Over the years, she has played a significant role in the growth of the firm, and her recent promotion to co-chair tasks her with playing a larger role in helping optimize deals. Her greatest accomplishment in the past year was successfully completing multiple large programmatic agreements for long-time client Angelo Gordon. Le led a group of lawyers on each of these complex transactions; structuring the long-term investment agreements between Angelo Gordon and industrial operating partners and developers. In doing so, Le played a pivotal role in helping Angelo Gordon tap into a lucrative real estate sector with a healthy pipeline of deals for logistics centers, warehouses and other industrial property types.

LISA LIM
Lisa Lim is driven by the challenge of getting complex deals done under pressing time frames so that a project with public purpose can get financed, completed and put to use. The native New Yorker is a partner at Akerman LLP, where she focuses on public-private collaborations with an emphasis on tax-exempt bonds, affordable housing and regulatory frameworks. Lim joined the firm's New York office in 2014 and represents borrowers, lenders and government agencies in structuring, negotiation and closing complex transactions. She has three decades of experience spanning major transactions, such as Cornell Tech on Roosevelt Island in a development deal involving Cornell University, Roosevelt Island Operating Corp., the State of New York and the City of New York in the development of Cornell University's $2 billion, two-million-square-foot New York City tech campus. Lim achieved a record number of successful outcomes during a time when many legal transactions were slowed, if not stopped, by COVID-19 and she helped clients renegotiate financing, close new financing and renegotiate office leases.

MERIDITH H. MOLDENHAUER
Meridith Moldenhauer is a real estate partner at Cozen O'Connor where she leads the firm's Washington D.C.-based zoning and land use practice and serves as co-vice chair and office managing partner of the D.C. office. Moldenhauer advises developers, architects, contractors, owners and tenants on zoning and land-use issues. Since joining Cozen O'Connor in 2017 with her five-member team, Moldenhauer has established a Washington D.C.-based zoning practice, received company-wide recognition for her business development success, and earned the highest origination credit of all non-equity members before being promoted to shareholder in August 2020. Moldenhauer continues to manage a pipeline of between 100 and 150 new filed matters each year. Moldenhauer has served as outside zoning and land use counsel to Washington D.C.'s Department of General Services, the administrative arm of the Office of the Mayor, for six years. Her representation of the city in contentious litigation over the siting of homeless shelters in affluent neighborhoods won her the trust of key governmental decision-makers and led to additional work with DGS.

CATHERINE E. MORGEN
Catherine Morgen has proven to be a valuable asset to Morris, Manning & Martin LLP, as well as her clients, during the pandemic. Her long standing client relationships, ability to identify new investment opportunities and strategic counsel on COVID-19-related issues have been noteworthy during the past two years. Morgen is a partner in the firm's real estate and hospitality practice, where she concentrates on acquisition, development, leasing and disposition of commercial real estate. She holds experience in handling large multi-state transactions, hospitality properties, office, medical and industrial leasing, as well as complex restrictive covenant and easement transactions. In 2021, her work helped achieve a deal volume exceeding $1 billion and she successfully added several notable clients. Morgen is chair of MMM's women's initiative and also served on the firm's new partners committee and MMMPact committee, which focuses on social responsibility strategy. Morgen was the catalyst behind MMM and Castell Project co-sponsoring a mentoring event for several years at the Hunter Hotel Investment conference, which targeted up-and-coming female leaders in the hospitality industry by focusing on specific industry topics and providing advice on growing networks.

ROBYN NEELY
Robyn Neely is an expert in environmental legal matters, including the assessment and remediation of sites impacted by arsenic, petroleum, chlorinated solvents, chlorinated pesticides, PCBs, asbestos and radon. Neely has experience in risk-based closures and other alternative strategies for site closure, as well as environmental compliance matters. Neely is chair of the environment and national resources practice at Akerman LLP. She holds the innate ability to relate to clients and understand their business and needs. During the onset of the COVID-19 pandemic, Neely achieved many successes, including representing a private equity client in the disposition of a series of scrap metal recycling sites to a large national scrap recycler that required coordinated environmental due diligence activities. She also represented a REIT/lender in a loan to a property developer in Miami related to the acquisition and planned redevelopment of a dry cleaning facility into a mixed-use development. Neely coordinated environmental due diligence and loan document negotiations with significant issues associated with vapor intrusion and air monitoring.

BONNIE A. NEUMAN
In 2021, Bonnie Neuman became the first woman to be named head of the real estate finance group at Cadwalader, Wickersham & Taft LLP, assuming this leadership role just five years after she was elected partner. Since May 2020, Neuman has advised clients on $30 billion in loan originations across a range of commercial real estate asset classes, and in the past 12 months, the real estate finance group as a whole has advised clients on more than $50 billion in financings. During the pandemic, Neuman has led deals on everything from New York City skyscrapers to large hospitality portfolios, with recent examples including representation of the lenders on the nearly $1.2 billion acquisition of 111 WoodSpring Suites hotel properties, the $2 billion acquisition of the U.S. real estate operations of Medline Industries, the nearly $4.7 billion financing of the Extended Stay hotel portfolio, and the nearly $3.2 billion financing of the Aria and Vdara hotels in Las Vegas. Neuman has been a committed leader on diversity initiatives in the legal and commercial real estate industries by participating as both a sponsor and mentor to women and diverse attorneys at the firm and through her active involvement with the CRE Finance Council women's network.

TAMMI PARKER
With a positive attitude and dedication to her work, Tammi Parker works with Duke Realty's largest and often most complex tenant, Amazon. Though Parker has a pleasant disposition, she excels at being aggressive when needed, making her perfect for the role. As VP of legal at Duke Realty, Parker is always willing to help her colleagues out and she continues to take on additional responsibilities and regions, without complaint, as people have retired. Her responsibilities include handling or overseeing all of the legal work in Duke Realty's Florida, Georgia, North Carolina, Maryland and Washington D.C. markets. She also negotiates all transactions that involve Amazon and manages the day-to-day operations of Duke Realty's risk management insurance program and insurance policies. Parker recently was the lead attorney negotiating and closing a joint-venture transaction that involved the sale by Duke Realty of $710 million of industrial warehouses leased by Amazon; an important transaction for the firm, which retained a 20% interest in the properties and management responsibilities.

HEDY S. RUBINGER
Hedy Rubinger has spent her entire 33-year career focused on the healthcare real estate industry. She was the first dedicated healthcare associate at Arnall Golden Gregory LLP, where she is now a partner and has led the healthcare practice to significant growth. Rubinger's work focuses on representing the owners and operators of nursing homes, assisted living facilities, continuing care retirement communities, home health agencies, hospices, healthcare IT companies and ancillary service providers. Rubinger formed AGG's change of ownership team to provide legal counsel for all regulatory aspects of healthcare real estate transactions. This team is engaged in federal and state regulatory processes to help clients efficiently accomplish their business goals. Rubinger's team has served as primary regulatory counsel in transactions valued at more than $25 billion. As a natural extension of her work representing clients in the healthcare real estate industry, Rubinger developed a personal interest in finding a cure for dementia and lobbied for AGG to adopt the Alzheimer's Association as a charity of choice.

TARA A. SCANLON
Tara Scanlon serves as partner and real estate practice group leader in the Washington D.C. and Northern Virginia offices of Holland & Knight. She concentrates her practice on commercial real estate transactions, which include development matters, sales and acquisitions and joint-venture agreements, as well as retail and office leasing. With extensive experience in regional malls, shopping centers and high-end street retail projects, Scanlon additionally has a national retail practice representing owners of luxury retail projects, such as CityCenterDC, and high-end street-front retail, such as the Georgetown Renaissance portfolio covering more than 60 storefronts in the Georgetown shopping district. Scanlon's recent notable accomplishments include multiple mixed-use development projects in Washington D.C., including purchase and sale agreements, due diligence, structure and drafting of reciprocal easement agreements, joint-venture agreements and mezzanine and construction financing, as well as retail and office lease-up and representation of the purchaser and developer of the 111,500-square-foot office lease in the former Fannie Mae headquarters building, which was named one of 2020's best deals of the year in Washington D.C.

KAREN SCANNA
Private developers acquiring New York City-owned properties for redevelopment, by deed or ground lease, often seek Karen Scanna's guidance in navigating the city's competitive bid process. With a focus on acquisition, development and financing — including mortgage, mezzanine and preferred equity, and construction-to-permanent loans — several of Scanna's transactions have involved high-profile, public-private partnerships. As partner at Stroock & Stroock & Lavan LLP, Scanna recently led a team that represented a joint-venture managed by Lendlease and L&M Development Partners in obtaining construction financing from global financial services firm Barings, on behalf of its managed accounts, for the development of a 354,000-square-foot mixed-use building in the cultural and academic neighborhood of Morningside Heights. Located near Columbia University, the 41-story building will feature 165 condominium units, as well as office space, classrooms and faculty-designated housing. Despite the challenges presented by COVID-19, Scanna closed on several multimillion-dollar transactions while working out of her bedroom in 2020.

SAMANTHA T. SCHNECK
Samantha Schneck, a shareholder with Carlton Fields, has seen firsthand how national lenders, specifically in the healthcare and assisted living spaces, have been affected by the COVID-19 pandemic. Schneck has notably led the firm's agency and FHA group to successfully navigate the many changes that HUD has undergone in response to the pandemic, including processing times, underwriting forbearance, rate fluctuation and a revised three-year rule for 223(f) loan programs. Schneck's work has helped obtain financing for her clients and, in many cases, allowed these facilities to remain open as a result. Her practice focuses on complex real estate finance transactions with an emphasis on federally insured loans for multifamily housing and healthcare under FHA/HUD insurance programs. She has represented HUD lenders on numerous transactions, including a $500 million assumption of a healthcare portfolio for assisted living and senior living facilities across the country; a $128 million financing, which transformed a historic abandoned central city market into a one-million-square-foot project; and a $94 million board-and-care facility as the largest single-asset senior housing community in HUD's portfolio.

RUTH A. SCHOENMEYER
Ruth Schoenmeyer describes herself as an old-fashioned real estate nerd who loves thinking about, writing about and presenting about all things real estate. Schoenmeyer is an avid presenter on leasing and CRE development at various real estate-focused conferences, events and organizations. One of her most well-known clients actually engaged her after seeing one of her commercial leasing presentations at the Practising Law Institute. Schoenmeyer is a real estate partner at Eversheds Sutherland, where she has been assisting an online retailer make the transition to physical stores. Her work has included helping the client create processes and forms, and negotiating — and training her team to negotiate — dozens of leases around the country. Schoenmeyer has more than 25 years in the commercial real estate industry and has built a strong reputation, particularly in retail, spanning both in-house and private practice. Prior to joining Eversheds Sutherland, Schoenmeyer was a real estate partner at White & Case and Pircher, Nichols & Meeks. She also previously worked as senior counsel at McDonald's, handling leasing and purchases of new restaurant sites and office leasing for the company.

BELINDA G. SCHWARTZ
Belinda Schwartz is a partner at Herrick Feinstein LLP, where she has chaired the real estate department since 2014. At the firm, she leads more than 65 attorneys and urban planners, manages all practice development initiatives and collaborates with other Herrick lawyers to develop legal solutions for complex real estate matters. Schwartz's practices focus on representing developers, institutional funds, lenders and family-owned real estate organizations, advising them on everything from financings, restructurings, distressed debt acquisitions and succession planning for closely-held real estate businesses, to the sale and development of multifamily, office, hotel and retail properties. Schwartz became the first female member of the firm's five-person executive committee in 2017 and she helps steer its overall direction. She also serves as a go-to advisor for investors with unique concerns about multi-generational family-owned real estate businesses and family offices, for whom she serves as outside general counsel, and foreign investors who count on her to bridge cultural and business practices and translate the intricacies of the U.S. real estate market. Schwartz considers herself a team member before a leader and is happy to mentor junior attorneys formally or informally about their career paths or deals.

ADELE STONE
When leadership at Buchanan Ingersoll & Rooney was looking to name a new real estate group chair in April 2021, Adele Stone emerged as the natural choice. Stone's long-term client relationships are a testament to her reputation. One of her long-standing clients, a major health system, has relied on her experience to support its transactional real estate needs throughout its nationwide footprint for more than 35 years. Stone is now a shareholder for the firm and she chairs its real estate practice group, while leading the firm's Fort Lauderdale office. She is responsible for leading all of the firm's real estate attorneys, as well as the strategic growth of the section and raising the firm's visibility in the South Florida region. Stone's practice involves working closely with real estate owners, investors, developers, landlords, tenants and individual clients in an array of areas including acquisition and disposition strategies, complex commercial purchases and sales, lease agreements, creation of the governing documents for office and industrial parks, as well as medical campuses. In addition to her real estate practice, Stone has built an extensive business law practice, including structuring new entities and preparation of business agreements.

ROCHELLE THOMAS
At the beginning of this year, 15 women were promoted at Spirit Realty Capital, including Rochelle Thomas, who was elevated to EVP and general counsel. Within her role, Thomas provides strategic legal advice on the legal rights and responsibilities of the company, while overseeing and advising on the structuring, negotiation and closing of commercial real estate transactions. Providing a female voice on the firm's executive leadership team, Thomas is a driving force behind the firm's acquisitions strategy and she is a key leader in its ESG efforts. In the past year, Thomas has closed $1.3 billion in real estate acquisitions including sale-leasebacks, master leases, reverse build to suits, simultaneous M&A closings, development take-outs, condo conversions and large portfolios. She also served as lead in-house counsel in the $231 million acquisition of 22 golf course properties located across 12 states, totaling 4,900 acres, and served as the lead in-house counsel on the acquisition of 21 retail assets across nine states in an expedited transaction that closed in less than 30 days.

MELISSA "MISSY" S. TURRA During her career spanning more than 25 years, Melissa Turra has practiced in the areas of master-planned communities, condominiums, mixed-use and resort developments. She is a partner at Holland & Knight and leads the Southeast real estate practice group, specializing in the Florida condominium, resort and hospitality market. She is also co-chair of the firm's condominium development and conversion team. Turra works on some of the largest projects in Florida — notably the 4,100-acre RiverTown development and the continued development of Fisher Island, where she has been an integral part of the island's development as counsel to the master developer during the past decade. Turra previously served as the executive partner for Holland & Knight's Jacksonville office, the practice group leader for the firm's Jacksonville real estate group and was the women's initiative coordinator for the Jacksonville office.

NANCY WESTPHAL Nancy Westphal encourages her team to take their work to the next level, not by working longer hours and being busier, but by prioritizing actions that add value and generate great outcomes. Westphal, who is deputy general counsel of CBRE's global workplace solutions & advisory, said she wants her team to be open to emerging technology and new ways of operating. With her team, which includes more than 187 legal professionals in 35 countries, Westphal generated more than $26 billion in revenue in 2021. In her advisory role, Westphal oversees the global team that provides a broad range of legal support for CBRE's advisory and transactions, capital markets, property management and valuations business lines serving occupier and investor clients around the world. Westphal is a member of the Americas advisory leadership team, she is a member of the GWS global operating committee, and she partners with the firm's public affairs legal team on emerging US issues important to commercial real estate. Westphal also leads the South division for CBRE's women's network.
DEVELOPMENT PROFESSIONAL

KARLA L. CAVAZOS Karla Cavazos grew up in El Salvador during the height of the Salvadoran Civil War but immigrated to the US to attend college at the University of Texas, where she studied architecture. Although successful in architecture early in her career, Cavazos decided to take a different path and focused on developing processes and systems to improve project efficiency. Cavazos joined Southern Land Co. as SVP of commercial design and construction, overseeing the company's interior designers and design coordination managers. During that time, Cavazos synchronized architecture and engineering consultants with SLC's in-house design, pre-construction, development and operations teams to maintain the company's standards while simultaneously reducing costs and improving efficiencies to accelerate delivery. Cavazos was recently promoted to her current role as EVP of development, where she manages architectural and engineering contracts, coordinates construction processes with design and collaborates with SLC's development teams from concept to completion. She currently oversees the development of eight multifamily projects and four mixed-use projects.

CAROLYN COIA As VP of real estate for Research Triangle Foundation of North Carolina, Carolyn Coia serves as principal for transactions, entitlements, leasing and owner's representation. Coia spearheaded a new concept, Frontier RTP, which provides flexible and affordable space for start-up and emerging companies in Research Triangle Park. She conceptualized, retrofitted and leased-up 500,000 square feet of space for Frontier RTP; increasing the company count in RTP from 200 to 300 in two years. Building on this success, Coia led an innovative up-use of 40 shipping containers into an experiential retail and performance venue called Boxyard. This unique project required building trust and collaborating with stakeholders, including the Durham Building and Permitting Department, which had never dealt with a shipping container building concept. Coia's biggest challenge to date has been providing owner's representation for HUB RTP, a transformation investment for the region that broke ground in Fall 2020. The $1.5 billion, mixed-use investment has attracted multiple development partners to the project, which will convert a vacant 43-acre site in the middle of RTP into residential, retail, office, hospitality and recreational space.

SHAYLYN CULLEN When reflecting upon her 25 years of commercial real estate experience, Shaylyn Cullen hopes that the dirt on her boots rubs off on the next generation of female builders. With an engineering degree, she commenced her career as a general contractor and fought her way to the table of large, complex projects. Cullen spent her evenings pursuing her MBA degree at DePaul University and she launched Cullen Construction Management, where she now serves as the firm's president. Cullen runs the firm's daily operations, including oversight of business development, financial controls and hiring, as well as project management during pre-construction phases, negotiating contracts, overseeing constructability reviews and scheduling coordination. In the past 12 months, Cullen has led Cullen Construction Management into new market sectors including higher education and aviation. During this time, she has increased her team by 30%, expanded into five new states, doubled annual revenues and founded the Chicago chapter of Professional Women in Construction.

KATIE JACOBY Running one of the largest healthcare real estate development platforms in the US has required Katie Jacoby to balance leadership and technical skills with an approachable management style. As EVP of strategy and development and a partner at Anchor Health Properties, Jacoby manages all aspects of the medical real estate development process, from project concept through building opening. She currently oversees 37 active projects ranging from $1.4 million to $38 million and totaling more than $410 million across the country in the past year. During the height of the pandemic, Jacoby grew her team by 60% after promising them security and stability. She also grew the firm's development revenue by 53% from 2020 to 2021 and 42% from 2021 to 2022. A notable accomplishment for Jacoby was an outpatient medical facility that required her to work with 10 individual tenants with different constraints to successfully lease out the 240,000-square-foot facility without compromising vision or budget.

TRACEY KASPER Tracey Kasper leads Avison Young's New Jersey project and construction management teams with a focus on biopharma, industrial and office. In 2006, Kasper joined Avison Young as a senior project manager charged with growing the tenant representative project management group. Today, with more than 30 years of experience, Kasper serves as its principal and VP of project management, where she leads a 26-person team of project managers who work with both tenants and landlords to deliver projects across the Tri-state area. She also serves as a leader within Avison Young's national project management platform by supporting collaborative efforts to streamline services offerings and deliverables for clients. Recently, Kasper pivoted the project management business line to support and meet pre-pandemic revenue projections by guiding team members in learning and successfully delivering projects in new industry sectors. She also took on the added responsibility of overseeing the at-risk construction management team to improve resource allocation and communication, while improving the team's efficiency and operations.

LEZLIE TRAM LE Lezlie Tram Le's passion is helping the Asian community, particularly women, achieve the American dream of small business ownership. A lifelong entrepreneur, Le started her career at the age of 22 and today, she serves as a broker with LT Commercial Group, which has continued to grow and serve the Austin small business community under her leadership. Working closely with clients, Le helps business owners overcome language barriers and confusion regarding contracts and leases, and she assists with contract negotiations and communicates with city officials. With her help, dozens of minority small businesses have been able to find retail locations, start businesses and create jobs. By the end of the first year of independent operation, LT Commercial Group had closed nearly $30 million in commercial contracts. In addition to her everyday responsibilities leading the brokerage, Le is an active participant in each development and investment project that is currently under her oversight. These duties include frequent meetings with owners, investors and construction professionals and attending meetings with economic development departments. In addition, she served as Asian Real Estate Association of America's Austin chapter president in 2020.

ROCHELLE MILLS Rochelle Mills is president and CEO of Innovative Housing Opportunities, an Orange County-based, nonprofit developer of high-quality affordable housing. Mills joined the organization in 2006 as a part-time project manager to oversee the rehabilitation of the organization's sole real estate asset. Since then, she has been an integral leader and team member for 15 of the firm's 45-year legacy of developing, advocating for and preserving affordable housing. During Mills' tenure, IHO's portfolio has grown from a single property to more than 600 units across Southern California, with more than 670 additional units in pre-development or construction. Mills represents the organization in legislative, policy and advocacy matters relating to affordable housing, creative placemaking and authentic community development. She helped bring IHO's holistic vision of community development to fruition, which integrates arts, culture and design by creating opportunities for residents, staff, board members, city officials, local businesses and museums to work together to create site-specific public art in IHO's housing developments.

MEGAN MOLOUGHNEY Megan Moloughney has more than 20 years of experience in a unique mix of roles in development and property and asset management for boutique private companies and large public firms. This experience has helped her develop business acumen that she combines with a talent for bringing out the best in her team to achieve successful, efficient solutions and amplify project value. As VP of development at Skanska USA Commercial Development, Moloughney is responsible for guiding her project teams, including overseeing conceptual design, permitting, pre-construction and construction activities, leasing, operations and recapitalization. She is currently a project lead on Skanska's 9000 Wilshire development, a 50,000-square-foot, three-story office building designed to enhance the productivity and well-being of a creative workforce in Beverly Hills. Her support of the Academy of Special Dreams led to her facilitation of the opening of gallery space at a commercial office and retail complex, which both created an amenity for the building and served the broader community by promoting inclusivity of artists with disabilities. Her eye for creating opportunities for local organizations while simultaneously bolstering her team's product creates an impact beyond her project's property line.

NANCY MOSES Earlier this year, Nancy Moses was promoted to EVP of development management, the highest seniority level for development managers at Trammell Crow Co. Moses is responsible for all aspects of the development process including sourcing new opportunities, shaping projects and managing execution and disposition. Since joining TCC as an administrative assistant, Moses has risen through the firm because of her relentless effort to make an impact on the business and in the local community. She has directly delivered more than 1.7 million square feet of development throughout Los Angeles, with an additional 1.2 million square feet currently in planning and production. Moses goes beyond management of team members and workloads by assisting with career planning and offering mentorship for the team's younger professionals, as well as serving as a co-chair for TCC's women's network. In 2021, Moses completed the turnkey delivery of the 468,000-square-foot Vermont Corridor County Administration Building, a 21-story, class A office tower that serves as the new administrative headquarters for Los Angeles County's Department of Mental Health.

LAUREN NUNNALLY Growing up with a father in construction and inspired by her grandmother, who was the first woman to own a real estate business in Virginia, Lauren Nunnally turned this passion for the business into a career where she has excelled and continued to grow in leadership roles of increasing responsibility. Nunnally started as a project engineer at Swinerton in 2005 and rose through the ranks of operations to her current role as SVP and chief talent officer at the firm. Within her role, Nunnally is responsible for all HR operations and corporate responsibility efforts. Under her leadership, Swinerton has rolled out five companywide employee development programs, supported the hiring of more than 1,700 non-craft and 9,000 craft employees, reduced voluntary turnover by 2% and implemented a new company wide manager effectiveness 360 survey with 81% employee participation. With a strong focus on building high-performing teams across the organization, Nunnally's teams have supported targeted team-building efforts for more than 30 teams company wide spanning from project-specific teams to regional senior leadership teams.

ZEENA PINTO With 20 years of experience, including eight years at Trammell Crow Co., Zeena Pinto is recognized as a technical expert, a team player and a leader in TCC's Houston office, where she serves as VP of development management. Throughout her career, Pinto has completed more than $2.5 billion of development projects. During the past 18 months, she has kept high-profile and complex projects on track despite the additional challenges brought on by COVID-19. In addition to her responsibilities for projects based in Houston, Pinto also stepped up to lead multiple healthcare development projects in Pittsburgh for a Houston-area client moving into a new market. The assignment included developing two micro-hospitals. Pinto is currently completing the delivery of a four-million-square-foot, state-of-the-art, multi-story industrial facility for a major e-commerce client; the largest of its kind in the Houston area. She is responsible for managing all aspects of site due-diligence, design, permitting, construction and coordination of specialized equipment installations. Pinto is a member of the National Association for Industrial and Office Properties, Rice Design Alliance and US Green Building Council.

AMY POKAWATANA Amy Pokawatana serves as VP of development design at Hudson Pacific Properties, where she oversees the development, design and construction of multiple commercial and studio projects ranging from redevelopment to new construction across more than 20 million square feet. During the past year, Pokawatana directed and played an integral role in the firm's One Westside project, a transformation of an aging shopping mall in a prime West Los Angeles location into a nearly 600,000-square-foot, state-of-the-art campus that is fully-leased to Google. Despite the challenges of executing on this massive project in the midst of a pandemic, One Westside was delivered ahead of schedule and on budget, thanks in large part to Pokawatana's management. As a woman of color in a traditionally male-dominated industry, Pokawatana has been a longtime advocate of expanding diversity in the profession and has provided mentorship to emerging talent through USC's School of Architecture.

RACHEL ROMAIN During the height of the pandemic, Rachel Romain worked through pressure as a project manager at MRA Group to meet deadlines and complete development projects all while dealing with disruptions related to the virus. To combat onsite delays caused by the virus, Romain instituted safety policies and procedures including creating flexible work schedules to accommodate social distancing. She also faced increased materials costs and lead times, which she solved creatively and within budget for every project she managed. Among Romain's recent accomplishments are managing the design and build of initial incubator lab suites for new life sciences startups and early completion of a medical office space for a plastic surgery practice. Romain volunteers as a project manager with Rebuilding Together, where she helps homeowners in distressed areas who cannot afford renovations or improvement of harsh living conditions with everything from remodeling residential homes to landscaping upgrades.

MELISSA ROMAN With strong demand for logistics real estate stemming from the shift to e-commerce and other forces, Melissa Roman is tasked with new construction and development of modern logistics facilities in Chicago and the Midwest for Prologis. As VP of development at the firm, Roman oversees multiple active projects each day, ranging from land pursuit to completed building turnover to operations. She is responsible for four team members and several internal and external partners; ensuring each development project is successful from inception to completion. In the Chicago market, Roman is leading the development for seven new buildings, totaling two million square feet, this year. During her 17-year career, she has supported a broad array of industries and partnered with large brands, including UPS, FedEx, Peloton, Starbucks, Keurig, Dr. Pepper, Home Depot, Comcast and Honeywell, to guide them through the multifaceted development process. Roman has managed more than $1 billion in government work, including the National Nuclear Security Administration National Security Campus and the NNSA Kansas City Plant Site Redevelopment.

JENNIFER N. ROSENBERG Early in her career, Jennifer Rosenberg planned to be a real estate broker but pivoted to development after working for a general contractor/developer. Since joining Keystone Development + Investment in 2014, Rosenberg has been instrumental in elevating the firm's portfolio of iconic projects that attract world-class companies. As development director, she is responsible for overseeing the development and redevelopment of Keystone's growing portfolio and plays an integral role in the reinvention of the company's suburban and Center City, Philadelphia, mixed-use assets. Prior to joining Keystone, Rosenberg spent time at Artimus Construction Inc., where she generated more than $20 million of incremental revenue by designing and implementing a complex, multi-tiered financial incentive program for buyers of new construction luxury condominiums. Throughout her career, Rosenberg has executed the development and redevelopment of 15 iconic projects in New York City as well as Philadelphia and its surrounding suburbs.

LISA A. TAMAYO During her 30-year career in commercial real estate, Lisa Tamayo has completed more than 2.5 million square feet of building and interior construction projects and she has procured building entitlements exceeding five million square feet. During her 18-year tenure as VP of development at BLT Enterprises, Tamayo has worked closely with several major brands including Volkswagen, Amazon, Frito-Lay and FedEx. On projects that others might consider impossible, Tamayo is known for accepting and meeting the challenge. For instance, she spearheaded the creative vision and achieved client buy-in of Volkswagen Group of America's Oxnard Engineering Campus, negotiating and supervising the nearly 90,000 square-foot expansion and meeting VWGoA's precise needs while reflecting its unique culture. Within the past 12 months, Tamayo has played a key role in several development and renovation projects undertaken by the BLT team, including acquiring, leasing and renovating a 40,000-square-foot industrial asset in Orange County, CA; converting and renovating a 16,500-square-foot industrial building into a creative-office property in Los Angeles; and repositioning a 26,000-square-foot creative office for a new tenant in West Los Angeles.

MARIA THOMPSON As a minority woman, Maria Thompson helps shape the commercial real estate industry by inspiring and mentoring the next generation of real estate professionals and through the significant impact her work has had on the Washington D.C. metropolitan region. Thompson was the first African-American officer of Balfour Beatty's Washington division before joining Hoffman & Associates as SVP of construction in 2015. In that role, Thompson oversaw construction of The Wharf Phase 1, the largest construction project in D.C. at the time. She was promoted twice during the next six years and currently serves as EVP of development and construction, in which she oversees Hoffman & Associates' full portfolio totaling more than $6 billion across seven active projects in the Southeast. Thompson currently oversees the development and construction of Phase 2 of The Wharf, which broke ground in Spring 2019 and is set to deliver an additional one million square feet of mixed-use development this year. She also oversees projects outside of The Wharf, including the company's expanding presence in D.C., Northern Virginia and Raleigh, NC.
FINANCE EXECUTIVE

SARAH BACAY Sarah Bacay is director of lease administration at CIRE Equity where she and her team support both internal stakeholders and clients by managing timely billing of rents, common area maintenance charges, utility and ancillary billings, tenant sales reporting, estoppel preparation, coordination of tenant audits and tenant collections. Bacay also ensures lease compliance for the company's portfolio. She is described as an exceptional leader that manages a customer-service-driven department and supports most internal operations teams, including property management, asset management, accounting, finance and acquisitions. Under Bacay's leadership, the lease administration team has continued to evolve and grow throughout the past year; optimizing and improving current processes and controls by exploring technology and systems that automate lower-level tasks so they can focus on value-added work. Bacay is an active member of Filipinos in Institutional Real Estate, the IREM and the Project Management Institute.

MARIA F. BARRY As community development banking national executive at Bank of America, Maria Barry oversees the team that provides financing for affordable and mixed-income housing. Her team has produced five consecutive record years of financing, representing more than $26.6 billion of debt and equity financing and creating more than 60,000 affordable housing units. Her team has also consistently been named among the top US banks for affordable housing lending and investing for the past five years. Barry is an active member of the company's operating committee that on-boards new leaders, and she serves as a mentor on external committees and holds local and national affordable housing leadership roles. The governor of Rhode Island appointed Barry to a second term on the board of commissioners of Rhode Island Housing, where she serves on the credit committee. She is also on the board of Enterprise Community Partners and is a member of its resource and development committee, as well as a board member for the National Housing and Rehabilitation Association.

STEFANIE BERTCHER Stefanie Bertcher developed a strong work ethic while playing competitive soccer for more than 20 years, including four years at the University of Georgia. She draws from the skills she developed on the field, such as teamwork and communication, in her career. Bertcher joined CARROLL in 2015 as VP of investor relations and rose through the ranks at the company until she was recently promoted to SVP of investor relations. In her role, Bertcher serves as the main contact for all current and prospective investors for CARROLL, which manages more than 33,000 multifamily units in eight states. She also manages accounting and reporting for the firm's six active funds. In 2021, Bertcher played a key role in helping the company achieve a record transaction volume of $5.5 billion. This increase in property transactions resulted in a significant increase in the transactions across the real estate fund platform including fund capital calls needed for acquisitions, fund distributions associated with proceeds from dispositions, and increased review and management of the available cash across the funds.

LISA M. BOZZELLI Lisa Bozzelli plays an integral role in Fannie Mae's multifamily residential housing efforts as senior director of multifamily capital markets, where she leads a trading desk that works to provide a stable source of liquidity to support low- and moderate-income renters. Bozzelli stands out for her steadfast devotion to environmental and social issues that affect multifamily US housing stock. In 2010, she played a key role in establishing Fannie Mae's Multifamily Green Bond program, which she continues to lead and which recently eclipsed $100 billion of issuance. Last year, Bozzelli spearheaded the issuance of Multifamily Social Bonds, mortgage-backed securities backed by restricted affordable housing and manufactured housing communities that support low- and moderate-income renters across the US. She continues her leadership by helping shape Fannie Mae's green and sustainable bond frameworks, ensuring alignment with global best practices, and building a market for green and social bonds within the multifamily MBS market. Bozzelli is a veteran, who, before entering the financial services industry, served as a lieutenant commander in the U.S. Navy, flying the E-2C Hawkeye.

BETH BURKE When Beth Burke joined Avison Young in early 2020 as Midwest finance director, she was tasked with the difficult challenge of cleaning up the region's accounts receivable/accounts payable processes. To add to this challenge, she only had six weeks to interact with the markets in person before the COVID-19 pandemic shut everything down and without managing directors in Chicago and Minneapolis. Burke continued to face uncertain revenue forecasting and changing needs from the business into 2021 but met the challenge with grace and determination. Through careful money management and close attention to AR and AP and every aspect of finances, both the Chicago and Minneapolis offices achieved the highest gross revenue and highest margin of earning since each market's inception. Her ability to communicate clearly, forecast accurately and master the company's recently launched accounting tools had a direct impact on this record-breaking performance. Burke is a founding member of Avison Young's Chicago women's network and a mentor for Avison Young's emerging leadership program.

KATIE CARPENTER Katie Carpenter has used her extensive knowledge in tax, accounting services and real estate to renovate and revamp Matthews Real Estate Investment Services' entire accounting department. Since joining the firm, Carpenter has leveraged technology and upgraded accounting information infrastructure to a cloud-based system to improve visibility, reporting and functionalities. She also integrated AP automation and payment solutions to support the company's rapid growth and reduce AP cycle time at a lower cost compared to hiring additional team members, and she deployed an advanced purchasing solution to better employee spend tracking across all departments and streamlined the workflow for purchase approvals. During the pandemic, Carpenter worked to find solutions that would allow the company to retain all of its employees, including adapting the budget and finding revenue opportunities. The result of her work has been greatly reduced costs across the accounting department and the ability to bring back raises, holiday parties and sales rewards. Carpenter's success earned her a recent promotion to VP of finance, making her one of the first female executives on the Matthews executive leadership board.

CÉCILE CHALIFOUR During her more than 20-year career, Cécile Chalifour has developed a deep passion for and commitment to affordable housing. Last year, Chalifour, who is the West division manager for community development banking at JPMorgan Chase, led her team to the highest production level for the region at $1.2 billion in construction financing for 54 affordable housing transactions. Under Chalifour's leadership, her team has financed large, complex transactions in metropolitan areas, from permanent supportive housing to mixed-income projects, as well as small, mission-driven rural deals. She's committed to encouraging innovation to cut costs and her team is one of the leaders in financing modular construction for affordable housing, with 16 projects done or in process. Since she joined the firm, Chalifour has overseen the construction or rehabilitation of more than 15,000 affordable housing units. She recently organized and led a group of the largest financial institutions active in affordable housing to assist the California Department of Housing and Community Development in implementing the California Housing Accelerator, which provides $1.6 billion of capital to support affordable housing projects that are unable to move forward due to funding gaps.

CHRISTINE CHANDLER AS SVP, COO and chief credit officer for M&T Realty Capital Corp., Christine Chandler is responsible for making credit decisions for the firm's multifamily and healthcare transactions underwritten in the agency and FHA platforms, as well as managing company operations. Her positive impact on the company during the pandemic was widely appreciated. She led monthly town hall meetings to keep the company connected and ease uncertainty and concerns among employees. She also created a new employee onboarding program that provides a consistent experience and encourages early interactions and partnerships. Chandler maintained her activity in external committees during the pandemic, including with the Mortgage Banks Association's commercial real estate/multifamily finance board of governors. Chandler is the 2022 vice chair of the board and helped plan the organization's MBA CREF conference in addition to speaking on a panel.

SHANNON DUPLER Through extreme trauma and adversity, Shannon Dupler has persevered. Dupler has spent the better part of the past two years caring and advocating for her husband, who suffered a stroke in June 2020 followed by a slow recovery complicated by COVID-19 restrictions and setbacks. Dupler carried on with work as Avison Young's principal and manager of financial reporting, while pushing medically for her husband and maintaining the family home for their 5-year-old daughter. Colleagues say that Dupler's strength and perseverance has been a beacon of inspiration. Despite her personal circumstances, Dupler worked through staffing shortfalls and adopted corporate initiatives to benefit the company's Northern California region. As the manager of financial reporting, workspace analysis and strategic consulting, Dupler's responsibilities include financial analysis, budget preparation, revenue forecasting, reporting, headcount growth analysis/forecasting, space take-down strategies and benchmarking, and HR onboarding and off-boarding. Prior to joining Avison Young nine years ago, Dupler served as a financial analyst for CBRE.

KIMBERLEY ESTALA Kimberley Estala, director of property accounting at RiverRock Real Estate Group, has played a critical part in the growth of the firm during the past decade. Prior to joining RREG 11 years ago, Estala served as the controller for the Picerne Group where she was responsible for the financial oversight of a large portfolio of investment entities and multifamily residential properties. She also was senior controller at CB Richard Ellis where she managed the planning, organization and staffing for multiple accounting teams and supervised the accounting for more than 200 commercial properties representing more than 37 million square feet. With 30 years of experience in the real estate industry with a focus on commercial property management accounting, Estala was tasked with hiring 10 new employees on her team during the pandemic, which took on new business responsibilities and accounting assignments predominantly in development accounting. The project required her to build a new division and service area for RREG, which she executed flawlessly.

MELISSA FARRELL At the beginning of this year, Melissa Farrell was promoted to head of US originations at PGIM Real Estate and was appointed to the US debt executive council. Previously, Farrell led originations in the Eastern and Midwest regions at the firm. She is described as an exceptional transactions professional who is focused on the best possible outcomes for her clients, colleagues and PGIM. During her tenure at the firm, Farrell has closed more than $25 billion in financing, including $3.8 billion last year in new debt transactions across a range of products from core, core plus and agency to high-yield. During the past five years, Farrell's credit authority and scope have increased substantially. In 2021, she reviewed and approved more than $2 billion in funded US debt transactions. She has informally mentored at least 20 employees — particularly high potential females. Farrell is also active in organizations such as New York Women Executives in Real Estate and ULI.

LISA M. FISCHMAN Of her success in commercial real estate, Lisa Fischman says her sole talent is that she doesn't quit. As an example, when HUD rejected a new construction deal halfway through the process, Fischman flew to the HUD office, met with the branch chief and negotiated a rejection reversal. As a managing director at Greystone, Fischman visits every asset she finances and puts her 11 years of experience to work for clients. Throughout her career she has worked in construction, acquisition and refinancing of multifamily and healthcare real estate, and she is well-versed in bridge, FHA-HUD, Fannie Mae, Freddie Mac and CMBS lending platforms. Fischman takes a client-first approach to her work, which has helped her become one of Greystone's leading producers. She has originated $467 million in loans, $299 million of which were for multifamily projects and $168 million for healthcare and seniors housing. Commercial real estate is Fischman's second career. She joined the industry after a successful career as an advertising executive at J. Walter Thompson. Despite the obvious differences between the two industries, Fischman insists there are many parallels and that success in either field comes down to communication and trust.

HEATHER HABIB As assistant controller at CIRE Equity, Heather Habib led the firm's property accounting team and oversaw the integration process among acquisitions, accounting personnel and operational-level reporting for the company's portfolio. A significant part of her role included reviewing and approving property-level monthly, quarter and annual closes, including financial statements, supporting schedules and analyses. She also led the vetting and mapping of in-place processes such as monthly accruals, billing, budgeting, lease administration and allowance for bad debt, provided feedback in areas that needed efficiencies, and documented and rolled-out process updates. Habib played an integral role in developing and growing the CIRE Equity accounting platform and streamlined communication and workflows to maintain productivity. She is described as a thoughtful manager who fosters open and transparent communication and holds herself personally accountable for the work her team does. Habib recently took on a new role as assistant controller at ShopCore Properties, a Blackstone Company.

KATHY HARBOLD Navy veteran Kathy Harbold embodies the community-building mentality of EagleBank, where she is the company's SVP and CRE relationship manager. Harbold is responsible for acquiring, growing and servicing commercial banking clients, including evaluating, structuring and overseeing the underwriting and analysis of client and prospect loan requests. She has 31 years of experience in the industry after serving as an ombudsman on the USS Nimitz and studying finance and banking in college. Her team had a highly productive year last year, with Harbold generating vital business opportunities, while ensuring her team remained motivated, empowered and engaged. Harbold juggled several projects during the year, including a loan for Martin Luther King Gateway that EagleBank provided to facilitate the construction of a new headquarters for the D.C. Department of Housing and Community Development. Harbold participates in webinars and online discussions through CREW DC, NAIOP, NVBIA and informal groups. She sits on the board for the Real Estate Lenders Association and she is the past president for the Risk Management Association.

BREGAN HERROLD In less than three years at Cushman & Wakefield, Bregan Herrold has successfully managed increasing and evolving leadership responsibilities and she was recently named CFO for the Americas. As CFO, Herrold leads all financial processes, partners with the business to deliver operational efficiencies, provides insights through analytics and makes investments to drive long-term strategic growth. Beyond reporting quarterly and annual financial results, the core of Herrold's job is to ensure strong EBITDA performance over the medium- to long-term. Prior to her recent promotion, Herrold served as VP of finance for the Americas, where she was a key leader during the pandemic in ensuring operational excellence, implementing cost-savings initiatives and driving strategic decision-making. Under her leadership, Cushman & Wakefield achieved record-breaking sales and profit in 2021. The firm also achieved record-breaking cost savings under her leadership, starting with the development of budget and planning, management of multiple in-year operating changes, and execution of multiple cost projects. Colleagues say that Herrold breathes life into Cushman & Wakefield's cultural values of being inclusive, driving results and collaborating in all areas.

JESSICA HOBBS Jessica Hobbs loves numbers and showing how they add up to success. Her affinity for numbers led her to pursue a dual degree in accounting and finance and eventually a career in real estate finance. Hobbs is head of capital formation and business development for Mesa West Capital, the $8 billion real estate credit arm of Morgan Stanley Investment Management. In her role, she leads fundraising, marketing and investor relations efforts, recruits institutional partners and maintains relationships with investors. Her efforts to expand Mesa West Capital's investor pool have contributed to the firm becoming ranked as the 18th top debt fund manager in the world. She has helped raise $4 billion in investor commitments during the past 7 years, including $1 billion during the past 12 months. Hobbs is skilled at connecting with people and she has a rare ability to put people at ease and convey her message, an especially crucial quality during the pandemic.

ANNA MARIA KOWALIK Anna Maria Kowalik is passionate about educating commercial property owners on the business and environmental benefits of Commercial Property Assessed Clean Energy (C-PACE) financing, an innovative tool that enables commercial property owners to obtain up to 100% long-term, fixed-rate financing for environmentally friendly building improvements. Kowalik joined Inland Green Capital LLC in 2018 and she serves as the firm's SVP and director of business development. She is responsible for the marketing, education and implementation of this next-generation sustainability financing option at the firm, and she was instrumental in originating the first three C-PACE transactions in Illinois. Despite pandemic interruption and uncertainty, Kowalik gained significant traction in the education and promotion of C-PACE. Her thought-leadership includes speaking on podcasts, authoring articles, attending panels and educating county officials. Kowalik is also SVP of the Illinois Energy Conservation Authority.

REBECCA LONG Rebecca Long is an accounting and audit senior manager for Anchin, Block & Anchin's real estate group, where she provides assurance, advisory and tax services to privately-held companies. During her 11-year career, Long has served property owners and operators of commercial real estate entities to real estate funds and employee benefit plans. In addition, Long is a key member of Anchin's emerging manager platform group, which assists start-up hedge, private equity, real estate and venture capital firms manage their funds through every phase. During the past year, Long's role at the firm has evolved and she has become a thought-leader by developing content in the form of company email blasts, known as Anchin Alerts, as well as vlogs and other communications materials to educate the firm as well as her clients on new accounting and tax updates. Long recently took on a new role as a member of Anchin's internal accounting and audit group, where she works alongside a team to develop more efficient processes in effort to grow the firm.

MICAELA LUMPKIN Micaela Lumpkin was born in Peru and moved to the US in 1988 with Spanish as her native language. After attending Georgetown University Law School, she worked as a senior associate at Orrick where she practiced as a finance/real estate attorney. Lumpkin began her career at CoreVest Finance in 2016, where she now serves as SVP and head of term lending. Under Lumpkin's leadership, the firm has funded more than $5 billion in portfolio rental loans for more than 2,000 borrowers. She oversees the day-to-day activities of both the underwriting and closing teams and also works closely with CoreVest's technology team to develop and implement new software solutions across the platform. Lumpkin has been instrumental in helping develop and support the company's securitization platform and create new loan products, including 30-year rental loans and loans for short-term rental properties. Despite the uncertainty brought on by the pandemic, Lumpkin nearly doubled the size of her team and guided it to a record volume of more than $1.3 billion in portfolio rental loans in 2021. Lumpkin also serves on CoreVest's sub investment committee as well as TogetHER, the firm's women-focused resource group.

JESSICA MACKENZIE As senior director of capital markets at Standard Communities, an affordable, workforce and mixed-income housing innovator, Jessica Mackenzie is responsible for structuring and closing transaction financing for all of the firm's projects and is driven by the desire to provide safe, stable and affordable homes for people, particularly during difficult times like the pandemic. Since joining Standard Communities in 2019, Mackenzie has arranged financing for more than 30 transactions in several states with a total capitalization of more than $1.5 billion. In the past 12 months, Mackenzie has structured and closed transaction financing for more than 27 affordable and workforce housing deals. She is a mentor for Project Destined, a social impact platform that provides financial literacy, entrepreneurship and real estate training to undergraduate students. As part of the mentorship program, Mackenzie meets with a small group of students bi-weekly to teach them about the nuances of affordable housing investment, which helps prepare them for subsequent real estate investment and management classes.

KIMBERLY MCKEE Early in her career, Kimberly McKee worked full-time during the day while attending law school classes in the evening and studying on weekends. In 2008, she graduated with a Juris Doctor cum laude from Seton Hall University School of Law and then passed the bar exams for New York and New Jersey. McKee's legal education has been an invaluable asset in honing her structured thinking and advocacy skills, which have aided her in commercial real estate. McKee is SVP and regional manager for the Northeast at U.S. Bank, where she originates and underwrites traditional and structured loans for institutional and private clients. She joined the firm in 2018 as the New York market manager and was well-positioned to tackle an office start-up in one of the most competitive markets in the country. In three and a half years of serving top-tier clients, McKee has developed a sustainable multi-billion-dollar portfolio. In addition to her Northeast clients, she is also responsible for overseeing the real estate structured finance business for U.S. Bank.

SUSAN MELLO Susan Mello was recruited by Walker & Dunlop in 2021 and was tasked with expanding the company's growth and capabilities as well as originating $65 billion of annual debt financing volume by 2025. As EVP and group head of capital markets at Walker & Dunlop, Mello is the first woman to be responsible for leading the firm's entire capital markets platform. She guides a team of more than 200 people nationwide, including more than 100 producers. Throughout her 28-year career, Mello has helped close more than $7 billion in transactions across all property sectors. Prior to her start at Walker & Dunlop, she served as managing director and portfolio manager at PGIM Real Estate, where she oversaw a series of US multiproduct closed-end equity funds and was directly responsible for capital raising, investment strategy, portfolio construction and investment selection. Mello participates in Walker & Dunlop's internal employee resource group for women called WoWD. She has served as a mentor for many professionals in the group; providing a guiding voice in group discussions and strategies for uplifting other women at the company.

PAULA QUIGLEY Paula Quigley has mentored and inspired many young lenders throughout her career, including her son, who works with her at M&T Realty Capital Corp. Quigley joined M&T 28 years ago and today, as SVP and FHA/HUD program manager, she oversees origination, underwriting, processing and closing FHA-insured loans. Quigley is also involved in trading GNMA securities for all product types including multifamily, healthcare, refinances and construction loans. She is most proud of closing a $79.5 million loan in the behavioral health space, which is in dire need of permanent financing solutions. During the height of COVID-19, Quigley was instrumental in maintaining the largest FHA pipeline in M&T RCC history. In 2021, her team successfully closed $1.13 billion, and Quigly alone closed FHA/HUD loans totaling $715 million. Her colleagues describe her as an expert in FHA/HUD lending as well as someone who is fun to work with and always reliable even during uncertain times.

TINA QUIRIN At Capital One, Tina Quirin is involved in the origination of commercial real estate financing, primarily in the Southwest. As SVP of loan originations, Quirin's responsibilities include financing acquisitions and refinancing existing properties nationwide, drawing on loan programs such as Fannie Mae, Freddie Mac, FHA, CMBS, life company, bridge and balance sheet executions. Quirin began her career 25 years ago in asset management at Berkshire Mortgage Finance and transitioned to underwriting in 2004. In 2018, she was officially approved as a Fannie Mae chief underwriter as a career milestone. Throughout 2020 and 2021, Quirin was a chief underwriter for Capital One, where she navigated multifamily deals through the underwriting process amid pandemic-induced challenges. She used her experience and knowledge of agency lending — along with her relationships with agency counterparts, credit and production partners — to propose solutions that were credit sound and met clients' needs.

EMILY SCHULTZ At Berkadia, Emily Schultz serves as managing director and head of Fannie Mae originations, for which she is responsible for driving Fannie Mae business and overseeing the Fannie Mae deal management team. Since joining the firm in 2019, Schultz has overseen growth in Berkadia's Fannie Mae market share each year from 2019 to 2021. Schultz began her career two decades ago on the production side as an origination analyst, before transitioning to the underwriting/credit side and working her way to a DUS chief underwriter position before transitioning back to production in her current role. She previously served as a chief underwriter at Newmark, where she worked with production officers, credit officers and Fannie Mae to win business. Schultz consistently prioritizes making a difference in the makeup of the CRE industry, devoting time to diversity, equity, inclusion and belonging initiatives both inside and outside of Berkadia and mentoring other women in the industry. She was recently appointed as the first female chair elect for the CRE Finance Council GSE/Multifamily Forum.
INVESTMENT PROFESSIONAL / OWNER

BETH AZOR Beth Azor was given several opportunities in the early 1990s by her boss to invest in his real estate deals, and after she repeatedly declined, he insisted and co-signed a loan with her, which helped launch her career. Azor now owns and operates six shopping centers in South Florida and is a minority investor in several other deals. Given her early experience investing in real estate, she now makes it her goal to help women build the same success that she has. Azor, who is CEO of Azor Advisory Services, created an annual networking event for women in real estate investment in South Florida. She also co-founded the South Florida Independent Retailer awards to recognize local mom-and-pop retailers and developed a program in 2021 to help entrepreneurs get a start in a brick-and-mortar location using spaces left vacant during the pandemic. With nearly four decades in the business, she recently published two books detailing her experience in the real estate world.

ANGELA BIGGS Having witnessed how challenging entry into an investment and acquisition career can be for women, Angela Biggs, a 15-year industry veteran, empowers other women to join the business through professional and volunteer work. As SVP of investment at Grosvenor, Biggs is responsible for acquisitions and dispositions of multifamily, retail and office properties in California, and she is active in the firm's equity, diversity and inclusive racial justice and pride group. Her interpersonal skills and strong analytical and quantitative approach have been pivotal in helping grow both her personal brand and the company's brand during speaking occasions and when presenting a rationale for a specific transaction. Grosvenor's global leadership team recognized Biggs as a high-potential person and invited her to serve on the company's exclusive 10-member Eaton program, a global initiative to deliver strategically significant projects and share best practices across worldwide operating companies. She is known among peers as an inclusive team player, and for her ability to unlock people's potential and value.

MOLLY BORDONARO Molly Bordonaro is the only female managing partner at The Green Cities Co., where she uses her extensive expertise in institutional real estate and asset management to lead the firm's investment management process. Bordonaro joined the firm in 2009 and became a partner in 2011. Bordonaro serves on the firm's investment committee and has been an integral part of the firm's growth to $2.9 billion in gross assets. Prior to joining the firm, Bordonaro served as the US ambassador to Malta and became the first American diplomat to receive Malta's highest medal of honor. She serves on the Moda Health Board and is a member of the National Charity League – Portland chapter, the Pension Real Estate Association and the National Association of Real Estate Investment Managers. Bordonaro has previously served as a member of the board of directors of the National Women's History Museum, PREA's Technology and Sustainability Affinity Group, the US Congressional Commission on the Advancement of Women in Science and Technology, and the board of directors of the Fannie Mae Corp.

JULIA BOYD CORSO Since taking over as co-president of Interstate Equities Corp. in 2007, Julia Boyd Corso has helped evolve the company into an institutional private equity firm with diverse leadership and $1 billion of assets under management. As COO, Boyd Corso oversees corporate operations and value-add repositioning of all IEC investments and she sets the strategic direction of the company and its investment activities as a leader of its investment committee. Under Boyd Corso's leadership, the firm has acquired more than $700 million of  multifamily assets in the past 12 months. She helps implement sustainability initiatives across IEC's portfolio, and has worked to expand its recruitment and vendor pool to ensure diversity and inclusion at all levels. Boyd Corso is a member of the ULI multifamily council and the Stanford Real Estate Council. Together with IEC, she sponsored a Project Destined team, where she served as a mentor for diverse college students interested in real estate careers.

ASHLEE CABEAL Ashlee Cabeal started as an intern at Hamilton Zanze in 2010 and today she serves as the firm's CFO. Within her role, Cabeal leads the firm's tax, accounting and transaction group teams, oversees the financial mechanics of individual multifamily investment deals, processes the distributions associated with holdings and dispositions, and manages the corporate books. In 2021, Cabeal helped the firm close its largest-ever transaction, a $437 million, 60-property portfolio in Northern California. She also led the firm's launch of a new digital investor portal, which has helped the company garner more interest in each investment opportunity. Cabeal recently helped launch the company's first discretionary fund, for which she studied taxation nuances and helped the company make necessary adjustments. Additionally, under Cabeal's leadership, the firm achieved its largest annual acquisition volume in 2021. Cabeal is active in Bay Area real estate communities and regularly participates in national educational conferences.

YAEL DUFFY At the RMR Group, Yael Duffy serves as SVP and is responsible for directing asset management for a portfolio of office, industrial and retail properties, as well as the company's credit and business analytics teams. She is also VP and the first female COO of Industrial Logistics Properties Trust, where she manages a more than $6 billion portfolio of 67 million square feet. Throughout her 20-year career, Duffy has become a strong negotiator, a trusted collaborator and role model for other women. Her creative problem-solving and strong leadership skills were especially evident during the pandemic when she championed virtual property tours and the creation of 3D floor plans to better market RMR-managed properties and ensure leasing activity continuity. During her 15 years with RMR, Duffy has led a series of high-visibility projects and deals that have driven her ascent as a female leader and role model within the organization. She is a steering committee member of RMR's leans in program, which provides a forum for women to share workplace experiences and advice.

DARA FRIEDMAN When Bentall Kennedy and Green Oak merged in 2019, Dara Friedman was one of 12 employees selected to help define the culture of the newly combined firm. She is also currently co-leading the formation, launch and execution of BentallGreenOak's first post-merger project, the US Core Plus Fund, which leverages the predecessor firms' combined expertise and integrates their teams. As managing director of portfolio management at BGO, Friedman has been a key driver in defining the US core plus strategy and establishing an operational structure and mechanics for putting a new fund together that will serve as a blueprint for building future core plus funds in other parts of the world. Under Friedman's leadership, the firm's US Core Plus Fund has raised $1.5 billion and invested in 20 assets, primarily targeting high-quality multifamily in growth markets, in-fill industrial and cold storage, and demographic-driven life science, GMP and medical office investments. The fund delivered a one-year total gross return of 22.8% in 2021.

PRIYANKA GARG Priyanka Garg joined Mack Real Estate Group LLC in 2020 as a managing director and head of Mack Real Estate Credit Strategies' portfolio and asset management, with responsibility for portfolio, asset and risk management for the firm's nearly $10 billion lending portfolio. Garg began in this role at the height of the pandemic and faced managing the portfolio of an institutional real estate platform during a period of economic and industry uncertainty. Not only did she rise to the challenge, but she also surpassed expectations by leveraging her leadership skills and applying her deep equity experience to the firm's credit business. She was subsequently promoted within a year to additionally serve as a co-head of credit strategies. Garg also serves as EVP of portfolio and asset management for Claros Mortgage Trust Inc., and she played a key role in taking the REIT public last year. She holds 25 years of debt and equity experience and she has demonstrated expertise across multiple property types and markets.

KRISTY HEUBERGER In 2021, Kristy Heuberger was named co-head of the Americas at LaSalle Investment Management and she helped spearhead assets under management growth to $27 billion. Heuberger is responsible for overseeing all personnel, operational and portfolio management across the region, as well as leading asset management activities. While maintaining her role as head of US asset management in 2021, she oversaw $236 million in capital improvements and 265 commercial leases totaling nearly five million square feet. Heuberger has led LaSalle initiatives concerning sustainability, health and safety, PropTech, and diversity and inclusion. Outside of LaSalle, Heuberger chairs one of ULI's industrial and office park development councils and she started the organization's diversity, equity and inclusion subcommittee, which seeks to provide networking opportunities and greater visibility for minorities within ULI. Prior to joining LaSalle, Heuberger held several leadership roles with GE Capital, including leading the central region originations and US equity asset management groups and as chief marketing officer for the North American region.

TAMMY KELLY Tammy Kelly has transacted more than $4 billion of real estate investments during her 20-year career, while working on both the private equity and sponsor side. Kelly serves as managing director and head of asset management at Redwood Capital Group LLC, where she manages her team, provides strategic oversight of the firm's investments, assists with underwriting and oversees tactical dispositions for Redwood's portfolio of 30 properties spanning nine states. During the past year, Kelly supervised the successful disposition process of seven transactions worth more than $565 million. As the first female managing director at Redwood, Kelly understands the importance of leading by example and uses her extensive commercial real estate experience to empower other women at the firm. She is the 2022 president of CREW Chicago, where she also serves on several committees and as a mentor. She is a frequent speaker in the Chicago commercial real estate industry regarding her expertise and knowledge.

TRISTAN LAST Throughout her 14 years in the commercial real estate industry, Tristan Last has adapted to various market changes, including recent sector fluctuations, during which she used her significant networks and relationships in New York and the Southeast to create continued success. As managing director at Arch Cos., Last's responsibilities include analytical underwriting and structuring potential investments, raising capital, overseeing investment management, investor reporting and undertaking new strategic initiatives. She utilizes her diverse background, which includes experience in acquisition, investment, banking, asset brokerage and urban planning, to continuously support her work and her team. Last's accomplishments during the past year include securing $106 million in financing, secured along with AB Capstone, for the ground-up development of a 17-story, mixed-use property in New York City. In 2021, Last was also instrumental in building a partnership with Infinity Collective to develop a 250-unit, mixed-use apartment in Miami, FL. In addition, Last has been vital in starting and structuring the company's first fund vehicle, which will begin deploying funds in 2022.

JAIME LEE At just 37 years old, Jaime Lee has impacted the commercial real estate world more than many executives twice her age. As CEO of Jamison Realty, Lee manages the firm's portfolio of 100 buildings, totaling 18 million square feet, including acquisitions and dispositions, commercial leasing and management, marketing and external relations. Lee began her career 14 years ago amid the global financial crisis, and she has used that experience to help lead Jamison through the challenges of COVID-19. She has overseen the firm's continued growth, including more than 1,555 new units in 2020, 1,225 new units in 2021 and an expected 2,012 additional units in the pipeline for delivery by 2024. One of Lee's goals as CEO has been to lead a rebranding of the company and its priorities by positioning it to capitalize on the burgeoning technology scene in Southern California. In 2020, Lee was awarded the Urban Visionary Award from the Asia Society Southern California in recognition of her forward-thinking as a real estate developer.

RENEE MCDONNELL After 30 years with private equity firm IHP Capital Partners, Renee McDonnell's passion for the real estate industry is still evident in her work. She was recently promoted to managing director at the firm in recognition of her contributions. McDonnell is responsible for IHP's Northern California investment portfolio, involving both acquisition and management of residential real estate, and she directs a team of consultants, analysts and others in the technical, financial and market analysis for each new investment opportunity. Throughout her career at IHP, McDonnell has directly originated and managed assets valued at more than $2.4 billion in sales. During the past year, McDonnell worked to capitalize on trends created by the pandemic to execute new investment opportunities, expanded her role in business development, and forged new partnerships that have led to multiple acquisitions in strategic growth markets. As a result of her work and dedication, IHP doubled the number of new transactions it closed within one year, setting a company record and establishing a presence in new markets.

MINDY MCILROY Starting out as an executive assistant in 1997, Mindy McIlroy climbed the ladder at Terranova Corp., completing more than $1 billion in retail leasing deals along the way. McIlroy now serves as president of the alternative investment firm, where she oversees all day-to-day operations for the company's diverse retail portfolio. Her ascent has come with significant challenges, including being diagnosed with Parkinson's disease in 2014. She continued to meet her responsibilities at Terranova, while also dedicating her time and energy to finding a cure for the disease by joining the board of directors of the National Parkinson's Foundation. Professionally, McIlroy is noted for conceptualizing, researching and developing innovative new concepts such as the Lincoln Eatery, a unique food hall venue for foodies, locals, travelers and anyone looking to meet, eat, drink and relax in Miami Beach. McIlroy has received numerous awards and accolades for her professional achievements and civic impact.

DANA PETITTO Throughout her career, Dana Petitto has made contributions to structural, cultural and strategic changes within Brookfield Asset Management Inc. that have had an enduring impact on the company. Since joining Brookfield in 2005, Petitto has held numerous finance roles across the organization and she now serves as managing director, as well as CFO of Brookfield Real Estate Income Trust Inc. Among Petitto's accomplishments are scaling the internal finance structure and designing protocols that allowed the firm to expand, as well as starting a transactions group to manage acquisitions while building a robust financial operations structure. Petitto is a trusted adviser to Brookfield's executive management and she provides advice and counsel on the strategic direction of Brookfield REIT. Within the company, she actively supports diversity and inclusion efforts, she co-founded its women's network in New York, which now comprises 500 women, and she has built its formal structured mentor program for women.

KERRY G. POWERS With deep involvement in the entire investment process of acquiring, improving, leasing and selling property, Kerry G. Powers is among the top female real estate professionals that lead acquisitions and asset management in New York City's commercial real estate industry. Powers, who is a director at Savanna, oversees all aspects of the company's asset-specific business plans for four different office property investments in New York. She spearheaded Savanna's portfolio-wide response to the COVID-19 pandemic, ensuring building operations were optimized for tenants that were continuing to work and returning to work, and establishing best practices in leasing and marketing, tenant communications, enhanced cleaning, building signage and technology for distancing, and applying city and state regulations. Powers' work paved the way for Savanna to obtain the WELL health-safety rating for its entire New York City portfolio. She is a founding member of Savanna's women's initiative, which promotes the retention and growth of women at the firm, and she is actively involved in the Real Estate Finance Center at the University of Texas, her alma mater.

CASSIE RESNICK Cassie Resnick has been with Mast Capital, a South Florida real estate development and investment firm, since 2011 and she now serves as managing director at the firm. Her responsibilities include overseeing all of the firm's investments and asset management activities. Resnick is well-known as a creative problem-solver who tackles the most complicated and sophisticated deals, a skill she credits to her unique background in real estate finance and development. Before  joining Mast Capital, she was an associate at JLL Hotels in New York, and she holds experience in underwriting equity and debt transactions. During the past year, Resnick has been involved in high-profile development deals, including a deal with Starwood Capital involving a condo termination and redevelopment plan in Miami Beach. She has also been leading a deal involving an underperforming hotel in Sunny Isles, FL, where she managed to generate $3.5 million in 2021 after the hotel had not been profitable for a few years. Resnick is a frequent guest lecturer at Florida International University's hospitality master's program and at conferences for industry organizations.

SARAH SCHWARZSCHILD As co-head and managing director of BentallGreenOak's strategic capital partners, Sarah Schwarzschild is one of the few women in leadership roles on the investment side of the commercial real estate business and one of the only female heads of a real estate secondary fund. Schwarzschild manages a team of 32 people across New York City, London and Hong Kong and a platform of $2.7 billion in assets under management that she helped build. She co-leads U.S. investment activities across the firm's strategic capital partners, and as a member of the investment committee, she contributes to global investment decisions. Schwarzschild is an outspoken advocate for diversity and is leading the creation and launch of a global employee resource group for women at BGO to boost the advancement of women and mentor up-and-coming leaders. She is a dedicated spokesperson for the real estate multimanager industry and is an active member of New York Women Executives in Real Estate.

CARLY TRIPP Amid the pandemic, Carly Tripp's leadership earned her a promotion to the newly created role of global chief investment officer at Nuveen Real Estate, where she also serves as head of investments. She oversees the firm's global real estate portfolio of more than $148 billion in assets under management and manages a team of more than 300 investment professionals. Tripp has also led the firm's expansion outside the U.S. and into alternative real estate assets, including medical office, multifamily and self-storage. In 2021 alone, Tripp oversaw more than $25 billion in transactions globally. She also leads Nuveen Real Estate's public commitment to making its worldwide property portfolio operationally net zero carbon by 2040. Tripp is a champion of gender diversity in the investment management industry through her involvement in the Leadership, Education, Advocacy & Development Network. She also serves as a senior sponsor of Nuveen Real Estate's global mentorship program.

RACHEL UMIPIG As chief compliance officer at KBS Realty Advisors, Rachel Umipig is in charge of ensuring that all corporate processes and procedures comply with regulatory rules and regulations as well as internal standards. Umipig joined the firm in 2014 when its information technology team was in its early stages of developing policies on cyber training and vulnerabilities. At the firm, she spearheaded a process that determined which cybersecurity measures were needed, formed the firm's first cyber governance committee and implemented other cybersecurity measures. During the past 12 months, Umipig has taken a more active role in the asset management department, using her extensive regulatory expertise to help the team in its efforts to manage extensive compliance requirements for a Singapore-based REIT. This includes ensuring the company meets all of Singapore's complex regulatory trade procedures as well as AML, vendor management and commercial anti-bribery requirements. Umipig previously served as a principal examiner for the Financial Industry Regulatory Authority and she has 20 years of regulatory and private industry experience.

SABRINA UNGER As managing director of research and strategy at American Realty Advisors, Sabrina Unger oversees geographic market and property sector analysis, which shapes ARA's House View and fund-specific investment strategies. Throughout the pandemic, Unger helped the firm remain focused on long-term goals, and her foresight on favorable investments allowed the firm to continue to be an active investor. In 2021, Unger was instrumental in evaluating and closing $1.6 billion in real estate transactions by providing proprietary market research, revenue growth forecasts and through her role on ARA's investment committee. In addition to her role as an investment strategist, Unger helped establish ARA's thought-leadership program by providing timely and topical insights into macroeconomic conditions and the real estate industry at large. In 2021, she launched the firm's first research series focused on investigating how environmental, sociodemographic and technological disrupters may impact commercial real estate investing in the next two decades. Unger presents on such topics as affordable housing, values-based investing and real estate's relationship to inflation.

ALEXIS VOLEN As CIRE Equity's first employee when it opened its doors in 2012, Alexis Volen has since helped the company grow to more than $500 million of retail, office, industrial and multifamily investments nationally. She began at the firm as operations manager and today serves as COO, for which she oversees the company's internal asset, construction and property management as well as its human resources and information technology departments. Since assuming the role of COO in early 2020, Volen has successfully designed and executed business operations, implemented new technology, developed company culture policies and crafted strategic plans that have helped CIRE flourish during uncertain times. Throughout the past two years, Volen has helped grow the company by more than 20% and created five new roles. She oversees CIRE's DEI efforts and is currently helping launch CREW San Diego's DEI initiative and committee.

JENNIFER WONG Jennifer Wong is credited with helping create the medical office sector at AEW and in 2021 sourcing and executing the largest deal in the firm's 40-year history: a $1.25 billion deal that comprised a $250 million portfolio recapitalization with Montecito Medical and a $1 billion programmatic expansion joint venture with Montecito to acquire medical office buildings. For the deal, she also raised hundreds of millions of co-investment capital from some of the largest public and private pension funds, which propelled AEW to become one of the largest players in the healthcare space. Wong accomplished all of this shortly after returning from maternity leave as a first-time mom. Her foresight regarding the strength of the MOB sector proved beneficial during COVID-19 when it became one of the most desirable sectors. In addition to serving as VP of healthcare acquisitions at the firm, Wong shares her experiences at major healthcare conferences.
MARKETING/COMMUNICATIONS PROFESSIONAL

KAREN BENOIT Since Karen Benoit joined Kidder Mathews in 1990, she has created and overseen the company's corporate marketing and brand strategy and significantly grown its marketing presence. Last year, Benoit was promoted from SVP of marketing to EVP of marketing, with overall responsibility for creating Kidder Mathews' brand and marketing strategy and budget, communications, corporate environments and events, in addition to growing its presence on the West Coast. Benoit leads a 13-person corporate marketing team based in Seattle and an additional 80 marketing professionals throughout the firm's West Coast markets. She has overseen the opening of 19 new offices and she has led the company through four unique rebrands, most recently in 2019 for its 50th anniversary. She directed remodels on all Kidder Mathews offices; curating every detail to reflect company culture and ensure clients and colleagues can make the best use of the spaces. Benoit is one of five women on the company's 12-member executive leadership team and she has served on its strategic planning committee throughout her entire career.

ELIZABETH BERTHELETTE As director of research, Elizabeth Berthelette leads a team of three research analysts and provides research, market analytics and advisory services across all service lines in Newmark's Boston office. Berthelette oversees the production of more than 15 quarterly market and submarket reports, which provide valuable insights on the local economy and property markets to Newmark's brokers, clients and media outlets. She oversees the preparation and presentation of materials on current real estate and economic trends for client pitches, market overviews, industry panels and other speaking engagements. Aiding in this effort is a new data visualization platform, which Berthelette and her team implemented to incorporate predictive models and other analytic tools. As a thought-leader within the industry, Berthelette is often quoted by local, regional and national publications and she has authored white papers, blog posts, industry briefs and guest columns on relevant trends throughout her career. She co-hosts Boston's CRE Research Roundtable, a recurring meeting of different brokerage research professionals in Boston.

JANET E. BROOKS As director of business development at Clark Nexsen, Janet Brooks was responsible for extending the reach of her practice while maintaining existing client and community relationships. Described as highly-skilled at sales and business operations, Brooks was part of a four-person, companywide, self-directed team that oversaw the marketing, communications and business development functions across the entire firm. During her 15-year tenure at Clark Nexsen, Brooks also worked closely with the firm's marketing and communications directors and represented the firm externally by sharing professional knowledge through education, networking, events and presentations. Brooks recently assumed a new position as senior manager of business strategy at Barton Malow Builders. In 2021, Brooks was named a fellow to the Society for Marketing Professionals Services and she was recently re-elected to the SMPS Foundation board. She prioritizes mentoring young women both professionally and personally, particularly to assist in overcoming obstacles. In January 2019, Brooks was diagnosed with cancer and after two long years of chemo, radiation and multiple surgeries, she is cancer-free. She now advocates for and mentors others facing similar challenges.

COURTNEY ETTUS Courtney Ettus brings 25 years of experience to her role as CMO at Crexi, where she amplifies the company's mission of modernizing the commercial real estate industry and democratizing the CRE transaction process through technology. Ettus' responsibilities include overseeing all national brand and acquisition marketing to attract new brokers, buyers and tenants to its technology platform and ultimately to solidify Crexi as a household name within the industry. She plays an important role in supporting the company's fundraising and talent acquisition efforts as well. Ettus is credited with increasing Crexi's total monthly active users to two million across buyer and seller cohorts, and playing a pivotal role in launching the firm's comprehensive database subscription service. Ettus was tasked with bringing all marketing efforts in-house, which resulted in her team growing five-times since she joined the company in 2018. She also focuses on internal marketing strategies and recently launched a culture committee, which is credited with helping the company grow 38% in 2021.

YUDI FERNÁNDEZ KIM Yudi Fernández Kim is no stranger to overcoming challenges. Forced to leave her home country of Cuba when she was 9 years old, Fernández Kim began school in Miami, FL without knowing any English. Now, at 36 years old, she has excelled as a business executive and works to pay it forward through mentorship in communications and real estate. Fernández Kim joined Schwartz Media Strategies in 2011 as a senior account executive and she is now a partner at the firm; the first Hispanic female to attain the title at the company. She is responsible for client relations and crisis management, new business development, marketing and mentorship. During the pandemic, she focused on adapting clients' internal and external communications strategies to protect their brands. When not in crisis mode, Fernández Kim positions her clients as thought-leaders in commercial real estate. She recently led communications for the national CREW Network conference in Miami, FL and she received the president's award for her efforts. Fernández Kim also works to advance the industry in South Florida through her service with ULI Southeast, where she brands and promotes ULI's mission and key initiatives and advocates for responsible land use and sustainable communities.

MARIA HUNTALAS With more than 40% of BioMed Realty's tenant base being actively involved in COVID-19 crisis response, Maria Huntalas, senior director of corporate communications and marketing, decided to shine the spotlight on their work. At a time when many communications professionals struggled with how to message their brands without sounding tone-deaf, Huntalas redefined BioMed Realty's marketing and communications focus to share the positive message about its tenants' work developing diagnostics, therapies and vaccines. Huntalas and her team created a social media campaign, "Industry Partners Making a Difference," which turned the focus toward these tenants and their work, rather than leading with BioMed's own narrative. Aside from the pandemic, Huntalas has advanced the company's brand in the core life science market. She recently established the company's first-ever media analytics strategy, which helped grow BioMed's competitive share of voice by 20% year-over-year, increased top media placements by more than 200% year-over-year, and increased audience reach by more than 500% year-over-year.

NICOLE JONES Immediately after stepping into her position as SVP of marketing and communications at Veris Residential, Nicole Jones undertook a major rebranding of the firm as it changed its name from Mack-Cali. While re-thinking all company operations from a branding standpoint on an aggressive three-month timeline, Jones also re-built the company's marketing department from the ground-up and empowered team members to focus on specific projects and properties. She completely changed the relationship of the marketing department with the rest of the company, ensuring that operations and asset management work together. Jones considers herself the firm's "brand police" and works diligently to ensure all communications point to the company's vision of becoming the leading multifamily developer in the country. As if entering a new role and leading a publicly-traded company through a major rebranding wasn't enough, Jones also recently planned her own New Year's Eve, "Harry Potter"-themed wedding, which she joked was more challenging than the rebrand.

JAN KARL As VP of project development and a senior leader at Morley Builders, Jan Karl oversees the firm's project development initiatives and its marketing team. She is currently leading marketing campaigns for both clients and employees in honor of the firm's 75th anniversary. With 25 years of experience, Karl understands the importance of assisting as many women as possible on their path to success. She has participated on panels focused on women in construction and real estate and she serves as a guest speaker on mentorship at industry conferences. Karl is an executive board member of Habitat for Humanity Los Angeles, she serves as Habitat LA's co-chair of the annual Builders Ball and she chairs the development and marketing committee. She also serves on the City of Hope LARE council board and was a board member of Affordable Living for the Aging, an organization designed to assist seniors with critical housing needs.

CAROLINE MCDONALD Caroline McDonald brings deep expertise in luxury brands and media to her role as EVP and head of marketing and brand strategy at Brown Harris Stevens Development Marketing. McDonald previously worked at luxury publications, including American Express Publishing, Esquire and Conde Nast, where she built marketing and event strategies before joining Brown Harris Stevens Development Marketing in 2017. In 2020, McDonald was promoted to her current role for which she oversees long-term and short-term marketing strategies to drive brand awareness and lead generation via advertising, social media, public relations and events. She recently oversaw brand development and marketing strategy for SJP Properties' 200 Amsterdam, a 52-story luxury condominium on the Upper West Side of Manhattan. For the development, McDonald also fostered and executed strategic luxury and philanthropic partnerships with New York City institutions at the highest level to help the building become one of Manhattan's top three new developments in 2021 by total sales volume.

AMANDA NEAL When Amanda Neal arrived at B+E, the company did not have an established marketing department. Instead, one person was managing email marketing, while tending to 10 brokers' property management needs. Neal was tasked with creating a high-functioning marketing department that was scalable and could accomplish corporate goals. She has approached this challenge with process building, mentoring and a willingness to try unfamiliar things. Neal has created innovative marketing documents that align with B+E's unique mission and values. As marketing supervisor at the firm, Neal oversees all marketing, branding, communications and public relations, including conferences, content, property marketing, website, paid advertising, social media, photography, email marketing, third-party sites, broker collateral and other branding needs. Under her leadership, B+E has launched marketing campaigns for properties that have resulted in offers within days and the firm has upgraded and updated its website. Neal is a member of the Society of Marketing Professional Services and she volunteers with various other charitable organizations.

LISA NICKERSON Lisa Nickerson was in the middle of moving her company, Nickerson People Relations, to its new corporate headquarters when the pandemic hit. She quickly chose to embrace the disruption and pivot to a work-from-home environment instead; a decision she said has allowed the company to expand across the country and focus on new areas of work. As founder and CEO of Nickerson People Relations, Nickerson leads a team of 20 professionals that provide high-touch marketing, public relations, strategic communications and creative services. She works in industries including real estate, architecture, property development, PropTech and energy. Under Nickerson's leadership, the firm is putting a larger focus on PropTech client-partners as it attempts to stay ahead of emerging trends. In addition, Nickerson serves as CMO of Infinityy, a virtual property touring experience start-up. In this role, she is responsible for the creation of overarching marketing strategies that build the business' brand, and she creates and accelerates the firm's marketing strategy and brand recognition across the globe.

JENN QUADER Jenn Quader, president and CEO of the Smart Agency, sees herself and her firm as catalysts for growth and innovation in commercial real estate communications. Quader recently took over as CEO of the agency, which was established in 1994. Amid the pandemic, she re-branded the company and launched initiatives, such as "CRE School," which was designed to give her team the training and skills needed to provide a high level of service to clients. Quader is described as an empathetic leader with a fearless vision and clear purpose. Her company has successfully built reputations for hundreds of commercial real estate and finance companies, spanning more than $500 billion in transactions. A veteran communicator, Quader has worked across a wide variety of CRE sectors, including retail, brokerage, development, capital markets, debt and structured finance, asset and property management, fund management and construction. Her experience spans multifamily, retail, office and industrial products.

KATHERINE F. SHOSS Katherine Shoss serves as SVP and director of marketing at the Bulfinch Companies Inc., a private real estate investment, development and management firm. Within her role, Shoss is responsible for strengthening awareness of the Bulfinch brand and its portfolio of properties, including nearly four million square feet and more than $3.6 billion in assets. With 20 years of experience in the Boston architecture, engineering and construction industries, Shoss holds a successful track record of leveraging strategic marketing tactics for repositioning properties. She has played a key role in contributing to the substantial growth of Bulfinch's portfolio and team, and she has been instrumental in planning, implementing and communicating Bulfinch's strategic planning efforts, including the oversight of Bulfinch's rebrand, which launched in conjunction with the firm's move from Needham to Boston in 2018. Shoss oversees the company's brand message of "discover + deliver," through which she has worked to strengthen the brand, reinforce office culture and attract and retain talent, while guiding the company's transition from a small family-owned business to an institutional leader in Greater Boston.

MARY TAMAKI In 2019, Mary Tamaki joined Avison Young and was tasked with creating a regional marketing structure in North America. Working through the pandemic, Tamaki succeeded in implementing an improved structure and creating a career path blueprint for the marketing organization. Tamaki's work identified her as a key member of Avison Young, and she was promoted to principal and North America director of marketing just 16 months after joining the firm. Tamaki is responsible for setting the company's marketing vision, driving day-to-day execution of marketing and business development strategies, and fostering a culture of collaboration to support Avison Young's growth across North America. She manages 20 senior marketing directors and managers, as well as the firm's global brand hub that ensures branding consistency throughout the company. Tamaki is described as creative and action-oriented, as well as a technology enthusiast who seeks to integrate innovation into everyday best practices. She has designed several award-winning marketing and communications programs during her more than 30-year career.

ALEXIS VANCE At RPM Living, a full-service multifamily project management, investment and development company, Alexis Vance serves as CMO, where she spearheads all marketing, advertising, communications, business intelligence and social media initiatives. Vance indicates that her team and the people she works with are what she values most about her job, and she enjoys growing her team and seeing them succeed. She has previously managed six women that now serve in executive roles at large companies, and she has promoted eight associates in the past year along with growing her team from three professionals to 22. Vance plays a large role in securing new business opportunities for the company. She has led several major initiatives during the past year, including implementing a business intelligence platform that connects multiple systems to provide real-time data and predictive analytics; redesigning the firm's website; deploying a CRM platform for the firm's entire portfolio; moving outsourced services in-house; and creating an internal reputation challenge that earned properties nearly 1,000 positive Google reviews during a two-month period.

SUSAN WEBER Under Susan Weber's leadership, Walker & Dunlop's marketing team has grown from one person to 40 professionals who have built successful national marketing campaigns, helped launch new businesses and announced history-making deals. Having worked at Walker & Dunlop for 18 years, Weber now serves as the firm's EVP and CMO. Amid the COVID-19 pandemic, Weber led the marketing team in launching the Walker Webcast series, which has had a positive impact on company performance. Bringing fresh perspectives from commercial real estate and beyond, the webcast series taps into a broad network of leaders who are experts in their fields — from leading economists and CEOs to Harvard and Yale professors — with the goal of providing the audience with unique insights, unparalleled data and real-time market analyses. The webcast averaged 5,700 registrants each week, and companies that attended the webcast showed a measurable increase in transaction volume with Walker & Dunlop. Prior to the pandemic, Weber and her team launched the What Drives You campaign, which aimed to humanize the CRE industry and highlighted the passion and dedication of the company's clients and employees.

VANESSA WILLIAMS Vanessa Williams possesses many talents in the realm of marketing, including business development, branding, asset positioning, property marketing campaigns, public relations and advertising. Williams' colleagues at Colliers credit her with completely transforming the way they do business in some markets by creating best practices and elevating the level of marketing with clients. In her role as director of business development and strategic resources for Colliers' Southwest region, Williams oversees a team of more than 50 marketing and research professionals. She serves as business partner and advisor to the regional president, division leadership and local market members across the region and she is tasked with developing a highly-effective salesforce to achieve organic growth and continuously increase the firm's market share. In 2021, Williams and her team completed 3,128 projects, worked with 430 property marketing brands, wrote more than 200 research reports, created team pieces for more than 78 brokerage teams and deployed more than 1,000 email blasts.
PROPERTY / FACILITY MANAGER

KARLA ALBA During the past year, Karla Alba has expanded her responsibilities as general manager at Avison Young and outperformed expectations. Alba is an integral part of the transition team for a new 3 million-square-foot, institutionally owned office portfolio, for which she assists in developing the on-site employee training program. Her comprehensive background in accounting has contributed to her success in real estate management, and she applies her analytical skills to creating financial and accounting reports for clients. Within her role, Alba manages a 416,000-square-foot, class A commercial office building in Glendale, CA and a 95,000-square-foot shopping center in West Los Angeles. Alba provides overall support to the West Coast property management team, including training and implementing company processes. With a career spanning more than 25 years in commercial real estate management, Alba is an active member of the Los Angeles chapter of the Building Owners and Managers Association, and she volunteers her time with Avison Young's mentor/mentee program and women's network.

GINNETTE BROCK Ginnette Brock's contributions to the property management and operations team at Monday Properties have been integral during the COVID-19 pandemic. Brock, as VP of property management at the firm, played a key role in creating a sense of consistency and purpose, as well as dealing with supply chain issues and fluctuating tenant needs. Her responsibilities include overseeing the Northern Virginia on-site team and coordinating the service partners and third-party consultants for the firm's 4.5 million square feet of local commercial office assets. Last year, Brock spearheaded the Fitwel Viral Response Module certification for Monday Properties, which demonstrates the company's commitment to sustainability initiatives that prioritize tenant health and wellness. As a first-generation American from Nicaragua, Brock has overcome her fair share of obstacles and is committed to mentoring other women facing similar challenges. Brock selects one person from her team to mentor on each new project that she spearheads in order to share her experience with younger professionals and guide them on their journey to success.

SUSAN COLLINS As SVP at Divaris Real Estate Inc., Susan Collins oversees the day-to-day operations of the property management department, including financial and lease administration, oversight of maintenance staff, contract management, staff development, and business operations and development. During her 38-year career, Collins has learned that her success is built through her team's success. She is an advocate for development of her staff to ensure that they have the skills needed to advance and earn promotions. During the uncertain times of the pandemic, Collins was able to immediately evaluate the financial impact to the company and make adjustments to build confidence among the management team. As a seasoned manager, she assisted others in their response to tenants and landlords, and worked through concessions and restructures and secured better lease positions. Collins used vacancies during the onset of the pandemic to her advantage by completing preventative and general maintenance jobs that would normally be disruptive to tenants.

KAREN CUSMANO Throughout her 30-year career, Karen Cusmano has worked in a wide variety of office and residential real estate roles, including property operations, sustainability, finance and investments. Cusmano recently was promoted to SVP and head of sustainability and ESG at Veris Residential and she has been integral to the company's success. During the onset of the pandemic, she ensured all financial and reporting deadlines were met and that all residents were being properly cared for. Cusmano prides herself on knowing how the company's commitment to sustainability will impact every aspect of the brand, from its finances and stakeholders to the properties and their residents. She is currently working through the company's ESG report by gathering and synthesizing information that outlines the environmental and social impacts of properties within the Veris portfolio; working with auditors for all buildings; and detailing critical data, such as annual GHG emissions, water usage and waste diverted from landfill. Cusmano challenges her teams to look at their day-to-day duties to see how they can make individual contributions to ESG principles.

NICOLE DALLAS When Cushman & Wakefield named Nicole Dallas global head of technical operations, she became the industry's first woman to lead facilities management engineering for a major multinational commercial real estate firm. In her role, Dallas spearheads innovation and directs 3,000 engineers serving occupier clients worldwide. She leads from the bottom up. She spends time in the field talking to engineers and technicians and helping them with their tasks because she believes that 80% of the innovations that she brings forward come from grassroots interactions. Dallas began her career as a chief engineer for a hospital 28 years ago and held positions of increasing responsibility in facilities management, critical environments and engineering operations. Her experience in uniting teams served as effective preparation for the biggest challenge of her career. When the pandemic hit, Dallas fostered collaboration across distinct business units' engineering teams to solve problems around safe operation of buildings through closing and reopenings. Under Dallas' leadership, her team vetted scores of emerging technologies and products to give clients sound advice and developed new ways to monitor building operations remotely.

HEATHER DARABARIS During Hurricane Ida, Heather Darabaris found herself literally knee-deep in water, helping clients and peers deal with flooding and significant damage from the storm. The disaster came amid the pandemic, which was already challenging Darabaris in her role as a property manager at MRA Group. Responsible for overseeing the day-to-day operations and overall wellbeing of 275,000 square feet of commercial medical space, Darabaris met the challenges created by increased operation of medical facilities and strict guidelines concerning patient and caretaker safety. She has been diligent in ensuring all properties under her management operate efficiently and without disruption. Darabaris began her career with MRA Group 16 years ago as a maintenance technician at the firm's Kutztown University location and worked her way up to her current role. In her current role, Darabaris coordinates with building tenants and addresses everything from repairs and maintenance to cosmetic upgrades and financial and lease reviews. In the past year, she worked toward IREM's ACoM designation and on-boarded more than 55,000 square feet of additional locations, as well as two new clients.

GABI DAVIS Throughout the pandemic, Gabi Davis has deftly managed the effects on tenants, partners and operations by providing transparent and thoughtful communications, navigating property upgrades and operational changes to accommodate tenant requests, while keeping tenants in business under new guidelines and business model shifts. Davis has also overseen an unprecedented amount of new tenant move-ins and tenant improvements, while working with local municipalities to finish construction and assisting tenants in efficiently opening businesses while navigating COVID-19 supply delays and workforce shortages. As senior property manager at Capstone Advisors, Davis oversees a regional portfolio of properties including office, retail, flex-industrial and land assets in Southern California. She manages a 400,000-square-foot portfolio of properties throughout San Diego County and the Coachella Valley. In her role, she manages tenant relations, oversees rent collection and administration of charges, manages capital improvement projects and repairs, and oversees a staff of assistant property managers and administrative personnel. Davis values continued education and recently graduated from BOMI International's real property administrator program.

JACQUELINE FESSMAN Jacqueline Fessman visits each of her sites weekly to ensure all operations run smoothly and to check in on residents and employees. Fessman serves as area director of Veris Residential, where she started more than a decade ago as a leasing specialist. During her time with the company, Fessman has managed 10 different properties. Fessman has provided strong leadership throughout the pandemic, while upholding the quality of Veris' properties with an eye toward keeping residents and staff safe, heard and comfortable. While working with a reduced team, Fessman provided services for residents including healthcare kits and care packages during the peak of the virus, and she additionally continued to achieve high tenant retention rates at her properties. Many residents penned positive online reviews about the high-quality amenities of the properties, quick response times and overall comfort during lockdowns. Fessman is a strong advocate for ESG and sustainability initiatives at Veris Residential, and she is actively involved with the Veris Residential women's leadership network.

LARA HAMMJE One of Lara Hammje's favorite endeavors is training and supporting new property managers as they learn through experience how the industry works. With nearly 30 years of experience in the industry, Hammje shares her experiences and knowledge in a quest to help others succeed in a business that she acknowledges can be tough and intimidating. As a general manager of Divaris Real Estate Inc., Hammje oversees a mixed portfolio of office and retail tenants and manages property administration, tenant relations, building maintenance and financial budgeting, while working to achieve operational success. Hammje's notable work as general manager of Town Center Virginia Beach has required cooperation with multiple organizations and entities within the area. For example, she championed the implementation of improved sustainable recycling practices at the property. In order to do so, she had to present the landlord with an achievable goal for improvement while managing the cost, consult both the waste management and the recycling contractors on solutions, work with the city on traffic management, and get the tenants on board with implementing the necessary changes.

DEBORAH L. HEJKO Upon accepting her current role as VP of property management with Anchor Health Properties, Deborah Hejko discovered that one of the buildings in her new portfolio was the Fletcher Parkway Medical Center — a building she had managed 20 years prior with a former company. Sitting down in the same office suite, she opened the same desk drawer from 20 years ago and found her old business cards in the exact spot that she left them. The moment speaks to what she loves most about the industry — the lasting impacts and long-term relationships built over years. Hejko first joined the firm as it was expanding to the West Coast and she now oversees a wide variety of projects in the firm's West Coast portfolio stretching from San Diego to Seattle and Denver to Dallas. She manages nine property managers and four engineers, while overseeing a portfolio of 44 buildings totaling more than two million square feet in four states with an annual net operating income of more than $185 million. Working alongside Anchor Health Properties' investments and asset management platforms, Hejko provided seamless on-boarding of 14 medical office buildings in 2021.

CAROLINE KASE Before assuming the position of director of property management at BKM Management Co., Caroline Kase served as a property manager, which gave her the ability to navigate roughly 2,000 tenant touchpoints across the firm's portfolio during the pandemic. These efforts resulted in greater tenant satisfaction, retention and performance with occupancy and rent collection remaining at or above pre-pandemic levels across the firm's 8.6-million-square-foot portfolio. Kase's experience in dealing with everything from angry tenants to property emergencies in the middle of the night allows her to relate to the challenges that property managers in her department face, and allows her to advocate for resources needed to be successful. In her current role, Kase oversees BKM's property management division. She assesses and serves the growing needs of 12 satellite offices and supports the business plan execution for the firm's portfolio of value-add, light industrial multi-tenant properties in metro areas across the Western U.S.

MINDY S. LEIGH As VP of property management at BLT Enterprises, Mindy Leigh spearheads the management of industrial, R&D and commercial properties from Ventura County, CA, to San Diego County, valued at more than $1 billion. As part of her role, Leigh bids, manages and oversees all vendor contracts including major project renovations and capital improvements and she is deeply involved in redevelopment, ground-up construction and tenant improvement work. During the past year, Leigh repositioned and leased a nearly 200,000-square-foot creative office and production campus on 6.4 acres, and she acquired a portfolio of four last-mile distribution buildings totaling nearly 76,000 square feet on 12 acres of land in a sale-leaseback transaction to a major food manufacturer and distributor. During her 32-year career, Leigh has worked for national and regional commercial real estate firms, and she previously served as president of IREM's Las Vegas chapter, for which she attended and represented her chapter at national IREM summits and conferences.

ANNE MEHRTENS A 30-year industry veteran, Anne Mehrtens serves as SVP of studio operations at Sunset Studios, where she leads sales, operations and stage management functions across the firm's three Hollywood properties, while overseeing a team of more than 80 employees. Mehrtens reviews operating and performance schedules, builds and maintains client relationships across Sunset Studios' 35 active soundstages and United Recording, while ensuring the upkeep and overall presentation of soundstages so that each property operates at the highest standard. During the pandemic, Mehrtens and her team established a zone system, whereby clients and tenants are COVID-19 tested every week to ensure continued production. Under Merhtens' leadership and some of the strictest protocols coming from the entertainment industry, each production operates in its own bubble to ensure the health and safety of everyone on the Sunset Studios lots.

CYNTHIA MILLER Cynthia Miller started her career at RPM Living as a leasing consultant and worked her way up to her current role as division president responsible for the company's West portfolio; a progression that gives her an advantage in understanding how to help her team be successful. Miller directly oversees operations of 77,000 units, 1,299 associates and 269 communities, and she supervises the operations team and analytics and compliance departments. Instead of annually reviewing associates, Miller prefers to take a more real-time approach by evaluating performance daily with regular meetings to keep associate goals top of mind and to take advantage of teaching moments as they happen. Her strong leadership skills and open-mindedness helped the company grow its Dallas-Fort Worth portfolio by 301% and its Houston portfolio by 94% in 2021. In addition, the average occupancy for her total portfolio performed 3.7% above the average economic occupancy in 2021.

TAMMY MOORE In her role as VP of property management at Anchor Health Properties, Tammy Moore prioritizes both her team members and her tenants. She currently manages a regional team of 16 employees while overseeing a portfolio of 48 buildings totaling more than 2.3 million square feet across 11 states. At the height of COVID-19, Moore was focused on building her regional team, which was largely made up of new employees working remotely. While encouraging engagement and ensuring a solid foundation of systems, tools and resources for her team, Moore also understood the need for flexible work schedules and family priorities. She brings a unique technical perspective to her leadership role at Anchor. Having previously worked within health systems, Moore lends an acute, holistic understanding to property management and leasing, while building and preserving relationships with clients, partners and tenants. In 2020, her team on-boarded 12 new assets totaling 400,000 square feet; in 2021, they on-boarded eight assets totaling 410,000 square feet; and in the first two months of 2022, her team had already on-boarded an additional seven assets totaling 340,000 square feet.

ALICE MYERS With 30 years of commercial real estate experience, Alice Myers is a certified property manager that oversees 2.1 million square feet of commercial assets in Southern California and Hawaii, on behalf of Kennedy Wilson Property Services. As senior managing director, Myers has been instrumental in growing the firm's property management business by winning high-profile assignments and major repositioning projects. When Kennedy Wilson Property Services was awarded the property management of Tourney Pointe, a 220,000-square-foot, class A office building in Valencia, CA, Myers immediately re-bid all service contracts resulting in more than $50,000 in annual operating expense savings. Since then, Myers has overseen a $2.7 million tenant improvement project for California Resource Corp.'s expansion and a $900,000 construction project for Mercury Insurance Co.'s 24,000-square-foot space. Myers currently serves on the BOMA Greater Los Angeles board of directors and in 2018, she was recognized as BOMA's member of the year.

JESSICA ROSATI Jessica Rosati is director of RiverRock Real Estate Group, where she is responsible for all aspects of property management for a 715,000-square-foot portfolio of institutional-quality office, retail and R&D assets throughout the South and East Bay areas. Rosati holds 24 years of experience, including early work as a community and leasing manager for several institutional multifamily ownerships in Chicago, Northern California and Arizona. She has proactively responded to COVID-19's impacts on clients by addressing recoverable expenses when buildings were leased but not occupied. During this time, Rosati has prioritized communicating solutions and ideas for how to best adapt building operations, as well as educating tenants so that they could adapt their workplaces as COVID-19 circumstances continually changed. She is additionally focused on attracting and recruiting professionals to careers in CRE, as well as retaining them. Of her 12-member team, she celebrated three internal promotions, all of whom are very young in their careers. For Rosati, this meant working to identify their passions and interests, and leveraging them to tailor RREG's training program accordingly.

NIKKIA RUSSELL Nikkia Russell manages her clients' assets as if they were her own and she inspires her team and peers to do the same. She was recently promoted to associate area director for Atlanta at the RMR Group, with a portfolio consisting of one million square feet of class A office space. Russell oversees all capital and quarterly projections for each asset in her portfolio, she directs her team to meet financial and operational goals and she ensures tenant lease renewals. During the past year, Russell transitioned a new, class A, 346,000-square-foot office building in Atlanta from the developer while ensuring minimal disruption to operations and she oversaw extensive management needs at One Georgia Center. She was elected to the Building Owners and Managers Association of Georgia board of directors this year, where she serves on the legislative committee. She also co-founded an organization of African American women with connections, influence and decision-making power in the CRE industry to provide a network and sounding board for women minorities in the field.

ANGELINA SCARCELLI Angelina Scarcelli serves as managing director of real estate management services for Colliers with responsibility for the entire state of Nevada, after recently being promoted to manage Reno as well as Las Vegas. Scarcelli serves as an expert in tenant relations and retention for retail, office and industrial assets, and she specializes in big-box retail property management, lease negotiations and construction management. Throughout the pandemic, Scarcelli has focused on engaging more fully with her team to determine individuals' needs and helping her team continue to provide a high level of service to clients. She has held leadership positions in several professional industry organizations, including IREM and Commercial Alliance Las Vegas. As a regional VP for IREM, she assists with mentorship in Nevada, Utah, Arizona, New Mexico and Colorado. As a cancer survivor, Scarcelli supports the American Cancer Society and hopes to help others survive as well.

JANET SHIPLEY In 2018, Janet Shipley was tapped to lead the AIG Houston portfolio for CBRE, which required her to implement new processes for third-party management. As associate director at CBRE, Shipley's responsibilities have included day-to-day property management supervision, complex financial analysis, corporate operations, human resources, technology systems, marketing, construction management, and tenant and client relations. She has broadened her property management and accounting experience with the preparation of financial statements, cash flow analysis, pro-forma preparation, due diligence, annual budget projections, construction management and sustainability/LEED projects. During her 32 years in the Houston market, Shipley has managed more than 12 million square feet. She is on the 2020-2022 Building Owners and Managers Association board of directors and has previously held positions with IREM.

DEBBIE SPARKS At Columbia Property Trust, Debbie Sparks serves as general manager. In her role, she oversees operations for the 95 Christopher Columbus Dr. office tower in Jersey City, NJ, and she provides leadership for Columbia's property management team in New York. Throughout 2021, Sparks oversaw an extensive $22 million renovation and modernization project at 95 Columbus, which was built in 1989, to reinvent the entrance and lobby experience for building occupants. Among the extensive renovations, Sparks has implemented an automated digital access system with destination dispatch elevators and portal entries, improved trash removal, enhanced recycling, lighting improvements and electric car charging stations. She also oversaw the installation of a distributed antenna system to enhance cellular service throughout the property. While the 680,000-square-foot building has been under renovations, Sparks coordinated with a local muralist and art teacher at Jersey City Global Charter School to have local students create vibrant murals along the Grove Street construction walls. Every winter, Sparks hosts an onsite sock drive with all donations distributed to local charities, and she partners with BOMA NJ for its "Season of Giving" event to augment these collections.

JESSICA WARRIOR Jessica Warrior has 26 years of experience working in the Dallas commercial real estate market; 11 of which she has spent at Granite Properties. As director of property management at the firm, Warrior optimizes building operations, maximizes property financial performance and oversees the property experience team. As the customer communication leader during pandemic planning, Warrior and her team focused on understanding customer needs and helping them formulate re-entry plans. The result is Granite's Guide to Re-Entry, which explains new protocols for enhanced sanitation, social distancing, personal protection equipment, elevator capacity, entry and exit from the buildings, air quality, shared amenity spaces and more. Warrior also leads the firm's spark committee, which focuses on innovation, oversees the research and development budget and works with all the team's leading pilot projects focused on innovation around the company. As the 2020-2021 IREM regional VP for region 7, Warrior led a group of 50 IREM members to create a diversity, equity and inclusion program for the region.

RHONDA WILLIAMS During the course of her 40-year career, Rhonda Williams has become adept at taking even the most distressed buildings and bringing them back to their full potential. As senior property manager at Divaris Real Estate Inc., Williams supervises four technicians and one office administrator. Since 2014, she has overseen the Fort Monroe Authority historic state properties encompassing 1.5 million square feet and buildings that are up to 200 years old. Since this type of historic property is unlike any other property in the company portfolio, Williams has had to navigate unique situations, such as learning how to help sailboats and other vessels dock in the marina during imminent oncoming storms. She led a restoration project for eight historic stained glass windows at the Chapel of the Centurion, built in 1858. Three of these eight church windows were created by Louis Comfort Tiffany, so the restoration needed to be seamless in order to preserve the integrity of these historic and iconic windows. In addition to our traditional categories, we have carved out several sections that honor the nominees in the following roles.
---
SPECIAL RECOGNITION CATEGORIES
In addition to our traditional categories, we have carved out several sections that honor the nominees in the following roles.
---
DIVERSITY CHAMPION COMPANY
CUSHMAN & WAKEFIELD Diversity, equity and inclusion is a key focus of Cushman & Wakefield's board of directors and senior leadership. In the wake of the George Floyd murder and acts of violence toward Asian Americans and Pacific Islanders, Cushman & Wakefield set into motion conversations about inequality and injustice, denounced racism and reiterated its commitment to inclusion. At this time, the firm also hired Nadine Augusta as its first chief diversity, equity & inclusion officer. The company built out a dedicated DEI function to support its global DEI strategy and established its Black equity advisory board to examine its recruiting, career growth and development opportunities, as well as supplier, business and external relationships. Cushman & Wakefield partners with organizations including CREW Network, Project REAP and African American Real Estate Professionals, as well as Paradigm for Parity, which seeks to address the gender gap among corporate leadership. The firm's nine employee resource groups raise DEI awareness, foster employee engagement, education and inclusion, and strive to build community and a sense of belonging for employees.
KPMG KPMG supports diversity, equity and inclusion through a variety of initiatives including its KPMG women in real estate program. In an effort to drive diversity in real estate boardrooms, the KPMG women in real estate committee created and sponsored a board readiness program for executive women to participate in education, practical application and networking opportunities. KPMG partners Erin Balog, Yesenia Scheker, Shruti Shah and board leadership center senior advisor Susan Angele created the program, which launched its first year of participants in 2020. The program's second series in 2021 garnered a new national class of female real estate executives. The program serves as a platform where women can network as experts in their field and support one another with a common goal of board service. The firm has produced a number of whitepapers over the years focused on the advancement of women in asset management. In addition, KPMG supports charitable and civic organizations focused on diversity within the industry and beyond.
TREPP Since its founding, Trepp has endeavored to be a diverse and inclusive company that offers an environment for employees that is open, empathetic and civil. At the onset of the pandemic, Trepp launched its multicultural employee resource group, TreppMERG, to operationalize its inclusion initiatives and incorporate the diverse background and mindsets of each employee. Through TreppMERG, the company aims to foster practices that drive more diverse and inclusive recruiting, retention and professional development. Recently, TreppMERG announced its 2022 leadership team with Eugene Danilova at the helm. The new leadership team is prioritizing mental health initiatives, LGBTQ+ inclusion, understanding in the workplace and volunteer opportunities. Through improved parental leave policies that provide additional support for same-sex couples, transgender employees and adoptive parents, the firm is working to help diverse employees feel included and heard. Trepp emphasizes diverse hiring practices and strives for diverse representation in the executive space. The firm's CEO, CMO, chief people officer and chief of staff are all female.
DIVERSITY CHAMPION INDIVIDUAL

ELIZABETH ATLEE Though Elizabeth Atlee is a US citizen, she spent significant time as a child with her maternal family in Mexico City after her father died when she was 11 years old. Atlee, who was determined to follow in her father's footsteps and become a lawyer, has been a practicing attorney for more than 25 years. In 2019, she was named chief ethics & compliance officer at CBRE, where she is responsible for leading the firm's 105,000 global employees in ethical behavior and corporate compliance. Atlee mentored two Latina professionals at CBRE to obtain higher degrees in finance and business, while supporting them with recommendations to programs and sponsoring them for positions to advance their careers. She also works to identify and hire diverse candidates for roles within her department. Atlee is the executive sponsor of Hispanics Organized to Leverage our Advantage, CBRE's Hispanic and Latin employee business resource group. She also serves on the company's executive inclusion committee and is an active member of the CBRE women's network.

CIERE BOATRIGHT Ciere Boatright believes the pandemic revealed existing inequities in society that disproportionately impact certain populations in everything from sickness to employment to housing. For much of her career, Boatright has been focused on diversity and community engagement. She previously served as VP of real estate and inclusion at nonprofit community development organization Chicago Neighborhood Initiatives Inc., before joining Chicago-based CRG as VP of real estate and community development. Within her role, Boatright manages development, planning and community engagement for key CRG projects and she leads innovation and inclusion efforts within parent company Clayco's Chicago business unit. Through her work as a Black woman in commercial real estate, and through a minority developer program that she is creating with CRG, Boatright strives to break down barriers to opportunities in the industry. With a particular interest in supporting minority entrepreneurs in the construction industry, she has successfully achieved 30% to 50% Minority Business Enterprise contractor participation on projects. Outside of work, Boatright volunteers for civic organizations focused on equity and empowerment for women.

ANNETTE FIONDA In 2014, Annette Fionda joined the RMR Group as director of human resources and though she initially focused on the company's HR policies and procedures, she quickly gained a reputation for her people skills, innovative thinking and passion for helping colleagues. Fionda was then tapped to expand the firm's HR agenda to focus on fostering inclusion and promoting employee engagement. In her current role as senior director of inclusion and engagement, Fionda partners with leadership and employees at all levels to identify and deploy programs in order to ensure the firm continually evolves as an inclusive workplace. Her initial successes have included incorporating continuous feedback into RMR's performance management practices, deploying the firm's first management development program and launching its first employee engagement survey. In addition to companywide programs, Fionda also leads RMR in partnering with industry groups that provide career development opportunities for women and minority students. At the firm, she also launches employee development programs to help female and minority employees build their careers, and she hosts employee learning forums to provide opportunities for professionals to better understand diversity and inclusion.

KACI HANCOCK As a double-minority herself, Kaci Hancock became aware early in her career of the lack of diversity in commercial real estate. She joined her local IREM diversity advisory board in hopes of making a difference and began mentoring young women to support their professional development. Hancock met other double-minorities from across the country while attending the IREM Global Summit on a diversity scholarship, which led her to create a network called Sisters in Commercial Real Estate for women of color. Hancock serves as operations director at REIS Associates LLC, where she works to ensure that employees are aware of new trends in diversity and new tactics for engagement. Within IREM, she leads the Diversity, Equity and Inclusion Advisory Board, and she recently participated on IREM's presidential task force on DEI, collaborating with a professional DEI consultant to identify and address gaps in IREM's strategy. Among the task force's goals are recognizing leaders in real estate management from underrepresented groups and building a pipeline for these individuals for industry leadership roles, as well as promoting commercial real estate as a fulfilling career path within underrepresented communities through IREM ambassadors.

PAULINE LUCIDO Pauline Lucido brings personal experience to her diversity, equity and inclusion efforts at Northland and across the commercial real estate industry. Lucido, a woman of color who grew up in Kenya, strives to make the industry more welcoming and accessible for people of all backgrounds. As associate VP of investor relations at Northland, Lucido oversees all investor-related initiatives and activities for the real estate private equity firm. In addition, she co-chairs Northland's DEI steering committee, which under her leadership has implemented initiatives to promote diverse hiring, expand the platforms through which the firm recruits, and formally recognize Juneteenth and Indigenous People's Day as Northland corporate holidays, while providing education around their historical significance. Lucido is one of a small group of DEI leaders in Greater Boston who has completed YW Boston's InclusionBoston and LeadBoston programs simultaneously. From the experience, she brought lessons learned about policies, practices and behaviors related to DEI back to Northland.

MICHELLE M. MACKAY Michelle MacKay, president and COO at Cushman & Wakefield, is responsible for establishing the firm's first dedicated diversity, equity & inclusion function. In April 2020, MacKay stepped down from her role on Cushman & Wakefield's board of directors to join the firm as COO and lead the firm's strategy and functional teams through a time of crisis. While ensuring the safety and productivity of employees and leading thought-leadership strategy through COVID-19, MacKay also led the decision to hire the firm's first chief diversity, equity & inclusion officer following the murder of George Floyd and other acts of violence toward the Asian American and Pacific Islander (AAPI) community. The appointment established the firm's dedicated DEI function, which now has a strategy in place to address DEI in the workforce, workplace and marketplace. MacKay has been instrumental in working to diversify the company's board members, including securing the appointment of Angela Sun, who created the Bloomberg Gender Equality Index. In addition, MacKay is an ally and champion of the firm's employee resource groups.

JENNIFER MILES Jennifer Miles is global account director at Cushman & Wakefield, where she frequently serves as the go-to person for complex transitions and transformations. Miles also participates on the company's supplier diversity taskforce and is the incoming chair of its Black employee group. While providing critical leadership in the wake of civil unrest across the nation by co-leading a listening session with executive leadership and Black employees, she also assisted in creating a Black equity taskforce and hiring the firm's chief diversity equity and inclusion officer. As an active member of CREW, Miles serves on the organization's student outreach and newly-formed DEI taskforces. As part of the student outreach taskforce, she serves as the liaison for Winthrop University and mentors students that are interested in commercial real estate careers, coordinates student information events and serves on the scholarship selection committee. Miles was honored with the impact award for Cushman & Wakefield's global occupier services business for her work to drive equity for Black employees as well as her work with clients.

MARIANNE MONTE Upon joining Shawmut Design and Construction seven years ago, Marianne Monte was tasked with accelerating the firm's diversity, equity and inclusion strategy and accountability. She was involved in establishing the firm's diversity leadership council, which worked to create a strategic framework to advance toward Shawmut's DEI goals. In 2020, Monte and Shawmut established regional diversity leadership councils to offer boots-on-the-ground resources and champions. Monte also led a salary audit that revealed gender-based wage gaps and put processes in motion to close them. Under Monte's leadership as chief people and administration officer, Shawmut strengthened its supplier diversity initiative and actively reached into underrepresented groups to recruit people to commercial real estate through internships and scholarships. Monte and Shawmut launched a sponsorship relationship effort that pairs high-potential, underrepresented employees with executive sponsors, such as Monte, to help bolster their career aspirations. Shawmut has increased diversity in both entry- and senior-level roles due to Monte's commitment to DEI.

AMY PRICE Amy Price has been a vocal advocate of diversity both within her role as president of BentallGreenOak as well as within the wider industry. Price committed to ensuring two of three new hires at BGO would be women or members of an underrepresented group, believing that diversity of thoughts and experiences is a benefit to business and investors. She is as committed to retaining diverse talent as she is to recruiting it, and under her leadership, BGO committed to gender parity in all titles and ranks by 2030 with a goal of 30% representation of women within the company's senior ranks. Price chairs BGO's EDI leadership council and she is an active member of various employee resource groups within the company, while also dedicating time to mentor rising women in the industry. Under Price's leadership, BGO signed several external diversity pledges to improve representation in the Black community, and the company joined the CREW Network CRE Pledge for Action to Advance Women and DEI in CRE.

KAREN WHITT When the name "Karen" went viral as a symbol of disgraceful behavior, Karen Whitt didn't become defensive. Instead, she took it as an opportunity to contemplate her own diversity, equity and inclusion learning curve and her own potential for unconscious bias. Whitt, who serves as president of real estate management services at Colliers, views DEI as an ever-evolving ambition. She is an executive sponsor of Colliers' diversity & inclusion program, which was developed by Colliers' senior executives to provide mentorship, networking opportunities and professional development to help its professionals grow their careers and leadership skills. Whitt is also the executive sponsor of the firm's women's network employee resource group. Her commitment to DEI extends beyond Colliers. She often takes calls from women seeking advice on building their careers. In 2021, Whitt joined a number of senior real estate leaders interested in DEI in creating the national organization, Commercial Real Estate Diversity Equity and Inclusion Advisory Board, which is dedicated to providing a safe space for executives and owners seeking advice on how to improve their DEI performance.

KMEAL WINTERS A small group of employees at Spirit Realty Capital, including Kmeal Winters, recognized a need to consider the company's diversity, equity and inclusion initiatives in the wake of the 2020 murder of George Floyd. Winters, who is VP of asset management at the firm, has led the charge to develop a culture at Spirit Realty Capital that embraces diversity and inclusion. In addition to currently chairing the company's diversity, equity and inclusion council, Winters led the creation of the company's DEI strategy and organized racial equity and systemic bias education for all employees at the firm. She also ensured the company's budget had appropriate funding to support DEI initiatives. Winters has been vocal in promoting the idea that a company's dedication to diversity must extend beyond its four walls. As a result, under Winters' guidance and leadership, the company has commenced several partnerships with external organizations that share its commitment to diversity and inclusion. One example is its partnership with Project Destined, an organization aimed at developing the next generation of diverse real estate professionals.
HUMANITARIAN

RHONDA BEISWANGER Avison Young operations manager Rhonda Beiswanger has made it a habit to seek out the needs of those around her and to find solutions to meet those needs. During the onset of the pandemic, Beiswanger spent her lunch hours walking around downtown Indianapolis visiting with homeless people to identify their needs and then recruited coworkers to help fill those needs. When she noticed a diversity disparity in the commercial real estate industry, she mentored young people in minority communities and offered direction and consultation to several startup companies and nonprofit organizations. Beiswanger helped start Revive Property Group & Revive Construction to revive the inner-city housing market in 2017 and she launched the Divine Assignment with a Servant's Heart Initiative LLC in 2018. Beiswanger has supported philanthropic initiatives at numerous nonprofits, including Junior Achievement of Central Indiana, the Leukemia & Lymphoma Society and Fight for Life Foundation.

JEANETTE R. FLORY-SAGAN When the son of Jeanette Flory-Sagan's former colleague was diagnosed with autism, she searched the internet for helpful information and found resources on the Autism Speaks website. Not somebody to put in minimal effort, the founder and president of Cereus Asset Services LLC reached out to the AS team to seek ways to help the organization beyond making a donation. Since then, Flory-Sagan has served in various roles including as an AS chapter grant reviewer, a founding member of the Spectrum Society, an investor in autism employment programming and a sponsor of events in the greater Washington D.C. metro area. In 2012, she attended a Georgetown Lombardi Women & Wine event that raised funds to support breast cancer research. Inspired by the event, Flory-Sagan joined the sponsorship committee and the auction committee and served every year until her permanent relocation back to Seattle. Within commercial real estate, Flory-Sagan sponsors female students to attend industry conferences, she serves on the Virginia Tech Real Estate Program advisory board and she has held numerous leadership positions with CREW Network.

JADE I. HENDRICKS Growing up in a single-parent household in Milwaukee, WI shaped Jade Hendricks' early perspectives on wealth and security. Due to impressive motivation, Hendricks secured more than $600,000 in college sponsorships, obtained degrees in business and Spanish debt-free, and joined the Morgan Stanley Wealth Management team in Chicago, IL. She has a two-part mission to drive results in her role as an investor relations associate at private equity real estate investment firm MLG Capital and to use her skills to help shift the perspective of wealth and legacy in disenfranchised communities. Hendricks started her own personal finance brand and began offering college prep, financial literacy, workforce development and scholarship assistance to students, serving more than 100 students in just two years. In 2018, she began volunteering with SecureFutures, a financial literacy nonprofit organization for teens. She is a key member of MLG's Making A Difference initiative, which uses the returns on private real estate investments to contribute to charity, and she additionally chairs the MLG Cares committee, an employee-led program for philanthropic efforts.

NIKOLETTE R. JACOB Nikolette Jacob carries on the legacy of her father, BLT Enterprises founder Bernie Huberman, by defining and maintaining the family-first, community-focused nature of the firm. As manager of real estate investment and director of corporate philanthropy at BLT Enterprises, Jacob forges and manages local community relationships and allocates donations to nonprofit organizations throughout the year. Within her first year of joining the firm, Jacob spearheaded the creation and development of a strategic giving initiative in order to strengthen the firm's social responsibility and create a platform for ongoing philanthropic growth. The program places a significant emphasis on causes related to children, health, homelessness and cancer research. In 2021, under Jacob's leadership, BLT Enterprises donated more than $370,000 across more than 30 nonprofit organizations. With an infectious "can-do" attitude, Jacob holds the innate ability to build up her team and company culture as a whole. Outside of work, Jacob is involved in local animal rescues and has fostered nearly 70 dogs.

JESSICA LEE-WEN Described as selfless and compassionate, Jessica Lee-Wen's contributions to both her profession and communities in need span decades and borders. Lee-Wen, who is chief marketing officer at the Casoro Group, says she is driven to make a difference in the lives of children because she did not have anyone to help her see her own potential while growing up. For more than 20 years, Lee-Wen has engaged with and mentored children through her church and, more recently, she led a group of girls in hand-sewing 132 bears for asylum-seeking children. She is a board member and volunteer for the Rio Valley Relief Project, for which she collects and distributes basic supplies for asylum seekers living in camps along the US-Mexico border, as well as feeding refugee families. In response to the humanitarian crisis after a major tsunami hit Indonesia several years ago, Lee-Wen launched a fundraising campaign that raised thousands of dollars within one week to donate to the Red Cross. At the Casoro Group, Lee-Wen helped launch the Casoro Group Education Foundation and the socially conscious Onyx Impact Fund, which seeks investments with minority-led sponsors.

MARIE MCLUCAS Primax Properties LLC's CFO Marie McLucas is dedicated to meeting the needs of her community and donating her time to causes that align with her passion for giving and helping others. Among her philanthropic endeavors are serving as the Charlotte leadership council chair of the American Cancer Society, where she provides fundraising and company executive leadership support for the Primax Pink Warriors team, which provided a $175,000 grant to Making Strides Against Breast Cancer. McLucas is the board chair of the Girl Scouts hornets' nest council and she has served on its various committees and held financial positions. She is a mentor for Charlotte Business Journal's annual mentoring Monday program and is currently mentoring her sixth mentee in CREW Charlotte's formal mentor program. In addition to her local work with CREW, McLucas served on the 2020-2021 foundation board to the philanthropic arm of the global CREW Network.

SHAELYN MULLANEY Shaelyn Mullaney, who works in leasing and development at Merritt Properties, participates in the leading ladies mentorship program, where she mentors high school students on what it means to be a successful businesswoman in STEM. For the program, Mullaney participated in a Q&A panel to share her experiences as a woman in a male-dominated workforce, and she additionally developed a four-week internship program at Merritt Properties for program participants to gain hands-on experience across different departments. She helps guide the students with opportunities and resources, such as scholarships, mentorship and connections. In 2020, Mullaney raised more than $11,000 in under eight weeks for the American Cancer Society and Children's Hospital through the Big Dig Campaign. In September 2021, Mullaney and other NAIOP Northern Virginia developing leaders helped pack more than 5,000 snack packs for Second Story's after-school program. As a single mother of four, Mullaney still finds time to volunteer for numerous local causes.

SHANNON NAZWORTH Throughout her career, Shannon Nazworth has been dedicated to serving those who have been priced out of the dignity that comes with having a home. As president and CEO of Ability Housing, Nazworth leads a team that assists individuals with disabilities, low-income families and people exiting homelessness to regain their independence and stabilize their lives. During her 25 years in the industry, Nazworth has become a leading voice in the conversation about the affordable housing crisis in Florida and throughout the country. Her ability to navigate complex deals and build consensus has helped Ability Housing serve Florida's most vulnerable citizens. Under Nazworth's leadership, the firm's portfolio has expanded from one group home for six adults with developmental disabilities, to more than 815 multifamily and scattered-site units that house more than 1,500. In addition, Nazworth led the development of permanent supportive housing to address high utilization of crisis services, she organized a legal process to protect the housing rights of people with disabilities and she advocated for funding for affordable housing programs.

MICHELLE NEEDLES Michelle Needles leveraged her role as head of enterprise client solutions and EVP of occupier services for the Americas at Colliers to advance diversity, equity and inclusion initiatives at the firm, with clients and in the surrounding community. Needles brings her passion for creating inclusive cultures to all aspects of her role and she has been active in the Colliers diversity and inclusion program since its inception, serving as an executive champion for the North American program since 2017. Needles designed the identity, diversity, equality and allyship program for Colliers to bring forward diverse teams, require supplier diversity at the contract level and encourage diverse leadership training. Outside of work, Needles supports Emma's House Children's Advocacy Center by generating new donors, helping out with events and leading public awareness campaigns. She aims to make an impact on rural communities, where large donors and donations are scarcer, by creating opportunities for professionals. Her charitable efforts often include small but impactful events, such as when she hosted a fundraiser in her home in Montana to help a local sports team travel internationally.

KAREN PHARR At the heart of Karen Pharr's humanitarian efforts is an understanding that well-managed real estate leads to thriving communities, and when communities thrive, so do those who live and work there. Pharr, who recently took on the role of director of property management at Insite Properties LLC and formerly served as senior property manager at Cushman & Wakefield – PIRES, is deeply engaged in philanthropic efforts through her role as president of IREM Foundation, which offers certification scholarships, awards and grants that support environmental practices. To fund foundation programs, Pharr launched the Summer of Service initiative last year that challenged participants to design projects to benefit their communities. The money that was raised through registration fees and donations went to support foundation programs. Pharr is also involved in her local community by working with Community Partners of El Paso, La Posada Home Inc., the Child Crisis Center and child services agencies in the El Paso tri-state area. Some of her most gratifying work in the past year, during the pandemic, was her volunteer work with El Pasoans Fighting Hunger through the El Paso Food Bank.

ANDREA WINDHAUSEN Coming from the nonprofit sector, Andrea Windhausen has successfully found her niche as the first ever community manager at BioMed Realty, while making a positive impact on the greater community. Prior to joining the firm, Windhausen committed one year of full-time national service to a nonprofit organization serving homeless individuals through AmeriCorps VISTA. More recently, Windhausen led BioMed Realty in donating vacant space in its portfolio to help local art organizations, such as the Cambridge Community Center for the Arts, the Dance Complex and Loop Lab, to find new homes and continue to thrive during the pandemic. Windhausen wears many different hats in her day-to-day work. She jumps from tasks, such as coordinating a sock donation to Warm Hearts Warm Feet, to participating in a meeting with Global Arts Live to discuss the formation of a new nonprofit organization that will operate the arts and community space at one of BioMed Realty's development projects. Windhausen builds authentic relationships with community stakeholders because she believes that if a development project will provide a community benefit, the community should have a voice.
INNOVATOR

KARIN BRANDT Karin Brandt founded coUrbanize to change what gets built in communities and to allow real estate developers and municipalities to engage with the community and receive input on projects. For nine years, as CEO, Brandt has steered coUrbanize and its product strategy to historic growth. In 2021, the number of projects on the platform increased by 75% year-over-year, while its project footprint doubled to 21 states. Beyond Brandt's work at coUrbanize, she launched an event series in 2019 for female development professionals in the Boston area to celebrate their successes, build their networks and share their challenges in a comfortable setting. Brandt, who holds 14 years of industry experience, is constantly communicating with real estate developers regarding their evolving needs and challenges due to the pandemic. These conversations, coupled with Brandt's vision, have resulted in product innovations at the firm that are part of an ongoing effort to create a more inclusive engagement process.

JESSICA CARPS Jessica Carps stands out as one of few female CEOs in the male-dominated construction industry. Carps serves as CEO of the 100% employee-owned Skyline Enterprises, which is one of the nation's fastest-growing commercial interior construction companies. Since joining Skyline Enterprises in 2015, Carps has grown the firm from $175 million to more than $700 million today, and she has led the company into new markets by opening offices in Chicago, San Diego and Austin. In 2018, she was appointed to the firm's board of directors as its first female member. Carps has successfully increased female executive leadership at the company by fostering programs that support working parents. She co-founded the Skyline women's network in order to create opportunities for women to connect and learn from peers in the industry. Through the network, she has inspired other companies to follow suit and form similar groups.

CHRISTA COLLIER Christa Collier is helping Columbia Property Trust redefine the future of the workplace. With her five-plus years of operational expertise and proactive leasing and marketing experience, Collier has led the creation of a new flexible-term, full-service leasing program at the company. As director of full-service leasing at the firm, Collier has served as the project lead for the program, shepherding it into a comprehensive operational program that launched at the end of 2021. Currently, Collier is directing the development of a new, customized mobile app and space management program for flexible-term spaces. Internally, she serves on Columbia Property Trust's future of office committee; as a hospitality and service trainer; and a leader in diversity, equity and inclusion education efforts. Outside of the firm, Collier co-chairs BOMA New York's asset management committee and in 2021, she received BOMA New York's inaugural Emerging Leaders award for her outstanding work as co-chair of the emerging leaders committee.

KERRI DAVIS Due to her expert leadership, hard work and growth mindset, Kerri Davis assisted property management software firm Fortress in doubling its annual revenue in 2021. With a background in accounting and law, Davis is heavily involved in Fortress' financial and investment structure. As CEO, Davis additionally works to negotiate deals with business partners and investors. In the past 12 months, she has secured several new partnerships and contracts, including a multimillion-dollar investment from Walker & Dunlop. Prior to the transformational deal, the company was bootstrapped by Davis and four other business partners and operating at a net even. With the investment, Davis grew the company from 10 employees to 45 professionals in only 90 days. Davis serves as chairman of Elmington Elevates, a 501(c)3 that she founded at Elmington Property Management five years ago. The nonprofit gives more than $100,000 back to its communities each year.

SARAH DREYER As a leading figure within Savills North America's research operation, Sarah Dreyer has led and driven the firm's data and innovation integration across all business functions and service lines. Armed with 20 years of industry experience, Dreyer has elevated the firm's research and development capabilities by vetting new data partners and technologies and driving data that is utilized by Savills' applications, brokers and clients. Dreyer centralized access for all of the firm's third-party enterprise-level data contracts, which allows information to be verified so that professionals have access to one comprehensive data repository. She has been integral in launching several homegrown applications and she also significantly expanded the research team to be platform- and business function-driven, rather than solely focused on the office sector. Recently, Dreyer was promoted to SVP of research and data services and she also joined Savills North America's management board, alongside the firm's top leaders and decision makers.

DANA EPSTEN As director of client advisory at VTS, Dana Epsten provides clients with the necessary tools and knowledge to fully utilize the VTS platform. She ensures that all landlords and property managers are fully supported when incorporating VTS into their digital infrastructure, while successfully leading a team that provides specialized and bespoke client services. During the pandemic, Epsten played a vital role in various company initiatives to provide clients with the data and technology to track tenant engagement and leasing activity. She assisted in creating a COVID-19 business risk dashboard, which helped landlords and owners understand their existing exposure to specific industries and various risks in relation to their pipelines. With six years of industry experience, Epsten has become a great resource regarding thoughtful leadership and management skills, not only for her team but the entire company. In addition, Epsten created and currently leads a program for new VTS managers to develop leadership skills, through which she has helped several colleagues become successful leaders across the company landscape.

SUSIE HARBORTH Last year, 20-year industry veteran Susie Harborth designed and launched StudioLabs by Breakthrough, which allows early-stage life science companies to access turnkey, curated lab and office suites. As EVP of business operations at Breakthrough Properties, a Tishman Speyer and Bellco Capital joint venture, Harborth oversees global corporate and property operations; she leads marketing, communications and branding; and she supports new business development and innovation initiatives, including StudioLabs by Breakthrough, which is expanding globally. Harborth has supported Breakthrough's growth during the past 18 months by raising more than $1 billion and supporting acquisitions, property management and leasing. Harborth is one of few minority women leaders in the industry and she sits on the board of Connect and Biocom Institute, where she leads workforce development for diversity candidates and underrepresented minorities. She is a sought-after speaker on user experiences and industry diversity for various panels and podcasts.

TINA LICHENS Tina Lichens spent nearly 20 years at RCM working her way up to the role of COO, and she continued to lead RCM's operations through its assimilation into LightBox upon its acquisition of the firm. At RCM, Lichens was instrumental in expanding its market position, guiding its strong growth trajectory and helping raise its industry profile, which led to its acquisition by LightBox in 2020. Following the acquisition, Lichens assumed her current role of SVP of broker operations at LightBox, where she oversees operations and strategy for the firm's commercial real estate business lines, including RCM, LandVision and ClientLook. Lichens recently oversaw the development, launch and expansion of a new debt capital markets platform at the firm, and in early 2022, she and her team coordinated and attended in-person meetings with more than 100 teams to facilitate expectations to further expand capital market activity.

TRACY A. MURPHY As leaders in the life science space, Tracy A. Murphy and four partners co-founded IQHQ in late 2019. Since the company's launch, IQHQ has achieved more than $2.6 billion in equity raises to support the company's development pipeline. Under Murphy's leadership as president, IQHQ has completed transactions that have resulted in nearly 10 million square feet of space across life science development projects in innovation hubs. With more than two decades of experience as a successful developer, Murphy has led the REIT to triple its employee headcount and boast a 50% female workforce and executive team. She handles a wide array of responsibilities at the firm and she sets the tone to encourage all employees to think differently and approach new opportunities that uphold IQHQ's mission and vision. Murphy fosters an environment at IQHQ where leadership understands the importance of both recruiting and challenging employees with stretch assignments early in their careers, while providing high-potential women with exposure to senior leadership and boards.

XUN QIU When more time and protocols were added to transaction management due to COVID-19, Xun Qiu digitalized Olive Tree Holdings' process for buying, refinancing and selling multifamily assets, which reduced timelines, redundant work and made checklist items executable from anywhere. As transaction manager at Olive Tree Holdings, Qiu innovates scalable, effective and efficient workflows in transaction management. A 10-year industry veteran, Qiu is considered a solid people manager. In 2021, she on-boarded two analysts to help scale systems to handle the record-breaking 14 acquisitions, two refinances and eight dispositions, totaling $717 million, that were executed by the three-person team last year. Internally, Qiu received the company's most prestigious #PRITR award this year, for exuding all five company core values: people first, radical candor, integrity, team player and relentless pursuit of excellence. Qiu additionally leads the firm's diversity committee.

MAUREEN WATERS Maureen Waters serves as the only female partner at MetaProp, while focusing on global PropTech investments. The 23-year industry veteran assists executives of both aspiring and well-established industry companies in transforming and preparing businesses for sale through her extensive expertise. Since April 2020, Waters has led the growth of MetaProp's innovation services in order to help the company's limited partners build out their PropTech ecosystems. Additionally, she is at the helm of MetaProp's marketing efforts and acts as a key spokesperson for the company. Waters is a board adviser to Occupier, one of MetaProp's portfolio companies, and she is an advisory board member of Building Cyber Security and the Institute for Market Transformation. Waters serves on the technology and real estate council for ULI and she is a mentor and national board member for Girls Inc.

EMILY WATKINS Innovation and forward-looking leadership were integral to Emily Watkins' role as senior principal of global enterprise at Unispace, where she specialized in providing inventive client solutions. While aiming to establish and evolve the firm's enterprise service internationally, Watkins was also active in the firm's innovation leadership council, through which she helped launch a program to drive innovation by involving all stakeholders' lingering workplace questions and formulating real solutions to those challenges. With 25 years of industry experience, Watkins has earned a reputation for being a catalyst for change in helping companies stay ahead of competitors and industry disruption, while also empowering fellow colleagues. She was instrumental in creating the firm's women's employee resource group, for which she served as its global lead. The group aims to attract, develop, retain and empower professional women and ultimately position Unispace as a champion of women's leadership and women's opportunities. Watkins has recently taken on a position at a new firm.

CHRISTINE WENDELL With Christine Wendell at the helm of Pronto Housing since its inception in 2020, the firm has been able to provide affordable housing property owners and the 11 million U.S. residents in need of affordable housing with a centralized platform, where they can track and document their leasing and compliance information. Under Wendell's leadership as CEO and co-founder, the first and only off-the-shelf affordable housing compliance SaaS platform closed its $2.5 million seed round led by Wilshire Lane Capital in November 2021. Outside of work, Wendell has achieved a certification from National Center for Housing Management as a tax credit and fair housing specialist. The 11-year industry expert also plays an active role on ULI New York's women's leadership initiative programming committee, and the real estate alumni network of the Kellogg School of Management at Northwestern University.

LINDA WHITE As SVP of Colliers' occupier services and head of the firm's lease administration & technology services, Linda White provides executive oversight and is responsible for the development, management and implementation of technology solutions, including Colliers360, the firm's fully-integrated business intelligence system. In addition to overseeing lease administration, White is also responsible for the quality of services provided to clients globally, as well as continued business strategy and platform expansion and growth. She is the authority over revenue and service performance. With seven years of industry experience, White also continues to work with her technology services team on career and skill development. Beyond her day-to-day responsibilities, White participates with Colliers women's mentorship program for young women entering the corporate world. She presents an admirable role model for women to follow in formerly male-dominated industries, such as technology.
MENTOR

CARRIE BRANDT Five months ago, Carrie Brandt pivoted from the project management business line at JLL to change management with JLL technologies, a JLL division focused on building and expanding the company's portfolio of technology products and services. As associate director of change management, Brandt is responsible for ensuring that JLL employees receive access to the right training, the right resources and the right support to successfully adopt new technology products. In less than half a year, the 15-year industry expert has supported the onboarding of more than 150 new users to Salesforce. Brandt also serves as co-lead of JLL's Americas women's business network, a 20,000-member, volunteer-based organization connecting the women of JLL, and she mentors its 28 local chapters across the Americas. Brandt led the conversion of the business network's two-day annual in-person summit to a virtual setting in 2020. She additionally serves as JLL's representative on the National Association for Female Executives, for which she participates in roundtables to discuss advancement strategies for women in the workplace.

AMY M. HALL At the onset of the pandemic, Amy Hall, SVP of leasing and physician strategy at Physicians Realty Trust, helped establish a program that has allowed the company to collect more than 99% of all rent and other charges due from tenants the last two years. During the pandemic, Hall additionally established the REIT leasing roundtable at the firm, a monthly discussion with an exclusive group of executive-level peers. After spending 10 years at CBRE, Hall joined Physicians Realty Trust in 2016 and she has since greatly impacted the firm. She is a founding member of the company's diversity, equity and inclusion council, through which she has helped to develop a roadmap to recruit, retain and support underrepresented populations within the company. Hall has also been an active participant in shaping content for the firm's women in leadership series by sharing her career journey with younger team members and serving as a mentor and advocate for women looking to advance their industry careers.

SALLIE JAROSZ In June 2021, Sallie Jarosz was recruited to FNB Corp. due to her track record, her leadership skills and her long-standing client base. By year end, as VP and relationship manager, she had exceeded her goals in loan production and fee income. At the start of her career in 1983, as one of few women in commercial real estate finance, Jarosz knew the importance of having a mentor to guide her. Her mentor's support not only helped her navigate her initial role, but helped her obtain numerous advancements. Mentoring soon became a way of life for Jarosz. She builds relationships with others by offering guidance, support, personal development and encouragement, and she advocates for young professionals to receive promotions, training and leadership development. Taking the structured mentor-mentee relationship beyond the typical 12-month commitment, Jarosz utilizes her emotional intelligence to promote high self-value, positive outcomes and academic growth. For years, she has provided mentoring services for CREW Network and the Charlotte Business Journal.

KATE KELLER It's not often that a commercial real estate executive can say that their company is a catalyst for systemic change, however, Kate Keller has had a hand in the diversification of the CRE industry nationally, as principal and founder of Keller Augusta, a national full-service, boutique commercial real estate search firm. By understanding the talent pool and the need to diversify the entire industry landscape, Keller spends her career prioritizing pay equity, flexibility and equitable hiring practices across all sectors. Through mentorship, Keller aims to drive diverse human capital in the industry and build better companies by guiding them to implement feasible structures that focus on supporting and advancing all women. Through the firm's work, Keller significantly equalizes the playing field in the industry. In 2021 alone, Keller Augusta placed 125 industry candidates nationwide, of which 38% were underrepresented talent hires. In addition, Keller helps women achieve professional opportunities as an active member of CREW Network.

ELIZABETH KROL During her 27-year industry career, Elizabeth Krol has garnered a reputation as a thought-leader and an expert provider of due diligence services. In 2020, Krol joined EBI Consulting as national client director, where she provides comprehensive, expedited transactional and M&A support services. At EBI Consulting, Krol worked with leadership to develop her additional role as a thought-leadership mentor for other technical and subject matter experts, whom she will guide to develop skills to help establish their presence in the industry. Externally, Krol participates in various formal and informal industry mentoring programs, including LightBox Developing Leaders, CREW Network, her alma mater Colgate University and the Society of Women Environmental Professionals. She also mentors individuals through industry organizations, such as the Environmental Bankers Association and as an ASTM-approved trainer.

TANYA HART LITTLE Tanya Hart Little has a long history with mentoring. Twenty years ago, Little—the founder and president of Hart Advisors Group—got into mentoring young leadership talent while working at GE Real Estate. Within a four-year period, Little mentored more than 10 professionals through the firm's financial management program and actively groomed associates through their financial rotations. Little applied what she learned while developing a mentoring program for CREW Dallas in 2008, at the commercial real estate organization's request. The 30-year industry veteran later established the mentoring program for Ladies in CRE, an organization founded by one of Little's mentees, through which she has mentored more than 25 young women. Little impacts countless young professionals while focusing on asset management strategy, operations/lending strategic development, process management and client retention at her firm, which closed more than 100 deals during the pandemic.

DARCY MACKAY Darcy Mackay is considered one of CBRE's strongest advocates for women due to her ability to recruit and mentor female leaders, endorse women executives and lead by example. During her 22-year tenure at the company, Mackay has influenced tens of thousands of people throughout her various leadership positions. While previously serving as chief people officer, Mackay successfully oversaw the firm's human resources organization and mentorship program. Throughout her career, Mackay has mentored many individuals. She is currently working with an executive in the firm's global workplace solutions business, a senior member of the people/legal team, and a leader in the diverse supply chain group. While serving in her current role as sector president of infrastructure and public enterprise at CBRE, Mackay remains committed to building truly diverse workforces and forging opportunities for people from all backgrounds and role types.

JODIE POIRIER Responsible for recruiting top talent, Jodie Poirier is focused on Colliers' ongoing diversification efforts. In an effort to drive engagement among women and BIPOC candidates, the executive managing director of the Greater Los Angeles region spearheaded the creation of a regional internship program, which will be geared toward introducing up-and-coming talent to the industry in order to create a more diverse pool of post-graduate candidates. Poirier became the first woman at Colliers to oversee operations across the Greater Los Angeles region in 2020. As market leader for the area, Poirier is responsible for one of the company's largest market operations, overseeing 280 professionals and nine offices. She serves as an ally and mentor to aspiring leaders across all workforce sectors and a pioneer for female executive leadership. With 20 years of industry experience, Poirier currently serves as a board member for both NAIOP's Southern California chapter and AIR CRE, an innovative, member-owned commercial real estate network.

LISA RUGGLES Lisa Ruggles has worked hard at building a pipeline of talented professionals at CoStar Group as a 22-year veteran of the company. She is credited with mentoring hundreds of junior-level employees in their quest to establish careers in the commercial real estate industry. As SVP of analytics, research and news at CoStar Group, Ruggles leads a team of 1,400 and has launched numerous initiatives, including one that acknowledges members of the research department in notices sent out company-wide. She pushes her team to take advantage of learning, development and leadership opportunities offered within and outside the company and she regularly leads focus groups with her research associates to hear about their experiences with the firm's tools and data and to identify opportunities for improvements. In addition, Ruggles hosts quarterly all-hands calls with her entire research team to ensure open lines of communication from top-to-bottom.

TRACY TAYLOR Over the past decade, Tracy Taylor has held a number of mentorship roles through CREW Network and NAIOP, as well as internally at Cushman & Wakefield, where she is an executive managing director and managing principal. Taylor is an effective mentor due to her direct and transparent nature and ability to show vulnerability. As a 24-year industry veteran, Taylor has helped numerous mentees feel empowered and excited when making career decisions. Beyond her passion for mentoring, Taylor has led Cushman & Wakefield's Calgary Canada operations for the past five years. She is responsible for the strategic direction and performance of all of Calgary's service lines and she serves as the firm's top recruiter in Canada. Taylor strives to create an environment that celebrates merit and equality, not just revenue. Focused on the importance of communication, Taylor continually identifies what is important to her brokers and staff in order to maintain a positive work environment.

DAWN WALTZ With Dawn Waltz as a mentor, Colliers employees learn effective time-management skills for multitasking and communication tactics to improve engagement with managers. As regional operations manager for Colliers' Reno and Sacramento offices, Waltz is known as a go-to expert regarding operations, training and development for new operations managers and an expert in guiding regional leaders through new initiatives. Waltz focuses on helping her mentees achieve a better work-life balance; particularly for those starting families. During the worst of the pandemic, Waltz taught employees with children how to navigate the regulations, requirements and best practices of working from home through her various strategies. Waltz additionally serves as VP of the Northwest region of Colliers' women's network, through which she encourages, coaches and helps build women's commercial real estate careers. She also works with local colleges to introduce students to industry opportunities.